How Video Boards and UC are Helping the NBA Connect with Fans
Using LED video boards and Microsoft Teams, the NBA is giving fans a chance to have an impact on basketball games in the "bubble."
Leave a Comment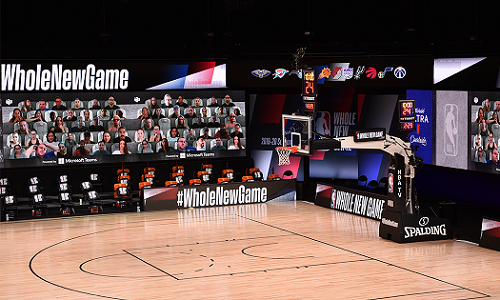 On March 11, the coronavirus pandemic became the catalyst for what would be the most atypical season in the NBA's history.
Rudy Gobert, a player for the Utah Jazz, tested positive for COVID-19, and the game was postponed just before tipoff.
That same night, a game between the New Orleans Pelicans and Sacramento Kings was postponed because a referee worked a Jazz game just a few days before. After the remaining games were finished that day, the league postponed the season, making it the first time something other than a lockout interrupted the season.
The league reopened play at the end of July with 22 teams – all within six games of a playoff spot – at the Walt Disney World's ESPN Wide World of Sports Complex in Orlando. It's known as "bubble," and nobody unaffiliated with the teams or their families are allowed in. That means no fans.
However, through a partnership with Microsoft teams and an unnamed video board provider, 300 fans will be invited to appear at each game via a 17-foot video board. They can digitally interact with each other throughout the game using Together mode, a new feature in Teams that displays each participant in the same virtual background.
Read Next: Replace Virtual MLB Fans and Fake Crowd Noise with Mic'd Up Players and Catcher Cam
According to the NBA, more than 30 cameras – including some in robotic form – were installed close to the court for never-before-soon angles in places otherwise not accessible to fans in the arena.
Microphones capture sounds from the floor, like sneaker squeaks, ball bounces and probably some trash talk. DJs and announces in the venue also help to replicate the sounds and experiences.
Fans can also digitally cheer for their team via the NBA App, NBA.com and on Twitter. The virtual cheering will be reflected on the video boards during the game along with animations that capture the fan engagement from around the world, according to the NBA.
"Working with our broadcast and technology partners, we are excited to unveil a series of enhancements that will bring fans closer to the game and allow them to personalize their viewing experience," said Sara Zuckert, NBA Head of Next Gen Telecast, in a statement.
"Our goal is to create an enjoyable and immersive experience where fans can engage with each other and maintain a sense of community as we restart the season under these unique and challenging circumstances."
"The core of our partnership with the NBA is delivering next-gen experiences for their fans on and off the court," said Jared Spataro, Corporate Vice President, Microsoft 365, in a statement.
"All of us at Microsoft can't wait to watch an NBA game again and are excited to be part of the new fan experience.  We hope Together mode helps fans feel more connected and immersed in the game, and helps teams feel the energy of their fans, even when they can't be in the arena."