Key Digital KD-Pro8x8D Matrix Switcher Supports 4K and HDBaseT
Leave a Comment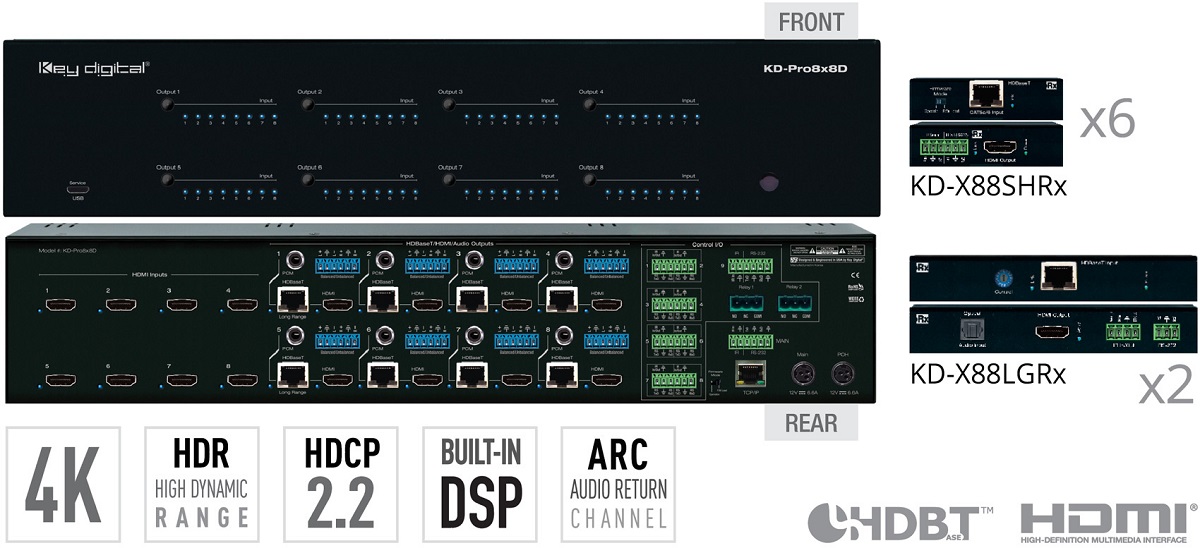 The new Key Digital KD-Pro8x8D has been introduced to provide integrators with a choice for video distribution functions.
Key Digital's KD-Pro8x8D matrix switcher package includes eight receiver (Rx) extenders (six standard and two long range), and a reliable means to distribute audio video content throughout a business or residence.
Central to the KD-Pro8x8D's functionality is its support of UltraHD 4K (4096 x 2160) at 60Hz and 4:2:0 chroma subsampling. The new Key Digital Matrix Switcher also supports UltraHD 4K (4096 x2160) at 30Hz and 4:4:4 chroma subsampling at 8 bit.
According to Key Digital, the KD-Pro8x8D matrix switcher provides 10.2Gbps of throughput to support 4K with high dynamic range (HDR) via EDID handshaking.
An important feature Key Digital incorporates into its latest matrix switcher is its eight HDBaseT (Cat-5e, Cat-6 RJ45) and HDMI outputs with fully automatic Cat-5e and Cat-6 equalization.
The matrix switcher is also capable of supporting as many as 16 displays (eight mirrored), and Key Digital bundles the KD-Pro8x8D with a total of eight Rx (receiver) extenders that include two long-range extenders.
New Key Digital Matrix Switcher Features
Key Digital says that the switcher is capable of delivering 4K UltraHD as far as 125 feet, and 1080p at 60Hz and 24Hz, as well as 1080i and 720p video as far as 200 feet.
The Key Digital solution transmits 4K UltraHD up to 300 feet, and 1080p at 60Hz and 24Hz, 1080i and 720p as far as 500 feet.
Other features built into the Key Digital KD-Pro8x8D include:
HDCP 2.2 and HDMI Licensing to provide compatibility with HDCP 2.2 and HDMI technologies
Audio Return channel to return audio from display to respective audio output
Audio De-embedding audio from selected HDMI input through coax digital (PCM) and analog left/right balanced and unbalanced output
Audio DSPs that include variable audio settings for volume, muting, three-band equalizer, balance and lip-sync delay per output
The switcher also offers compatibility with the Key Digital app to scan and detect population for pre-built GUIs and TCP/IP control
Learn more here.