Matrox InfoComm 2019 Preview: The Arrival of QuadHead2Go
See the new QuadHead2Go at the Matrox InfoComm 2019 booth — a product the company says will be used to create 'the largest video walls on earth.'
Content from our Sponsor
Leave a Comment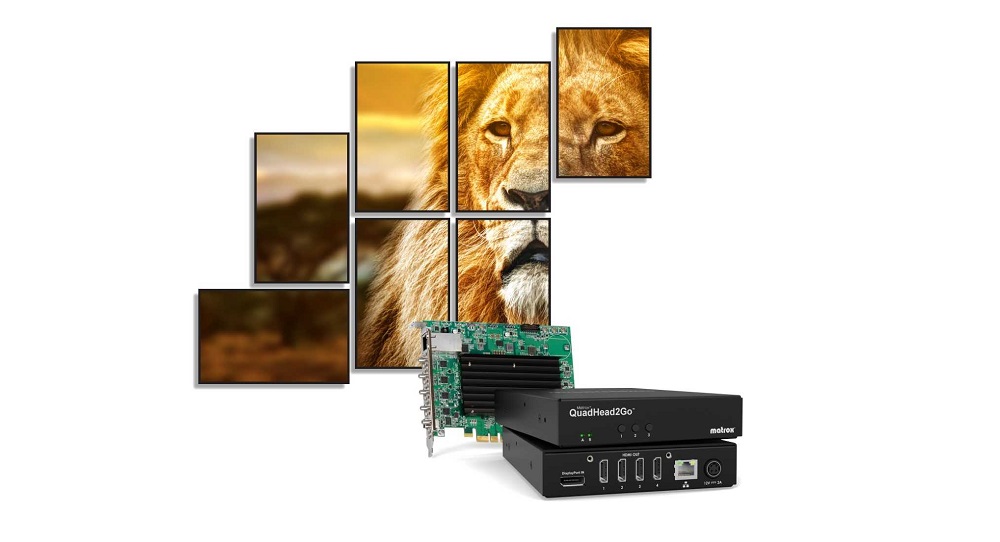 The Matrox InfoComm 2019 booth will showcase its new QuadHead2Go, a controller which the company says will be used to build "the largest video walls on earth." Read our interview with director of sales in the Americas Samuel Recine to learn more about the company's trade show plans. Find them at booth #3055.
CI: 1) What is the top product at the Matrox InfoComm booth this year, and what makes it unique or special?
Rather than pick one product, I would say that our top "technology" on show at the Matrox Infocomm booth is our best-of-breed bit rates for AV-over-IP products; combined with the fact that we use open standards for maximum Matrox-to-non-Matrox hardware and software product interoperability.
These powerful capabilities are embodied in several demos of our Mura IPX IP video wall product line, our Extio IP KVM extender product line, and our Maevex encoders and decoders for live streaming, recording, and AV over IP.
While Matrox matches the performance, latency, and quality of any high-performance media over IP products, we can do so in much more manageable (and programmable) bit rates which makes mid-size and large projects much easier to deploy, manage, scale, and maintain.
More importantly, the combined impact of low bit rates and open standards is the incredible cross-pollination of these Matrox products with each other as well as with hardware and software from other companies to address many enhanced workflows in many market segments.
CI: 2) What other products or offerings would you like to highlight, and what are some of their unique qualities?
QuadHead2Go! LoL. It's finally here! InfoComm visitors have been coming up to us for years asking for the "QuadHead2Go" to complement our DualHead2Go and TripleHead2Go product family of Graphics eXpansion Modules.
The product didn't exist yet and the market already had a following and a name for it. Well… at long last, we are proud to unveil the QuadHead2Go.
This family of video wall appliances and cards will serve as standalone upgrades to Intel NUCs, to digital signage player PCs, and to many other small form-factor and industrial PCs.
And it will also be used to build the largest video walls on Earth with the highest pixel count, 3D performance, hybrid live video + rendered content, and much more. It has been specifically designed to enhance and upgrade the capabilities of our IP decoders, video walls, and multiviewers, but also those of every other manufacturer in the market.
CI: 3) What else is new or noteworthy about the company for 2019?
AV-over-IP citizenship. Matrox is fully engaged with end users, service providers, consultants, integrators, resellers, distributors, and manufacturers on the topic of continuing to build interoperability and open standards for high-performance media on internet protocol (IP) in the AV market.
We believe the market wants to mix and match products just like what they used to do with VGA, and just like what they're currently doing with HDMI; but using standard IP.
Matrox is engaged with and supporting all the initiatives in the market that advance this topic.
One example is that our VP of R&D, David Chiappini, has become the Chairman of the Pro AV Working Group of AIMS. AIMS is communicating with the stakeholder community of the AV market to discuss adapting the already ratified and approved high performance media over IP standard for the live broadcast market to suit Pro AV workflows. This standard is SMPTE ST-2110.
The AIMS Pro AV Group will be on hand at InfoComm in booth 375, showcasing the real-world benefits of open standard approaches for the professional AV and installed systems market.
Via a series of theater presentations, as well as a multi-vendor interoperability demonstration featuring the SMPTE ST 2110 standard, show attendees will discover the benefits of truly flexible, scalable, and interoperable AV-over-IP infrastructures.
At the show, AIMs will also be hosting a panel session titled "Audio and Video Streaming Using Established IP Standards."
When: Tuesday, June 11
Time: 1-3 p.m.
Where: Room W304E (Session IS020)
CI: 4) What do you see as some of the top opportunities in the marketplace right now and how can you help integrators/consultants tap into them?
The market has already adopted AV over IP. AV infrastructures and backbones all the way to in-room end points are moving this way. The backbone will go first. The widgets second. But you can already see hardwired in-room end points going wireless. By definition, a ton of media is already migrated to IP and this will only continue.
The OPPORTUNITY in the market is "usefulness" of AV over IP. While the market has adopted the medium, the market is only yet starting to actually now 'leverage' the fact that all their data, live two-way communications, and high-performance AV use packetized switching on the same protocol.
Usefulness is enhanced by ecosystems of products working together. This means hardware-to-hardware and hardware-to-software interoperability. This means product tie-ins and more meaningful workflow integrations.
This means more hybridization of different types of media. And this means best practices, standards, training, and discussions with the community of stakeholders.
Listen: Want Your Customers Buying Video Walls? Here's Some Advice from a PhD in Cognitive Development: Episode 50 of AV+
It's easy to put out winning products that sell well. It's leadership to create win-win-win synergies that manufacturers, service providers, and end users can all share in.
CI: 5) What's the one lasting impression you'd like integrators to have after visiting your exhibit at InfoComm?
That there is literally no visitor of any type that cannot glean some value from Matrox. Even peers building similar products are "connection points" for useful ecosystems.
Matrox's OEM partners are spread throughout the InfoComm floor in every pavilion.
Our booth is a meeting place where end users and manufacturers and service providers alike can engage in dialogues about moving standardization forward and building useful ecosystems of AV over IP.
Click here to learn more about the Matrox InfoComm 2019 booth