New 130-Inch LG Display Brightens Up Defense Contractor's Conference Room
A new 130-inch All-in-One Display from LG is already impressing employees, customers in the conference room at defense contractor PeopleTec.
Leave a Comment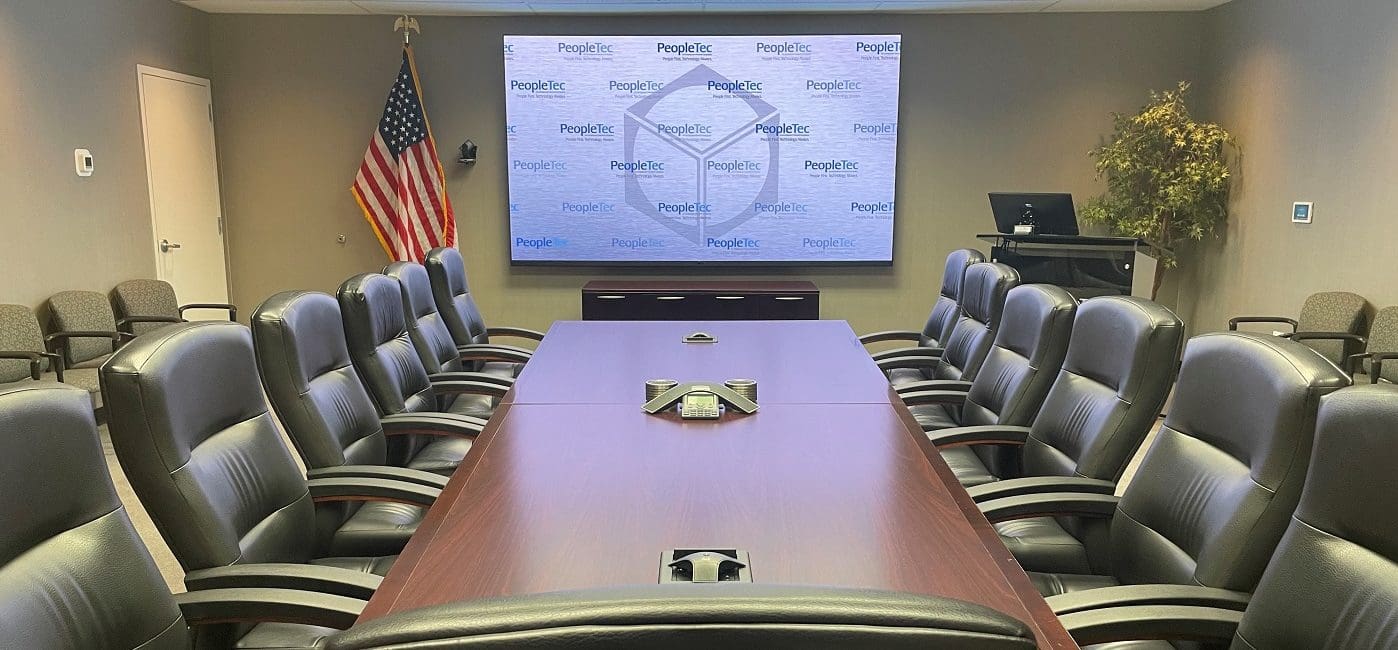 LG's new 130-inch all-in-one DVLED is already being put to use in mission-critical settings, including at Alabama-based defense contractor PeopleTec.
The display was installed in the conference room of PeopleTec, which specializes in emerging technologies, engineering solutions, modeling and simulation, cybersecurity and mission operations support.
The 130-inch All-in-One LAAF series DVLED is compatible with control system integration and includes the versatile webOS for Singage smart platform. It also comes equipped with a 1.5mm pixel pitch, 500 nits of brightness, HDR Pro capability and up to a 160-degree viewing angle.
With the addition of LG's new display, the conference room now provides a more impactful and seamless experience for employees and guests.
"We want visitors to walk away knowing that our technological capabilities are leading edge in the defense contractor space, and a big, bright, crisp video display is an effective way to make that statement," said Terry Jennings, CEO of PeopleTec, in a statement.
"Presentations can make or break a relationship, and our commitment to excellence, for both our customers and our employees, demands that we utilize the most effective communication platforms available."
Tennessee-based M3 Technology Group, a provider of networked AV systems and managed services, recommended and installed the display. According to Mike Hatfield, the account manager with M3, the company worked with PeopleTec on the conference room two year ago, but the customer wanted a more impressive AV system that included a larger digital display.
"The projectors they used in the past worked pretty well, but there were issues with blocking the beam and fan noise," Hatfield said in a statement.
"Essentially, the CEO and President got tired of blocking the picture and asked us if there were solutions to solve this problem. Then we showed them LG's direct-view LED display technology. DVLED is now significantly more affordable than it was two years ago. The early adopter phase is over."
The installation also included a new Crestron control system that can be accessed via a wall-mounted touch panel, two in-ceiling microphones and speakers, and front and rear PTZ cameras to record speakers and attendees.
Neither M3 nor PeopleTec tested or researched other displays, feeling that LG's products and service stand for themselves. Now, PeopleTec is considering more LG displays to replace other conference room projection systems.
"Whether they are videoconferencing with a remote partner, holding an in-person meeting or a hybrid session, PeopleTec has the tools they need to deliver compelling content through a futuristic display technology that is currently rare in these environments," Hatfield added.
"We trust LG to deliver superior products with excellent support, and the company's aggressive pricing on their digital signage offerings has helped level the playing field with legacy large-format display solutions."