New Epson Pro L Series Projectors Produce up to 30,000 Lumens
Among the new projectors to debut at ISE 2019 are the new Epson Pro L Series, offering up to 30,000 lumens and something called "EpsonVortex."
Leave a Comment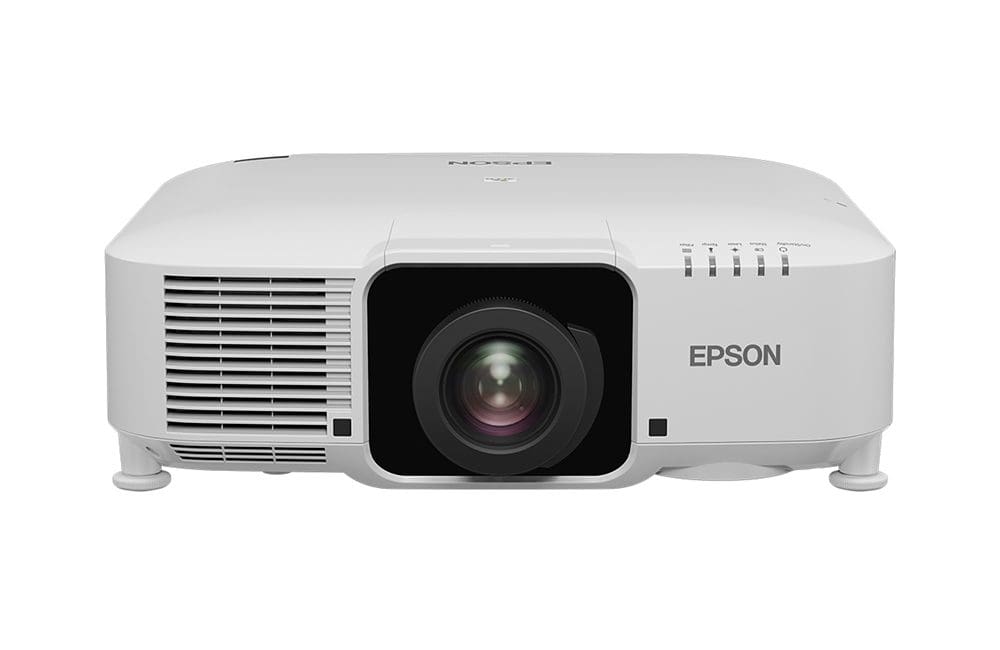 During Integrated Systems Europe (ISE 2019), Epson is showcasing its new 30,000-lumen laser projector, EB-L30000U, ahead of its official launch in 2020. Indeed, Epson is leaning on ISE 2019 to unveil its newest installation laser projectors — EB-L1075U, EB-L1070U and EB-L1050U — calling them its most affordable and versatile installation projectors, complete with 4K enhancement and supporting interchangeable lenses and producing up to 7,000 lumens).
Also being introduced at ISE is the EB-U50, which Epson calls a stylish and tough signage projector with low total cost of ownership.
Commenting on the Pro L products in particular, Gavin Downey, senior product manager, Epson America, Inc. says the new Pro L projectors are its most compact interchangeable laser projectors to date.
"From our new line of compact installation projectors, to the very high-end 30,000 lumen Pro L30000U, we strive to provide the highest quality projectors for the most demanding environments," notes Downey.
"We look forward to showcasing our newest, most impressive projector line-up to date at ISE this year."
A Quick Look at the new Epson Pro L Series Projectors
Explaining some of the features built into its latest projection products, Epson says the Pro L projectors incorporate its 4K enhancement technologies, as well as long-range connectivity via the HDBaseT format and wide lens shift capabilities.
Epson states the Pro L projectors can be used for applications such as visitor attraction displays, higher education, museums and corporate meeting rooms.
The Epson Pro L series products produce up to 7,500 lumens of brightness, and the company points out the products deliver high levels of contrast, along with defined shadow detail.
Moreover, through their minimalist designs, the new Pro L products produce low levels of fan noise to allow integrators to place the projectors in a choice of environments.
In addition to the introduction of the Pro L projector, Epson is introducing its new 30,000 lumens projector—the Pro L30000.
Epson states this product was developed to serve integrators as a high performing high-lumen output projector.
Augmenting the Pro L30000U to provide more projector choices to integrators, Epson has also introduced a 9,000 lumen model projector to offer integrators a full array of solutions that range from 6,000 lumens to 15,000 lumens.
ISE 2019 show attendees can see the new Epson projectors in Stand H90 Hall 1 during the event.
What is #EpsonVortex?
While ISE 2019 attendees visit the Epson stand, they can check out what it's calling #EpsonVortex — an on-stand, 360 degree 'kinetic portal' visitor experience designed not only to transport you to the heart of the experience, but to amke you a part of the installation.

More on #EpsonVortext (via Epson press release):

Each trip through the EpsonVortex is unique. Epson has employed 16 double-stacked EB-L1755U laser projectors with ELPLU03 lenses and a custom 4D soundtrack using multichannel audio. Visitors will become part of this unique installation as, when entering the portal, each person is mapped using a laser matrix with real time visuals creating an ever-changing spectacle that responds to an individual's every movement.

Neil Colquhoun, Vice President – CISMEA & professional displays, Epson Europe, says: "This is our strongest AV line-up to date, from the very high end 30,000 lumens EB-L30000U to the new, compact, signage projector, the EB-U50. We've completed our impressive line-up of installation projectors to meet the most demanding environments, and we look forward to showcasing them at ISE."

Additional highlights on the stand include a demonstration by the UK's National Theatre of its newly launched smart caption glasses designed for people with hearing loss. The smart caption glasses use Epson's Moverio augmented reality smart glasses to provide theatre goers with real-time synchronised transcripts of dialogue directly onto the lenses of the glasses. It means that people with hearing loss can now follow the action without taking their eyes off the stage.

"Augmented reality is fast coming of age, with many applications now moving from proof of concept to mainstream implementation. Our work with the National Theatre is a wonderful example; showing how smart glasses can assist people who are hard of hearing, making theatre more accessible, and is one of many useful applications across a diverse range of sectors from retail, healthcare and education to repair and maintenance, entertainment, museums and visitor attractions." says Valerie Riffaud Cangelosi, Head of New Market Development – Epson EMEA.