Screen Innovations Presents CarbonBlack Technology Projection Screen Optic at CEDIA Expo
SI partners with CarbonBlack Technology, offering dealers a screen fabric that matches LED videowalls up to 16-by-99 feet in size.
Leave a Comment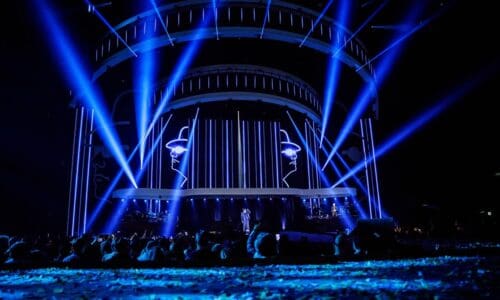 Thanks to an agreement with CarbonBlack Technology, Screen Innovations dealers can now offer their customers a large-format imaging solution that delivers the superior contrast, color accuracy, and sharpness of LED displays with the imaging flexibility (ultra-short-throw, standard-throw, edge blending) of projection screens and installation versatility of motorized assemblies.
CarbonBlack harnesses the power and resolution of laser projectors to offer dealers a value proposition for projects that require exceptional performance and design flexibility for large, immersive viewing experiences. Created initially for large entertainment venues where visual immersion of the audience is imperative, CarbonBlack boasts a native 16-foot x 99-foot footprint, rolls up for easy transportation and handling, can be cut in any shape or size, and can now be mounted via SI's wide range of screen assemblies.
SI's CarbonBlack Projection Screen — The Show-Stealer
CarbonBlack offers a range of ambient light rejecting screens for different use cases. This addition to SI's existing lineup of screen materials broadens its reach into new larger markets and offers dealers new indoor and outdoor business opportunities.  As it does with all screens in its portfolio, SI offers dealers time-saving design assistance for CarbonBlack through its online Screen Builder tool.
"Being able to offer our dealers a high-performance projection screen material designed specifically for use in massive entertainment venues broadens our reach into new commercial markets," says SI founder Ryan Gustafson. "Dealers can leverage the incredible size and imaging performance of CarbonBlack screens by attaching them to an SI fixed and motorized assembly and deliver their customers a one-of-a-kind product that literally steals the show."
Screen Innovations at CEDIA Expo 2023
SI will be at CEDIA Expo Booth #1832. Attendees can stop by to get a free t-shirt and to see SI's new projection screen optics from CarbonBlack, plus a full range of power and control solutions and new screen and shade assemblies and materials.
If you enjoyed this article and want to receive more valuable industry content like this, click here to sign up for our digital newsletters!