Select the Best Projection Screen for High Ambient Light Areas
Preserve image quality for amazing AV experiences
Content from our Sponsor
Leave a Comment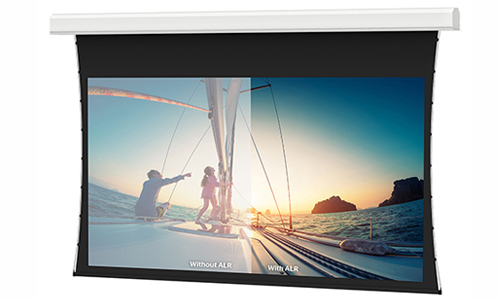 We are embarking on a new visual era with more content created in High Dynamic Range (HDR) along with much wider color gamut (i.e. Rec.2020). Add in projectors that can display these enhanced images on a high-quality screen, we are finally able to approach what the human eye truly sees in nature.
However, ambient light is almost always a part of the projection equation. It washes out images by reducing contrast, color saturation and dynamic range. This has been a major projection impediment until recently. The good news is that just as content and projectors have evolved, projection screens have also evolved.
With Parallax® Ambient Light Rejecting (ALR) screens, the problems that ambient light introduces are solved. This allows the quality of the content and the projector/screen combination to shine through. There are different solutions available — each with specific benefits.
Contrast Based ALR
Gray projection screens increase image contrast, particularly in a room that is not completely dark. These are also known as Contrast Based Ambient Light Rejecting screens. The gray color of the screen absorbs some of the ambient light rather than reflecting it. The same image in that space might appear washed out on a white screen, whereas the gray screen maintains and enhances contrast for viewers. Contrast Based ALR screens are single layer surfaces.
True Optical ALR
True Optical Ambient Light Rejecting screens are specifically designed to reject higher levels of ambient light from specific angles in a room. This makes the image brighter than Contrast Based ALR. Light in the room is not reflected in the image, resulting in high-contrast, luminous images in well-lit environments. True Optical ALR screens consist of a series of optical layers rather than a single layer like Contrast Based ALR screens.
"To create amazing experiences, customers need solutions that enable them to install large projection screens in all types of environments, and controlling light levels isn't always an option. In the past, high levels of ambient light diminished the experience or required substantially more expensive products," said Steve Durkee, Legrand AVD Senior Vice President & General Manager — Commercial. "To solve this challenge, Da-Lite is setting the standard with projection screen technology that rejects the highest percent of ambient light in the industry, while maintaining excellent image quality. Looking forward, we plan continued investment in ALR technology to further improve performance and create even larger sizes."
Learn more about Parallax ALR solutions, download the free white paper from Da-Lite today: https://info.legrandav.com/l/71782/2019-01-14/81kb5j.