Extron Ships DTP2 T 203 Three-Input 4K/60 4:4:4 Switcher with Integrated DTP2 Transmitter
Extron DTP2 T 203 three-input switcher works best for discreet installations in lecterns, beneath tables and places where tech doesn't need to be seen.
Leave a Comment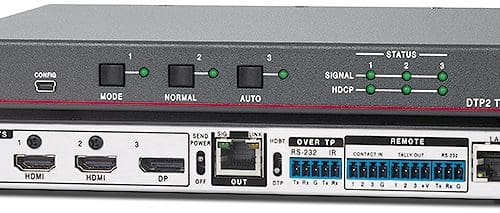 Extron recently announced the immediate availability of the DTP2 T 203, a three-input switcher with integrated DTP2 transmitter for sending DisplayPort, HDMI, audio, and control up to 330 feet (100 meters) over a shielded CATx cable to an Extron DTP-enabled product.
The Extron DTP2 T 203 "supports video signals at resolutions up to 4K/60 at 4:4:4 chroma sampling," according to the company announcement and the HDCP 2.2-compliant product can also be used for distribution of 4K HDR.
"The DTP2 T 203 switcher is loaded with integration-friendly features, such as EDID Minder, auto-switching between inputs, audio embedding, as well as Ethernet remote control and bidirectional RS‑232 and IR pass-through for remote AV device control," according to the Extron announcement.
"Designed for professional environments, the DTP2 T 203 switcher is ideal for discreet placement in lecterns, beneath tables, or wherever needed to meet application requirements," the Extron announcement says.
"The DTP2 T 203 brings 4K/60 4:4:4 switching and extension to the conference table," says Casey Hall, VP of worldwide sales and marketing for Extron, in the company announcement. "It is ideal for point-to-point applications or sub-switching into our all-new IN1808 seamless presentation switchers."
Inside the Extron DTP2 T 203 Switcher
The DTP2 T 203 can automatically switch between video sources and is compatible with all DTP receivers and DTP-enabled products. The DTP2 output can be configured to send video and embedded audio, plus bidirectional RS-232 and IR signals, to an HDBaseT-enabled display.
DDC communication of EDID and HDCP is continuously maintained between source and display to ensure direct compatibility and optimal signal transmission between devices. The DTP2 T 203 switcher also features contact closure, tally and RS-232 ports for integration with a control system.
Last year, Extron introduced the IN1806 six-port presentation switcher, saying the product is "engineered to deliver a seamless signal-management solution that is capable of handling signals as band intensive as 4K at 60Hz with 4:4:4 chroma subsampling."
It incorporates ProDSP audio processing, as well as other integrator-friendly features including HDMI 2.0 to help support data rates as high as 18Gbps and a proprietary Vector 4K scaling engine.