Inside the Aurora Multimedia Booth at ISE 2020: Uncompressed 4K60 Transceiver, Wireless Huddle Rooms, & More
The Aurora Multimedia ISE 2020 booth (#5-T65) features a slew of new products and updates, including wireless huddle room, IP Control Units & more.
Leave a Comment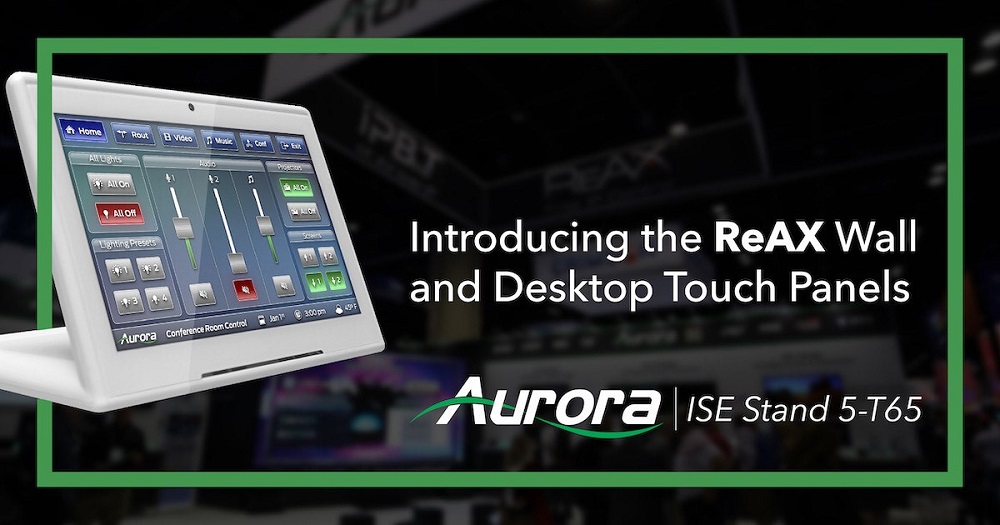 Aurora Multimedia, an IP video distribution solutions manufacturer, is set to debut a few new high-resolution-ready solutions during ISE 2020 at their booth (#5-T65). Here's a preview of what visitors can expect.
Uncompressed 4K60 4:4:4 as a transceiver: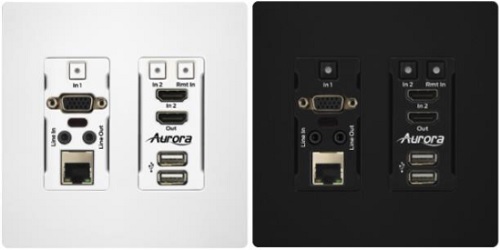 Aurora says it has eliminated the need for RX & TX as their new HT Pro Series HDBaseT transceiver wall plate can be set to the direction required for both wall plates and box units.
According to Aurora, "this will end stock disproportions, make servicing easier, and add new capabilities as in seconds the units can reverse direction."
More features of the HT Pro Series:
Dante option for 2 or 8 channels
ARC (Audio Return Channel) which can be fed to Dante or to the local line output
HT-TC1-WP2 features two gang transmitter Decora wall plate available in white or black
Transmit uncompressed 4K60 4:4:4 18Gbps HDMI 2.0/HDCP2.2 100m (330ft) over a single unshielded CAT cable
Integrated web server for remote IP control, 480Mbps USB 2.0 with directional control, 1Gbps LAN
Wireless huddle room solution
The TS-100 is a low-cost wireless huddle room solution. Aurora's TeamStream Technology eliminates the "mouse trail" found on many wireless solutions, the company says.
The TS-100 allows over 20 users to have access in a room.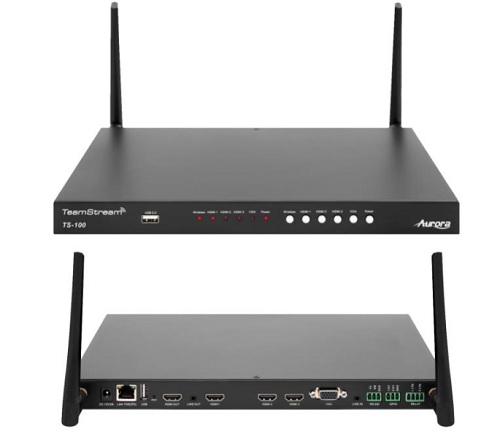 Control & automation is covered with the available RS-232, relays, and IO for integration with control solutions.
More features of the TeamStream:
Wireless Presentation

Connect USB dongle & share your content
Connect to in-built Wi-Fi & share your content
Connect to client network & share your content
Dual View of wireless contents

Wired VGA Input
Wired 3 HDMI Inputs

Supports 4K60 4:4:4 resolutions
USB-C to HDMI (Compatible with most commonly available adapters)
Mini DP/DP to HDMI (Compatible with most commonly available adapters)

4K Scaled HDMI Output (4K60 4:4:4)
Built-in Control Expansion

HDMI CEC Control
RS232 (Serial Port)
Relay ports for Screen control
IO ports for in-room Sensor integration
4 New ReAX IP Control Units
The ReAX control units are a web-based IP control system. Custom programming and GUIs created with the free ReAX Core Studio software are loaded in to the built-in web server, allowing virtually any device with a web browser to display the GUI and control the system.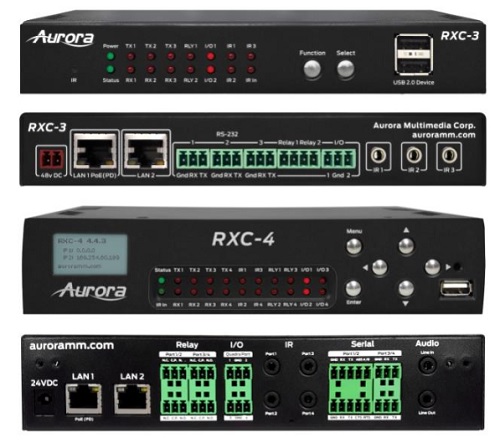 "Examples include PC browsers, dedicated touch panels like the Aurora RXT series tablets, smart phones and more," according to Aurora.
"The small size and flexible of the architecture allow the controllers to be used as a full standalone controller, an expansion controller, or a hybrid of the 2. This allows for a distributed control network – place control ports right where they are needed in your system rather than long cable runs from a central location.
"The RXC IP control systems have a full complement of LAN, RS-232, relay, I/O, and IR ports for controlling external devices. An IR receiver enables the internal IR learner – no extra hardware required.
"In addition to network control and access to the GUI and configuration web pages, the LAN port is also capable of power over Ethernet (PoE), eliminating the need for an additional power supply."
ReAX Wall & Desktop Touch Panels
Aurora Multimedia will be demonstrating the ReAX IP wall mount (RXT-7, RXT-10) and desktop (RXT-7D, RXT-10D) Android touch panels. Both styles are available in 7" and 10".
The wall mount version is designed to mount flush in wall portrait or landscape.
The desktop versions are available in white or black and are "more than just an interface but the brain of the system if desired running the ReAX core on an Android operating system," says Aurora.
"ReAX is the industry's first non-proprietary IP Control based on AV/IT industry standards. The name ReAX represents action/reaction which is the essence of control automation," the company says.

"ReAX is unique since it is not limited to a single manufacturer but to all who qualify. This is for the first-time, interoperability of not just protocols and structure, but the actual code itself."
To the end user, it will appear and operate as any other control system. Integrators will not have to rely on proprietary training courses and the required investment of time and money.