Kramer Now Shipping PT-871/2xr-KIT Extender Kit
Kramer PT-871/2xr-KIT represents the most recent addition to company's growing line of HDMI and HDCP extenders and is available for shipping across the U.S.
Leave a Comment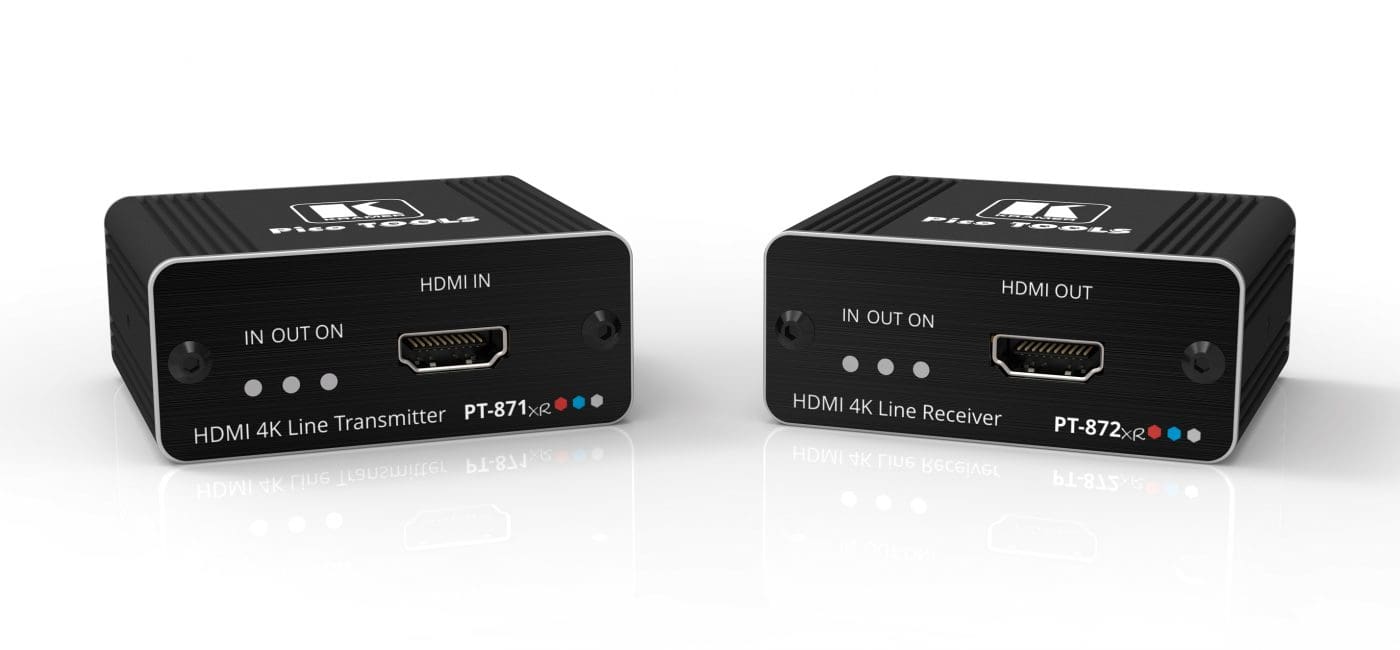 Kramer Electronics recently began shipping PT−871/2xr−KIT, a long−distance DGKat 2.0 extender kit for 4K@60Hz (4:4:4) HDR HDMI 2.0 and HDCP 2.2 signals with 2−way powering over twisted pair.
Breaking Down the Kramer Electronics PT−871/2xr−KIT
The PT−871xr transmitter converts HDMI signals for long distance transmission and the PT-872xr converts them back to HDMI.
The PT−871/2xr−KIT extends video signals to up to 200ft (60M) at 4K@60Hz (4:4:4) resolution and up to 230ft (70m) at 4K@60Hz (4:2:0) 24bpp resolution over Kramer shielded cables, according to the company announcement.
The PT−871/2xr−KIT is also equipped with two status LED indicators for HDMI and DGKat 2.0 ports for easy local maintenance and troubleshooting.
Kramer's PT−871/2xr−KIT "supports installation simplicity with single twisted–pair cable for signal and power wiring," according to the company press release. These units each come in a Compact Pico TOOLS fanless enclosure for device–back mounting, or side–by–side mounting of 4 units in a 1U rack space with the recommended rack adapter.
The PT-871/2xr-KIT also supports up to 32 channels of digital stereo uncompressed signals for studio–grade surround sound providing multichannel audio extension.
The PT−871/2xr−KIT is used largely in long-distance extension of HDMI signals in meeting rooms, boardrooms, hotels and corporate facilities. The PT−871/2xr−KIT carries a list price of $500 and is currently in stock in the U.S.
More from Kramer Electronics
Learn about other key Kramer Solutions: Kramer Network, Kramer Control Solutions, Kramer@Work, VIA Wireless Presentation & Collaboration Solutions and Kramer Collaborative Classroom.
Kramer recently began shipping the VS−622DT, which the company touts as "an all−in−one 4K@60Hz (4:2:0) presentation system with 6×2 HDMI/HDBaseT matrix switching, control gateway, PoE, power amplifier and Kramer Maestro room automation."
The unit reclocks and equalizes the signals and can route any input to the HDMI or the HDBaseT output or to both outputs simultaneously.
The VS−622DT is also a control gateway that can send control signals over the Ethernet or HDBaseT line with control ports that include: RS−232, four IR, two GPI/O, and two relays to control a wide variety of AV devices.