Studer by HARMAN Announces More Powerful Infinity Core and COTS Processing Support
Additional Studer by HARMAN models and new lines 'support growing production processing needs and processing flexibility' with Studer Infinity Core.
Leave a Comment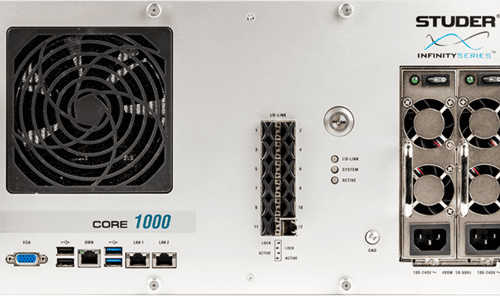 HARMAN Professional Solutions recently announced upgrades to the Studer Infinity Core Mixing Processor, utilizing Moore's Law benefits to "increase processing power with new models offering 300, 600 and 1000 MEQ channels at the same price point as previous models," according to the company.
In addition, the new Studer Compact Infinity Core has launched, "providing Studer Infinity Core processing in a compact 2RU frame with 300 and 600 MEQ versions, each with four A-link ports, ideal for applications where space may be limited but standard Infinity Core features such as 100 percent Core redundancy are needed," according to the HARMAN announcement.
The new Infinity Core models "utilize Intel E5 Xeon CPUs, which provide 50 percent more processing power than previous models," according to the press release.
Studer has also launched the Compact CoreLink Card, "which can turn a COTS server into an Infinity Mixing Processor by the addition of a PCIe card, providing four A-Link connections," the press release says.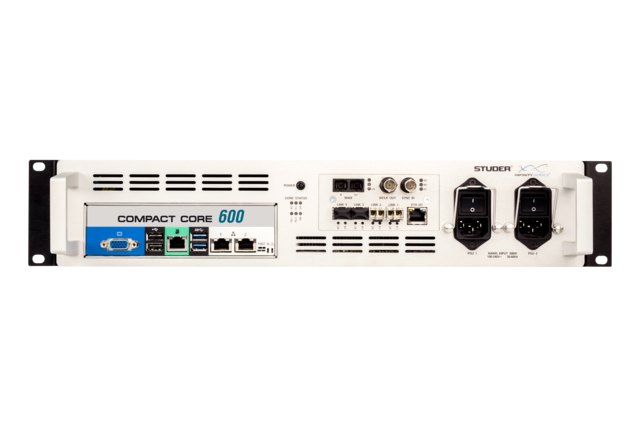 The full range of Studer Infinity Core processing options all work with the new Vista 5 Black Edition and the Vista X and Vista V consoles.
"We're thrilled to be able to deliver these next-generation Infinity Cores, following through on our promise to harness the full potential of the CPU-based processing platform," says Mark Hosking, director of broadcast sales at HARMAN Professional Solutions.
"We're now delivering more processing power at no additional cost and extending the scope of the Infinity series to both lower channel count and more cost sensitive applications right up to the very highest processing demands that our customers expect.
"When you have those larger applications that really push the envelope in processing power demands, it's good to know you've got the processing technology to back you up," he said.
Related: Harman Pro Studer Vista 5 Black Edition Console Adds Infinity Core Processor
The Studer Infinity Core Compact serves a rapidly growing need: full Core processing and redundancy that can work in stricter space limitations.
"Most broadcast vans are so limited on space that they could never utilize the features of a full Infinity Core processor so we studied the problem and discovered that 4 A-Link ports serves the needs of most mobile-processed productions, which allowed us to significantly shrink the enclosure footprint, yet still maintain other critical full Core features," says Bradley Drummond, HARMAN Professional Solutions director of hospitality marketing.