Unleash the Full Potential of Your AV System with All-in-One Video Distribution Solution
The Swiss Army knife of professional video distribution, the BZBGEAR BG-4K-VP series features matrix switching, video wall, and multiview capabilities.
Content from our Sponsor
Leave a Comment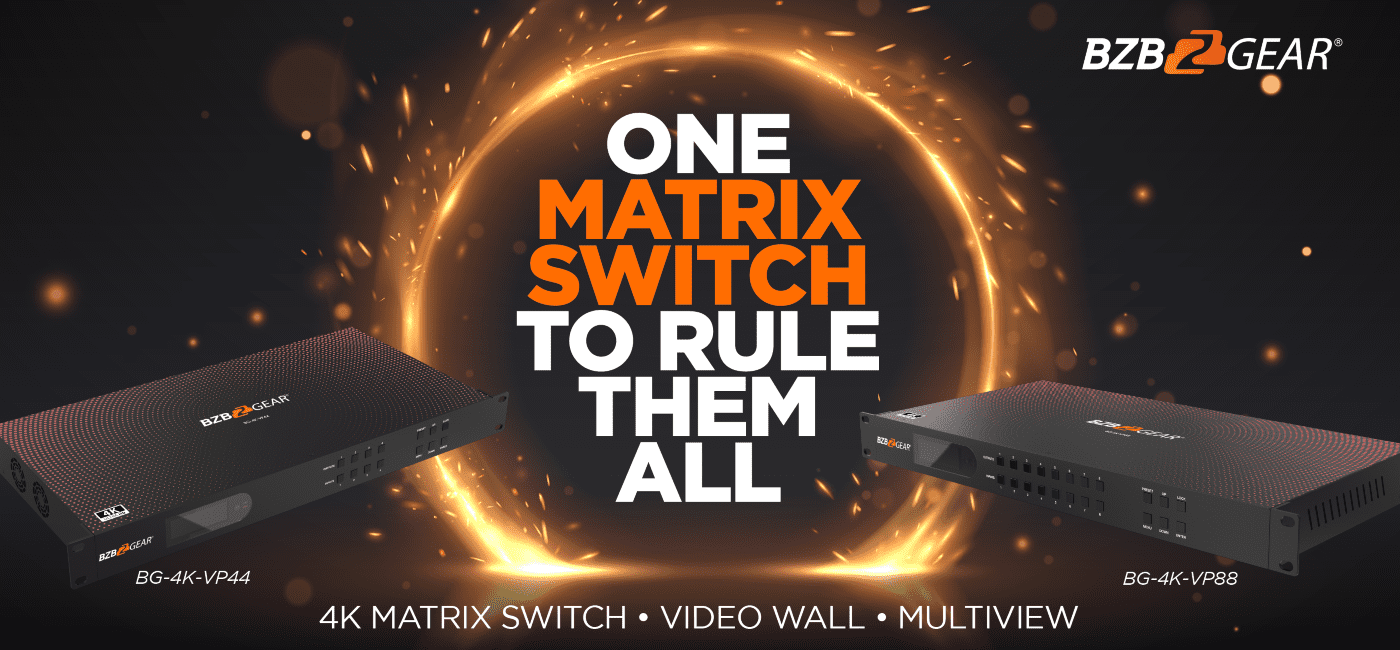 In 1884, the Swiss Army made a decision that would change history. They sought to equip their soldiers with a multi-purpose tool that could perform various tasks. Fast forward to today, and the Swiss Army knife has become a cultural icon symbolizing ingenuity and precision craftsmanship. From hikers and campers to astronauts and surgeons, everyone recognizes the knife's versatility and reliability.
While we may not be able to impact the lives of campers and astronauts, we've created our own version of the Swiss Army knife for AV professionals seeking a flexible, robust video distribution system. The BG-4K-VP series comes in 4×4 and 8×8 models and is a 4K matrix switcher that also acts as a video wall processor and multiviewer. As a part of the AV community, we appreciate the rigorous work and dedication our fellow AV professionals put into every project. And as a member of this community, we aim to make their lives simpler by providing a single solution for their clients' many unique needs and requirements.
Our all-in-one BG-4K-VP matrix switcher supports resolutions of up to 4K@60HZ 4:4:4 while all HDMI ports are HDCP 2.2 compliant, ensuring seamless high-quality video distribution without picture loss or delay during transitions. The analog audio extraction adds an extra layer of convenience to your setup. With up to four or eight HDMI inputs and independent routing to outputs, the BG-4K-VP matrix switcher also offers advanced features like EDID management and mapping.
Control the BG-4K-VP through various methods like front panel buttons, IR remote, RS-232, IP control, or web interface. The video wall configurations of up to seven different modes with each monitor and the ability to display multiple pictures on the same screen with multiple split display modes, make it the ultimate professional video distribution solution.
We understand terms like "ultimate all-in-one tool" get thrown around ad nauseam, but the BG-4K-VP matrix switcher series truly lives up to these claims. In the past, AV professionals had to purchase multiple units to achieve what a single BG-4K-VP matrix switcher can do, making it significantly cost effective and an indispensable pro AV and broadcasting tool.
Click here to learn more about the BG-4K-VP matrix switcher series.

If you enjoyed this article and want to receive more valuable industry content like this, click here to sign up for our digital newsletters!