What AV Integrators Can Learn From Our Changing Videoconferencing Habits
LogMeIn shared some of GoToMeeting's usage data with us, and it illustrates where and to whom to sell videoconferencing systems.
Leave a Comment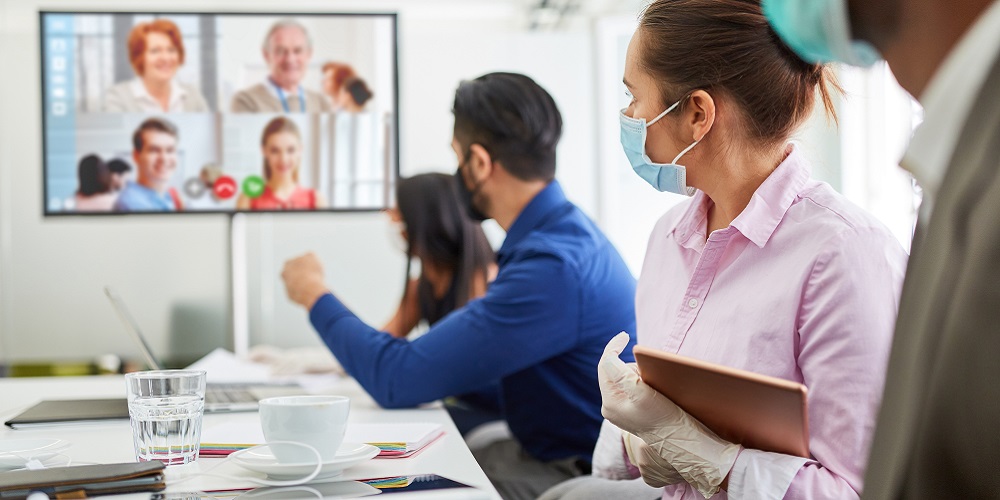 By now, your integration firm should be videoconferencing experts and should be having conversations with your customers about what their meeting rooms will look like when they return to the office.;
According to several studies, many of your customers' employees likely won't even return to the office full time, so the most up-to-date hardware and software will be demanded as the workforce adjusts to hybrid work environments.
That means integrators have to build comprehensive systems with hybrid work in mind that are able to seamlessly integrate with a variety of platforms and hardware on the market, says Mark Strassman, senior vice president of LogMeIn's unified communications and collaboration unit that oversees products like GoToMeeting, GoToWebinar and more.
How videoconferencing habits are changing
In an interview with Commercial Integrator, Strassman spoke about how our videoconferencing habits changed dramatically because of the COVID-19 pandemic and the shift to remote work.
According to the company's data from its GoToMeeting platform, the method, size and timing of video meetings changed noticeably this year.
The percentage of meetings taken on a mobile device grew from 5% last year to 12% this year, weekend meetings grew from 3% last year to 8.5% this year, meetings and webinars both nearly doubled in average size, and the percentage of people switching on their video feed during meetings grew by four times.
Perhaps most useful to integrators looking to sell videoconferencing systems to new markets is the growing customer base among the platform's active users.
Healthcare usage nearly doubled, education use more than doubled, biotech use tripled, and government use grew by five times.
Read Next: Navigating the Sea of Videoconferencing, Collaboration Apps in the Conference Room
The largest spike – government – is largely because of the critical need for the government to continue doing its job.
It's a market that historically hasn't embraced technology like videoconferencing, but now bodies are forced to hold municipal meetings over video platforms, legislative groups are meeting virtually to make laws and courts conference over the internet to apply those laws.
According to Strassman, LogMeIn counts some biotech firms among its largest customers, including Eli Lilly & Co., which is developing COVID-19 treatments.
"They believe in social distancing and science more than anyone, and they are not going into the office," Strassman says. "They are collaborating remotely in a way they have not before."
How AV integrators can adapt to these changing data points
Few – if any – other videoconferencing platforms have released similarly detailed data on industry-specific usage, so LogMeIn's research can give integrators a better idea of which vertical markets to target for videoconferencing system sales.
Government and biotech should top that list, and there will always be a need for conferencing technology in schools as long as distance learning is a part of our vocabulary.
However, AV integrators need to keep in mind that several leading videoconferencing platforms are available, and your customers are likely using more than one. 
GoToMeeting, Microsoft Teams, Zoom, Google Meet, Webex, BlueJeans and others are all reporting significant growth due to remote work, and they're all competing for customers.
That means you need to design room systems that can join meetings from any of those platforms.
"Because companies are changing," Strassman says. "They're changing from point solutions to UCC solutions, and you just can't be tied to a single provider."
The ability to hook in other cameras, microphones, speakers and other hardware solutions with those systems is also important, Strassman says.
Meeting room designers and installers also need to pay attention to the desire for more simplicity and easier integration, Strassman says.
Designing an expensive codec solution or a DIY system based on Mac or Windows is falling out of style to easily manageable appliances that can be remotely managed.
According to Strassman, not every industry will become a customer because not every industry is going back to the office. Many tech firms like Microsoft and Google are embracing remote work and are giving employees more flexibility in where and how they work.
However, more traditional industries like finance, healthcare, education, and government are signaling that they need to return to the physical work site and will need videoconferencing systems in addition to a socially distanced layout.
"The ones that are really jumping on it are the ones that say, 'Yes, we're going back to the office, but it's going to be a while until we're all there,'" Strassman says.
"In the meantime, we need to set up where the majority of people are at home and we all need to communicate much more effectively."
If you enjoyed this article and want to receive more valuable industry content like this, click here to sign up for our digital newsletters!