Vistacom Experience Center Brings Employees and Customers into the Middle of the AV Tech
Vistacom opened the Experience Center in 2015 as a way to help clients—and employees—get more familiar with the AV systems they build and install.
Leave a Comment
More AV integrators—of all sizes—are moving away from having their customers visit examples of the company's previous work to get an idea of how they can outfit their facilities with cool new AV technology and bringing them right to their offices.
That's because we're seeing more examples of integrators redesigning their offices so they're working within the technology they sell.
Allentown, Pa.-based Vistacom opened in Experience Center several years ago and it's become a destination for customers who want to see and play with AV tech before buying it for themselves.
"We love to bring people in and show them some of the technology we have, some things they might be unfamiliar with and how our business operates," says Vistacom CTO and director of technology Matt Boyer. "They learn a lot about us and the technology."
Vistacom Experience Center: It Could Work For You
Vistacom has hosted lunch-and-learn sessions at its headquarters for years, but the Experience Center has given them a new element since it opened in 2015.
It consists of a board room, conference room, small huddle space and a larger training room, with the spaces spread throughout Vistacom's 35,000-square-foot headquarters.
That training room can also be used for command-and-control deployments thanks to a large video wall, says Boyer. In addition to serving as places for customers to see what Vistacom can create for them, employees use the rooms regularly.
"We eat our own dog food," says Boyer. "It gives us the opportunity to become very, very intimate with the products. Having all this technology in one space is definitely something that helps our clients but it also helps the people who work here too.
"The more our account managers can use the products, they can ask the right questions of clients. The more engaged you can get with your clients, the more probing questions you can ask, you can really get down to their business case and how we can provide solutions for them," he says.
Keeping Vistacom Experience Center Vibrant
Vistacom typically updates its Experience Center spaces with new technology at least once a year, says Boyer. The rooms can also be configured to meet specific client needs or show them how particular pieces of equipment will work for them.
The most recent updates include a Prysm 86-inch collaboration board, a 98-inch Prysm display, a Cisco Webex room kit that's equipped with Webex Teams, and a Poly unified communications experience that features one-touch-join capabilities for Skype, BlueJeans and other unified communications service providers.
"Usually if we can get a client to come to our Experience Center and visit us, they walk away learning more, and more often than not, they choose to do business with us," says Boyer.
"They see what we're capable of and really enjoy the experience they have here."
Vistacom factors client feedback into the upgrades it makes to the Experience Center, but the changes are usually based on industry trends, says Boyer.
"We try to keep them as leading edge as possible," he says.
There's a mix of old and new technology in the spaces, he says, "because not everything needs a refresh." The Experience Center is also a good spot for Vistacom to test the system before installing them, says Boyer.
Tours of the Vistacom Experience Center are by appointment only and most requests can be accommodated within a week or two. That means time is running out to book a tour of the space during the Vistacom Tech Expo, which is set for April 16.
Tours typically last between one and two hours. There's also a virtual tour available on Vistacom's website.
Boardroom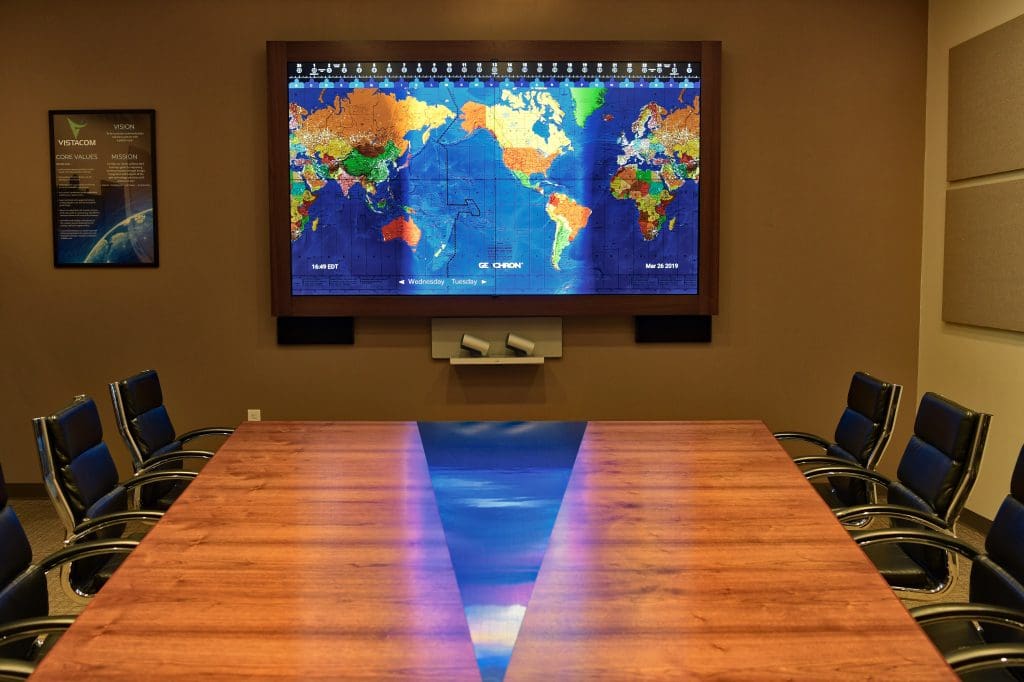 The Vistacom Experience Center boardroom is optimized for clear communication, whether it is face-to-face or via audio or videoconferencing, for large, sometimes formal, meetings.
The Vistacom Boardroom includes the following:
Acoustical Wall Treatments
AV Rack
Amplification
Audio Conferencing
Cable Cubby with Retractors
Ceiling-Mount Beam-Forming Microphone
Collaboration Tools
Customized Lighting System
Ergonomically-Designed Table
In-Table Cable Management System
Auto-Tracking Pan-Tilt-Zoom Camera
Ultra High Definition Display
Permanent Room Computer
Signal Distribution
Tabletop Touch-Panel Control
Videoconferencing Codec
Unified Communication & Collaboration (UC&C) Experience Center
The UC&C Experience Center provides a place for Vistacom clients to see how interoperable UC systems will bridge the gap between all of their corporate communications.
The Vistacom UC&C Experience Center features the following:
Several videoconferencing platforms including Polycom, Cisco WebEx, Zoom, Skype for Business, Microsoft Teams, and more
Wireless Content Sharing
Collaboration Tools
Multimedia Phone Solutions

Conference Room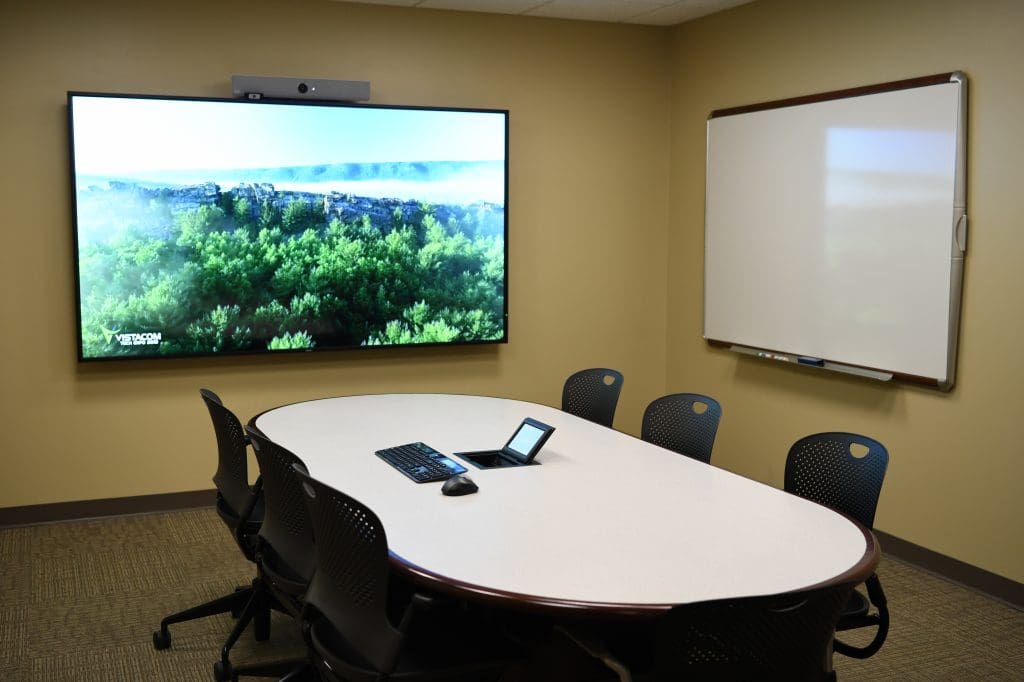 The conference room allows people to conduct casual meetings with technology that enables effective communication and collaboration.
The Vistacom Conference Room features the following:
Audio Conferencing
Below-Table Cable Management System
Cable Cubby with Retractors
Ceiling-Mounted Microphone
Ceiling-Recessed Speakers
Ultra High Definition Display with Sound Bar
Occupancy Sensor for Room Control
Cisco WebEx Room Kit
Standard Dry-Erase Whiteboard
Wireless Mouse and Keyboard
Huddle Room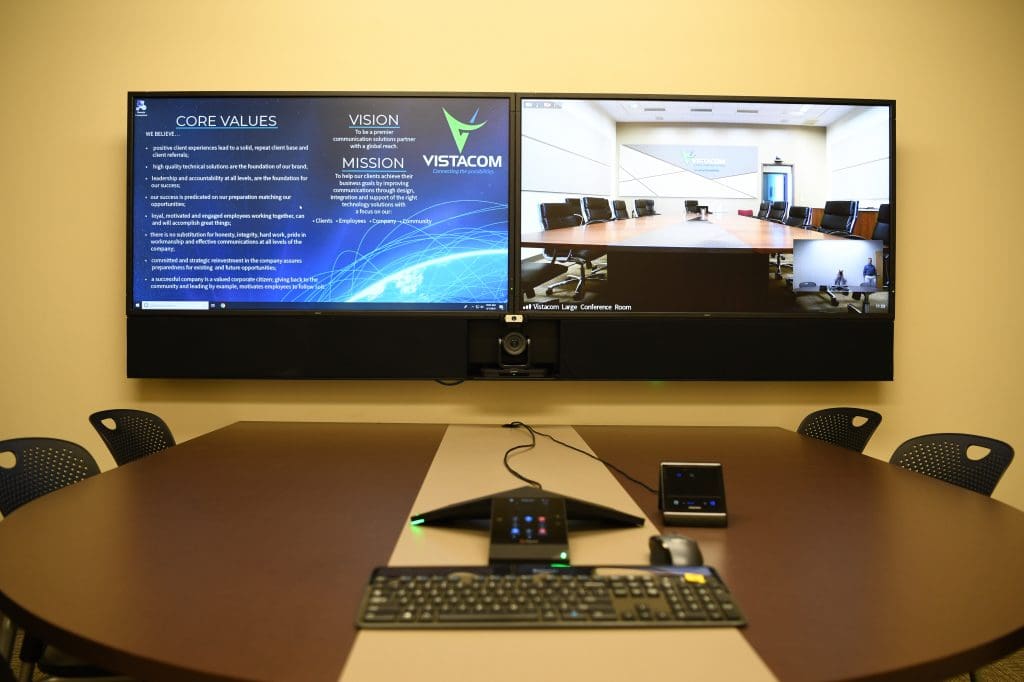 The huddle room is a small, collaborative space where employees can conduct fast, efficient meetings, using audio and videoconferencing capabilities and media sharing both internally and remotely.
The Vistacom Huddle Room features the following:
Audio Conferencing
Dual Flat-Panel Displays
Sound Bar
Specialized AV Credenza
USB Camera
Tabletop Control System
Videoconferencing Codec
Wireless Keyboard and Mouse
Training Room
People meet, learn, share ideas and collaborate in the training room. Vistacom also uses this space to demonstrate and conceptualize control room solutions.
The Vistacom Training Room features the following:
Video Display Wall
Ceiling-Mounted Speakers for Program Audio
Ceiling-Mounted Speakers for Speech Reinforcement
Control Room and Console Demonstration Area
Prysm Interactive Collaboration Tool
Lectern
Touch Panel Control System
If you enjoyed this article and want to receive more valuable industry content like this, click here to sign up for our digital newsletters!