VITEC Launches MGES-7000 4K/UHD/HD HEVC IPTV Encoder at NAB 2019
VITEC expands HEVC encoding portfolio with eight-input MGES-7000 4K/UHD/HD HEVC and H.264 IPTV encoding blade released at NAB 2019.
Leave a Comment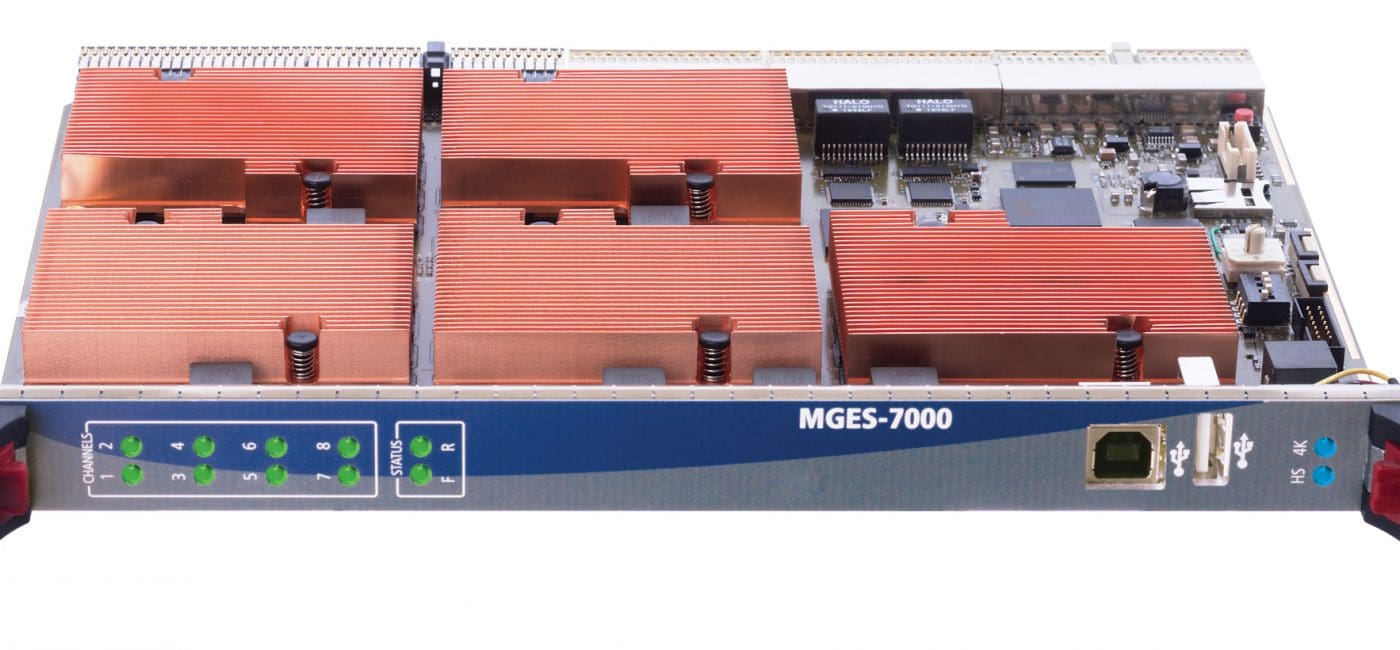 VITEC recently announced the launch of the MGES-7000 4K/UHD/HD HEVC IPTV encoder and H.264 eight-input IPTV encoding blade.
The MGES-7000 "offers real-time hardware encoding of four 4Kp60 or eight 3G/HD/SD input ports for live sources of SDI, HDMI or IP (SMPTE ST 2110) video," according to the VITEC press release, with features including secondary channel, integrated resolution and frame-rate scaling, AES 256/128-bit encryption and low latency mode.
"The streaming landscape has become incredibly diverse, which demands powerful, high-input solutions with the agility to support multiple channels of both HEVC and H.264 with broadcast quality and ultra-low latency across any network infrastructure," said David Ben-Atar, product manager for streaming and delivery products at VITEC, in the company announcement.
MGES-7000 Features
The MGES-7000 4K/UHD/HD HEVC and H.264 IPTV encoding blade is a multichannel blade encoder for a variety of applications — including in-house broadcast, real-time high-quality sports events and low-delay encrypted FMV distribution — and any installation with high-quality, low-latency IPTV distribution demands or that require support for legacy H.264 players as well as new 4K HEVC end-points.
It meets the IPTV demands of H.264 and HD encoding while its capabilities of HEVC, 4K/UHD and HDR allows for technological growth and supports market trends.
Using hardware-based encoding chips supporting 4:2:2/4:2:0 10-bit and 8-bit H.264 and HEVC codecs, it can support any application demand while providing benefits such as support for secondary video streams up to 1080p60 for each input.
All streams can be managed with an easily configured web UI.
When coupled with VITEC's Media Gateway MGW family of carrier-grade IPTV platforms, IPTV providers can serve up to 208 IPTV streams from the MGW 5100 (10RU), up to 96 IPTV streams from the MGW 1100 (4RU), and up to 16 IPTV streams from the MGW 1000 (1RU).
VITEC's Smoothing algorithm guarantees low jitter for flawless IP over any LAN or WAN network. In addition, it is fully supported by the VITEC Cluster Manager (CM) System, which provides global system monitoring and control, as well as automated N+K redundancy.