AV-Maven's Mike White: AV Living Legends #25
AV-Maven's Mike White is the latest inductee in our #AVLivingLegends series. A true connoisseur in the industry, he fits the series perfectly.
Leave a Comment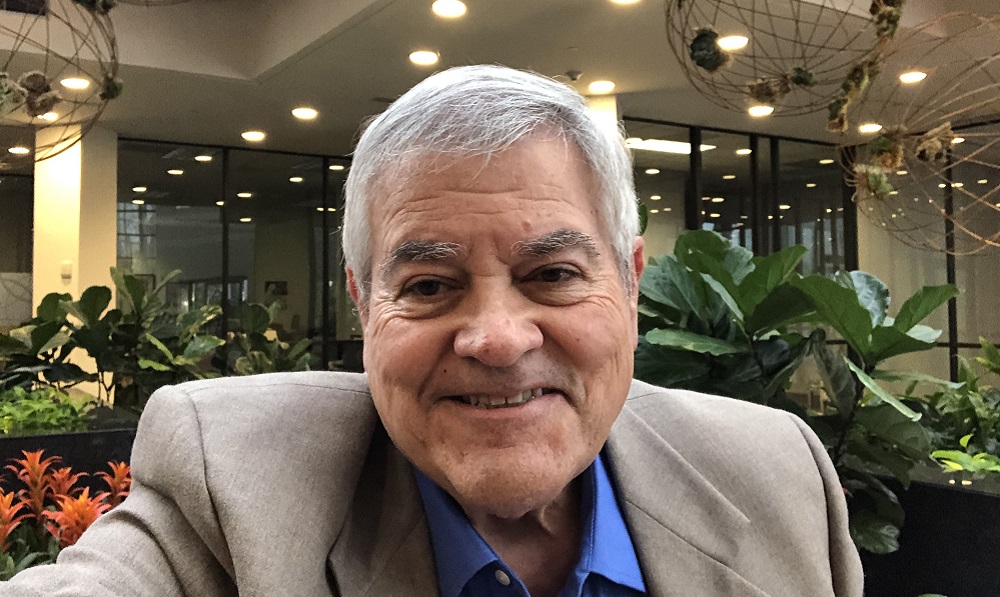 As Commercial Integrator's #AVLivingLegends series approaches its 25th edition, we turn the spotlight onto a most deserving member of the AV community: Mike White. White, who currently is principal with consultancy AV-Maven, is a recognized expert in digital signage, having presented countless courses over the decades at the most esteemed industry events in the AV world.
Here, White reflects on a career spent helping others, selling value and sticking to core principles. He shares a detailed anecdote about a moment that truly tested his mettle, and he celebrates the mentors who shaped his career as an AV professional. He also speaks candidly about both his greatest successes and his few regrets.
We hope you enjoy this reflection from one of the best, most decent people in the commercial AV world.
Commercial Integrator: What motivated you to join the commercial AV industry?
Mike White: I graduated as an electrical engineer, and I decided I would like to do something with my engineering degree other than practice engineering in a traditional sense. I loved the idea of sales, and I entered computer peripheral sales when the first PCs were introduced. I went to a large technical show, COMDEX, in fall 1989 and experienced early-generation LCD panels that could accept CGA and VGA signals. And, with the help of a very powerful overhead projector, it was possible to show the computer screen on a large screen. I saw this as a paradigm shift in the way computer presentations were made. Somehow, I got a company called Proxima Displays to allow me to sell these panels in Tennessee.
My parents always encouraged me to look for things in life that helped people, and I felt this would be a game changer to help people communicate. So, I formed the company that eventually became Multi-Media Solutions, Inc., whose focus was using technology to enhance communication. That continues today, even as my days as an AV integrator have ended and my days as a consultant have begun.
I owned Multi-Media Solutions for 25-plus years. And now, I represent AV-Maven LLC, serving as a full-time focused consultant on the art and technology of digital signage. All that started with an LCD flatpanel that could support low-resolution computer screens on a larger screen.
CI: What has kept you motivated and engaged in the decades that followed?
Mike White: My motivation and passion have aligned with every increasing capability of communication technologies, which support better and better communication in all areas. As my career progressed, I continued to go to trade shows to gain knowledge, and I learned about an emerging technology to complement the tools I was qualified to sell and support. That technology is now called digital signage.
I recognized early on that it was just different enough to allow my company and me to grow and succeed because most companies — and this is still true today — did not see digital signage for the opportunity it presented. My passion to make life better with technology has been fueled by my focus on digital signage and how it could serve people.
CI: Reflect on your role as both a mentee early in your career and as a mentor later in your career. Who helped shape the trajectory of your professional life, and how have you tried to help shape others' careers?
Mike White: I was so blessed in the early to mid-'90s to understand the power of the internet. I hired a webmaster, and, subsequently, we were one of the first to support information about plasma screens. (Back then, there were only three or four manufacturers, and each screen cost well in excess of $10,000. Wow — things have really changed!)
Well, one day, my brother, Steve, who was working for me at the time, answered the phone. A gentleman from Office Depot asked, "Could you sell me some plasma screens?" My brother, having just completed the basic Sandler Sales Training, smartly answered yes. But, he asked, "How do you plan to use them?" The gentlemen from Office Depot quickly elevated his conversation and said to Steve, "Finally…someone who understands! I am not looking to just buy a box; I am looking for a company to help us use them in our stores." Steve passed the phone to me, and the conversation quickly moved to several days onsite at the Office Depot office in Boca Raton, Fla. Those meetings led to the first 100-plus Office Depot stores getting digital signage, along with millions of dollars in business.
I reflect on this not to brag but, rather, to bring to light two important mentors in my business life. The first is Steve Herzog, owner of Sandler Sales in Knoxville, Tenn. He is the person who taught me value-based selling centered on asking questions, much like my brother did of Office Depot. I would not have succeeded with Office Depot — or any other large opportunity — if I had not listened to this man's wisdom on how to sell without the customer seeing it coming. And, even more important, how to sell value — not the box — first.
My second important mentor, now deceased, is Lyle Bunn. Lyle, truly the most gifted and insightful person I have ever met on digital signage, reached out to me after my success with Office Depot. He offered a speaking opportunity at a digital signage conference in Toronto. Lyle graciously supported me in my first digital signage presentation, and then he graciously mentored me for years, allowing me to share the stage with him many times. He built on what I learned from Steve Herzog and helped me understand that digital signage then and now is a value proposition and not a box sale. Simply stated, these two men paved the path for me.
I learned from these two men and others, like Alan and Jonathan Brawn, that digital signage success is always based on good questions. Today, I invest my professional life in teaching others how to ask the right questions — long before they talk of how many screens or players are needed to complete any digital signage project.
I consider it an honor and privilege to teach others the art of digital signage.
CI: What's the most memorable story/anecdote of your career in commercial AV?
Mike White: My most memorable experience happened early in my career. As I reflected above, my Office Depot opportunity accelerated quickly, and I was asked to provide an onsite demonstration. I reached out to my 30-plus-year friend and manufacturer's representative at the time, Ken Colson, who has also served as a mentor. (He has always invested his time in me and others, teaching us about the value of the products we sell and not just the price.)
Ken was the Fujitsu plasma rep. He believed in me enough to secure a plasma screen and travel with me to Florida to help me with the demonstration. He did this on his own dime. (That was one of many times that he sacrificed for me). Before I committed to this very expensive live demonstration, I spoke with my mentor, Steve Herzog. Knowing that the demonstration of this new technology could overshadow my value message, Steve counseled me wisely. He suggested that I must ask for two rooms: One in which I would place the Fujitsu plasma screen with computer showing digital signage, and one in which to ask questions to establish value before the hardware demo began. I listened and made the request of my Office Depot contact. He asked me whether this was necessary, and I remembered what my mentor said. I stuck to my guns, and he said OK.
The day of the Office Depot value presentation came. (Taking note, I did not say "sales presentation" or "demo.") I truly believed in the wisdom of my mentor, and I was blessed that my friend, Ken, accepted by faith that I knew what I was doing. Well, the time came, and the senior leadership of Office Depot, including the CEO, filed into the room. This was my moment of truth: Was I going to commit to what I had been taught, or was I going to yield to the pressure to talk specs and speeds?
The meeting started very rough, with the vice president of IT asking where the plasma screen that had been promised was. I responded that it was in the next room. He continued to challenge me, asking why we were wasting our time here. Admittedly, by this point, it was very uncomfortable for Ken and me. But I remained resolute in my commitment to establish value, so I responded with a question: How do you plan to use this technology? Almost before I got the question out of my mouth, he interrupted and asked, "Are we going to see the screen or not?" He followed with a comment that this was a complete waste of time.
Wow…this was a test of my mettle of whether I had what it took to convey value, rather than being just a box salesperson.
After a short, very deliberate pause, I responded, "Thank you so much for your enthusiasm and focus to see this technology. But my commitment to Office Depot goes far beyond selling a plasma screen to your company. I believe it's important that we make sure whatever return-on-investment goals you have for the plasma screens and digital signage are clearly understood and can be accomplished." I continued, "We need to do this before we present the technology because, if we don't establish a clear, value-based goal and a way to measure success, this would indeed be a waste of time."
Well, the vice president literally got up and started to leave the room. The CEO, exercising leadership, quickly asked him to sit down and asserted his understanding of my comments. He said, "OK. Help us to understand what can and cannot be accomplished by this investment." The rest was easy! The CEO supported the questions and, quickly, he was joined by the other leadership team members, including the vice president of IT who had earlier intended to leave.
With the help of my friend Ken, we sold hundreds of Fujitsu 42-inch panels, all driven by digital signage players. This was the first large-scale deployment for them and for me. Wow! To say I learned a lot would be an understatement! But the most memorable moment was when I committed to stay with my value message, as Steve Herzog, my Sandler teacher, had encouraged me to do. It was great to see this wisdom and insight win in the long run. If you were never trained in the Sandler sales process, you'd never see it coming. Like a submarine, my sales presentation ran silent and deep.
CI: What has been your greatest professional accomplishment to date?
Mike White: Without question, my greatest accomplishment, both in business and personally, is seeing my oldest son, Robert, follow my path and surpass my level of knowledge and skills. He truly understands and demonstrates that serving others is the highest calling.
CI: What has been your biggest professional regret to date?
Mike White: My biggest regret is that I wasn't a great businessman. I was much more impassioned to serve others, and I did not keep my attention as much as I should have on the business elements. I did not maximize the business success because I did not pay attention, as a good business owner must do, to the accounting side of the business. I also failed to understand that my slow call to accountability and eventual dismissal of an employee who was not doing their job hurt everyone and eroded my credibility.
CI: What's the best advice or pearl of wisdom you either received during your career or came to realize on your own?
Mike White: The best advice I could offer anyone came from my dad. It has little to do specifically with the AV business; instead, it has to do with life. He said, "Son, always, no matter the cost, tell the truth. And then, you don't have to have a great memory."
---
Would you like to nominate a peer or colleague — or perhaps yourself! — to be featured in this #AVLivingLegends series? If so, just email Dan Ferrisi, editor-in-chief of Commercial Integrator, at dan.ferrisi@emeraldx.com.
If you enjoyed this article and want to receive more valuable industry content like this, click here to sign up for our digital newsletters!