CI Exclusive: A Behind the Scenes Look at Just Add Power's New HQ
CI got an exclusive behind the scenes look at Just Add Power's new corporate headquarters and its MaxColor series product.
Leave a Comment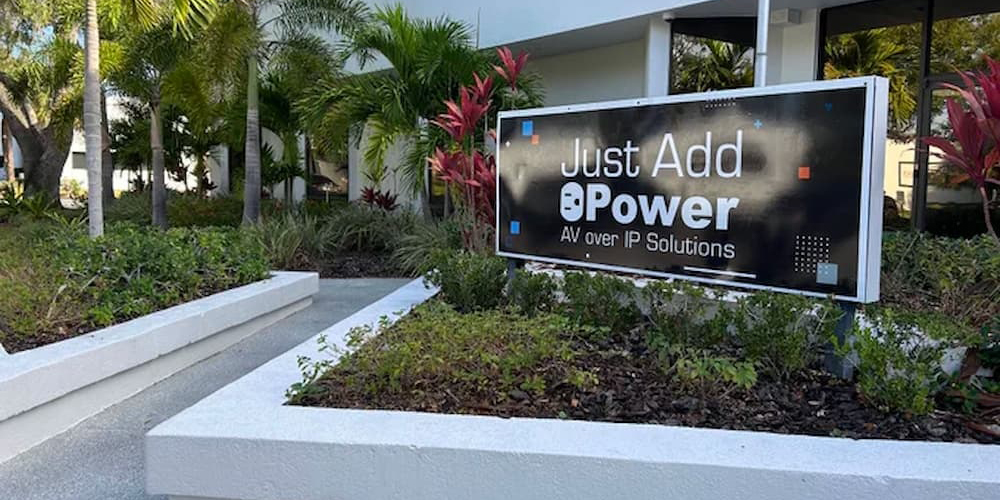 Photos & Slideshow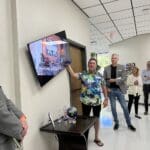 ---
Commercial Integrator got an exclusive behind the scenes tour of Just Add Power's new corporate headquarters in Seminole, Fla. The pioneering AV-over-IP video switching and distribution solution company celebrated its 30th anniversary and new product launch for its MaxColor series.
Just Add Power is, of course, known for its HDMI distribution with videowall scaling, image rotation, audio-integration options, including 8-channel Dante integration and integrator tools.
Installers are able to deliver large multi-zone HDTV and videowall projects by utilizing the flexibility and scalability of 1G Ethernet networks to overcome the fixed port size input/output constraints of legacy HDMI.
Community Engagement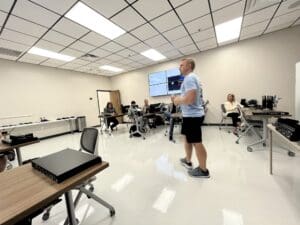 Just Add Power's newly renovated 30,000- square-foot facility, previously home to a former contact lens factory, now boasts a clean and flexible space. A surgical-grade sterilizer pumps hydrogen peroxide into the air sterilizing even the slightest cough or sneeze.
The new corporate headquarters, situated on a five-acre parcel of land, has been expanded for additional tech support, engineering, integrator training, community engagement and industry events. It's not just for the 20 or so Just Add Power employees that are in the office on any given day, but the community as well.
Since its opening, Just Add Power has hosted local police training and other non-profit community gatherings. The facility features a commercial kitchen serving as a safe place for the community to come together.
The facility also boasts a large shipping and receiving area, where prior to going to tradeshows, the booths are laid out exactly how they want to look! The facility also has an expanded tech support area, complete with Florida's largest sectional, a fabrication room, a gym, a room for product photoshoots, a garage for Qualls' classic cars and a cigar bar for employees, family and friends to gather on Friday afternoons.
Just Add Power's Beginnings

In 1992, Ed Qualls, CEO and founder of Just Add Power, decided to shed his usual suit and tie when he left his job at IBM to start his own company. Focused on building HDMI-over-IP products, Qualls recalls being met with much skepticism at tradeshows in the early days. In fact, one person even warned him that what he was building was illegal. However, that didn't stop him as he knew he was pioneering something completely new yet essential for many installations today.
For Qualls, a major turning point was at a trade show where he met Taft Stricklin, the "Sonos Jesus." At that time, Qualls had maxed out all his credit cards to get a 5×9 booth. On meeting Stricklin, the duo sat and worked out a sales and distribution strategy. Sticklin now serves as the chief sales officer at Just Add Power.
While working at IBM, Qualls states that he never liked the idea of products being built for obsolescence. Nor did he like the "it's not supported" mindset. Thus, he ensured that sustainability is at the core of Just Add Power's AVoIP product where the high-quality video-over-IP distribution solutions are meant to increase in value over time. According to Qualls, all of the company's 3G HD-over-IP products come with a five-year warranty. Just as impressively, products from the early 2000s are also supported to this day!
Just Add Power's Max Color Series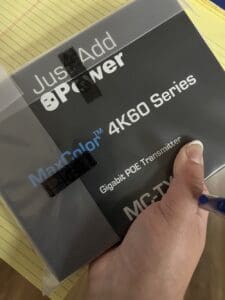 Just Add Power's new MaxColor video processors natively support 4K@60Hz in and out, allowing end users to play high dynamic range video, including Dolby Vision and HDR10+ formats. The encode/decode process performed by Just Add Power converts HDMI into network packets on the transmitter side and converts the network packets back into HDMI on the receiver side. MaxColor latency is 16 milliseconds — equivalent to less than one video frame of 60Hz content.
Using MaxColor 4K60 transmitters and receivers, integrators can create a new system, or bridge them to a 3G Ultra system to support a variety of source and screen formats.
Just Add Power's products can be found in bars and restaurants, casinos, amusement park attractions, videowall applications, e-sports, KVM applications in command and control centers, residential applications and much more.
Related: Just Add Power Serves up Video Highballs at NYC's Whiskey Bar
Technical Support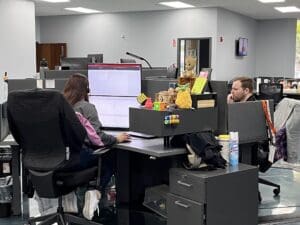 When you call Just Add Power's technical support, you won't get a scripted answer — you get a live technician to help you. These technicians are there to help integrators solve issues in real time. To ensure round-the-clock support, technicians are available from 8 a.m. to 8 p.m., Monday through Friday as well as on Saturdays from 10 a.m. to 5 p.m. Additionally, technical support is offered in English, Spanish and French. The company also provides demo loaner kits and on-site integrator trainings to ensure the best support possible.
CEDIA Expo Guitar Giveaway
At CEDIA Expo, Just Add Power will offer three daily electric guitar giveaways to bring greater awareness to Guitars for Vets (G4V), a non-profit organization dedicated to providing relief to struggling veterans through the healing power of music and community. G4V donates guitars to veterans using the medium of music to help them readjust to life after service and cope with the effects of post-traumatic stress disorder
Just Add Power will donate nine Epiphone acoustic guitars to the program to the non-profit. In its seventh year running, the company has donated 100 guitars to local VA hospitals.

CEDIA Expo attendees can enter at the booth for a chance to win one Fender Player Stratocaster guitar, a Paul Reed Smith Silver Sky SE John Mayer signature guitar, or an EVH Wolfgang Edward Van Halen Signature model guitar. To win, attendees must be at the Just Add Power booth in person when their name is called.
Whether it's a bar, restaurant, house of worship, command and control center or home use, Just Add Power is there to help!
Just Add Power will be at CEDIA & Commercial Integrator Expo September 6 through 9 in Denver, Colo. Be sure to stop by booth #3412.
Click 'View Slideshow' to view more behind-the-scenes photos of Just Add Power's new headquarters in Seminole, Fla. 
If you enjoyed this article and want to receive more valuable industry content like this, click here to sign up for our digital newsletters!