Commercial Integrator's Next Edition: New Editorial Director Lays Out His Plans
In taking a leadership role at Commercial Integrator, I'm ready to take what I've learned from Tom LeBlanc, my coverage of the industry for five years, and my time covering end user technology management at TechDecisions, to build on the already impressive CI legacy.
Leave a Comment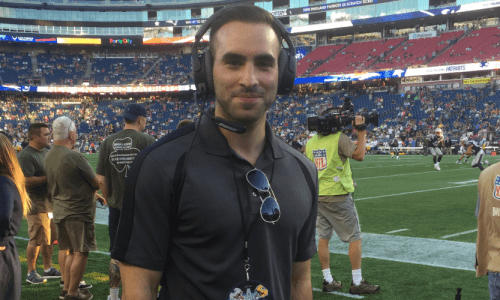 I'm not sure if you noticed, but Commercial Integrator had some pretty big news break Friday morning.
Tom LeBlanc cultivated Commercial Integrator. He built it into the most highly respected industry publication available. He's personally interviewed executives and founders of the largest integration firms in the world.
He earned the trust and respect of the NSCA due to an unflinching dedication to the channel. For the past nine years, Tom has done nothing but improve this publication and inform this industry.
If I am to succeed as editorial director of Commercial Integrator, I'll have to make my own path. Lucky for me, I've got some help.
Craig MacCormack will serve as my right hand. An excellent writer that has been with Commercial Integrator since the beginning, Craig will aid me in better understanding an industry I have tangentially covered in my career thus far.
Katie Stockham, one of the most skilled designers around that has helped to create the style of CI that the audience loves will be here to help as well. Adam Forziati, our talented senior web editor, will continue to grow our online presence. The team is still in place, and for that I'm grateful.
I will say, though, that I'm not entirely new to all of this.
I started at EH Media (our former parent company) over five years ago. I worked on fledgling TechDecisions, covering corporate technology specifically. TD was a different sort of challenge. When I was hired the publication was failing – the former staff was released, and Tom was given the publication.
The goal was to gain an audience of technology managers, the same sort of folks that might hire a commercial integrator to implement new technology.
Over the past five years, Tom and I completely revamped TechDecisions. We refocused our coverage to cover the business of technology management.
Our goal was to broaden the audience perspective on things like project management, return on investment, hiring and working with integrators, training employees on new technology, and the general benefits of different technologies to organizations.
Three years ago, I was given control of TechDecisions, and I doubled down on that effort. I focused on the IT department, which has grown to become the decision-maker on the majority of all technology implementations, IT or otherwise.
I utilized our relationship with CI to interview integrators and deliver information about the benefits of AV systems. I respected my audience's understanding of technology, so my goal became to round out that knowledge and help them further their business goals.
I'm happy to say TD has done nothing but grow since the decision to focus on business was made – and it has become a far more valuable resource for your customers.
Then, earlier this month, I learned I would be taking over Commercial Integrator. I have to be honest – I was never worried about this task. Let me explain.
I've been lucky enough to work for Tom LeBlanc for five years. As a result, I've had an inside look into what has made Commercial Integrator run during that time. I've authored articles that have appeared on CI.
I've been to every InfoComm since I started, as well as countless trade shows and events such as ISE, Enterprise Connect, Securing New Ground, Red Hat Summit, Almo E4 and more.
I've covered the AV industry the entire time I've been here, in one way or another. I was brought up by Tom LeBlanc, and carried many of his lessons to my own efforts at TechDecisions.
Since his internal announcement, I've spent hours each day in a meeting room with Tom learning everything I can about the AV industry, and how to run Commercial Integrator. I've come out of those meetings with one major philosophy that I intend to carry on into my tenure:
Commercial Integrator is written for integrators. Full stop.
My goal with Commercial Integrator is to help integration firms do better business. We'll accomplish this by always keeping integration firms, consultants, and contractors in mind when thinking about editorial coverage.
We'll bring you news about new technology, of course, but we'll also focus on innovative new practices, new revenue opportunities, possibilities for industry advancement, and more. Some of the things I'd like to focus on in the short term include:
IT in the AV Industry – I've learned in my time at TechDecisions, writing for your customers, that AV is overwhelmingly connected to the network. I wonder where the industry can introduce IT training and practices in order to better implement AV tech?
Analytics and Business Intelligence – at InfoComm 2019 I found many AV companies are introducing analytics opportunities into their products. How can integrators effectively utilize these services in order to better serve their customers (and possibly earn some recurring revenue on the back end)?
Advancement in the Industry – Like most organizations, integration firms are desperate for talent. How can firms better reach new graduates unaware of the possibilities in the integration industry? How can CI help entry-level personnel at integration firms learn the skills necessary to advance their careers?
I don't want to revamp, reimagine, or restart Commercial Integrator. The publication is as strong as ever. I do want to make my own mark on it though. I believe I can maintain the practices and coverage that have made this publication thrive, while introducing some of my own ideas and personality as well.
While I've covered AV for a while, I understand that I'm an outsider. I don't expect to be held in the same regard as Tom LeBlanc only because I've inherited his title. Instead, I look forward to earning the respect of our audience every step of the way, for as long as I'm editorial director of Commercial Integrator.
If I'm not doing so, I want you to tell me. Email me at Jonathan.Blackwood@emeraldexpo.com, tweet at me @BlackwoodTweets or @CommIntegrator, message me on LinkedIn – yell at me in whatever medium you prefer. I want to do everything I can to properly cover this industry, and I won't shy away from criticism if that's not the case.
I've learned a lot from Tom. I've learned plenty from the TechDecisions audience. I've inherited an incredible team. I promise we'll deliver the same quality, dedication, and respect for the industry that has made this publication the premier outlet for Commercial Integrators.
Now it's time to get to work and prove it.