I Have Another Reason To Watch The Super Bowl This Year: The AV
Diversified's multi-year project at Miami's Hard Rock Stadium is keeping me interested in this year's Patriot-less Super Bowl.
Leave a Comment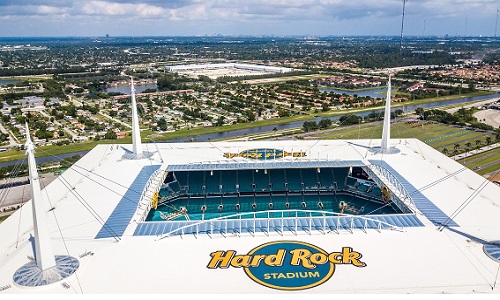 Commercial Integrator's offices are located in Framingham, Mass., which is about 40 minutes from Gillette Stadium in Foxborough, the home of the New England Patriots.
Yes, I and many others in the office are big Pats fans. Go ahead, hate us 'cause you ain't us. We're used to it.
A few months ago, I was looking forward to the Super Bowl. You know, that annual game where some NFC team plays the Patriots. Well, game day is almost here and I've come to grips with reality. For the first time since 2016, the Super Bowl doesn't involve Tom Brady & Co.
However, there are other reasons why I'm interested in this year's game, and it has nothing to do with football and everything to do with pro AV.
Diversified, one of the largest pro AV integrators, has an ongoing relationship with Hard Rock Stadium in Miami — this year's site of the Super Bowl — as part of a three-year contract.
Read Next: MEPTIK Powers AV Experience Design for Super Bowl LIII Party in Atlanta
In 2017, the company completed a project at the home of the Miami Dolphins and University of Miami football that included broadcast cabling, field sound, large-screen LED consultation, a video control room, sound system design and integration, a preview center for season ticket holders and media asset management editing capability.
Electro-Voice provided the audio equipment from its portfolio of loudspeakers:
"Drawing from all parts of the diverse yet sonically matched Electro-Voice loudspeaker portfolio, the installation delivers concert-quality sound via 186 XLCi-127DVX line array elements, weatherized and integrated into custom-engineered frames to withstand extreme storm and wind conditions.
These are augmented by EVF-1122S front-loaded loudspeakers and EVH-1152D long-throw loudspeakers to cover hard-to-reach zones like corner seating areas.
In addition, 48 dual 18-inch subwoofers, custom designed for the project, add an exciting bass element that was absent in the stadium's previous system."
It's probably better for my long-term health that I have no dog in the fight this year. I can just enjoy the game and appreciate the impressive AV features in the stadium.
If you enjoyed this article and want to receive more valuable industry content like this, click here to sign up for our digital newsletters!