MEPTIK Powers AV Experience Design for Super Bowl LIII Party in Atlanta
MEPTIK creative team leverages content creation and media playback technology to produce venue-wide visuals for DIRECTV's Super Saturday Night event.
Leave a Comment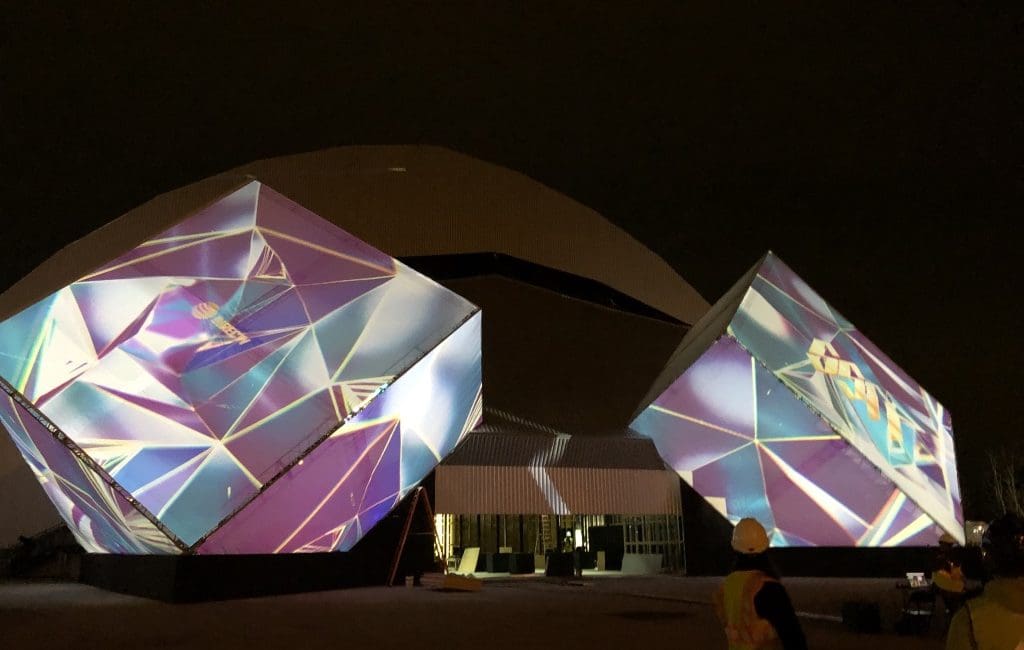 When you go to a Super Bowl, there's a lot more to do than going to a football game on a Sunday night. The host city is filled with two weeks' worth of events, parties and celebrations of the sport and the people who have made it the most popular sport in the U.S.
MEPTIK leveraged content creation and media playback technologies to deliver a real-time AV experience to attendees of DIRECTV Super Saturday Night, a Super Bowl LIII party at a temporary, 72,000-square foot venue in Atlanta the night before the big game.
Powered by multiple disguise media servers, MEPTIK produced and facilitated the display of real-time, audio-reactive visuals created in Notch at the three-floor venue.
The pinnacle surfaces of the venue were two large projection-mapped cubes on either side of the main entrance, which were also mapped by MEPTIK.
All projection was powered through Barco HDF-W30 systems.
MEPTIK also facilitated the display of content on more than 60 TVs throughout the venue, on six projection screens that hung above each VIP bar on all three levels, and on three large pyramid LED sculptures that hung from the interior substructure.
Visuals were rendered in real-time and were directly affected by the songs being played: the more upbeat the song, the more the visuals would react.
Music for the event was soundtracked from multiple sources, including live performances from headliner Foo Fighters and the Atlanta-based hip-hop duo Run The Jewels.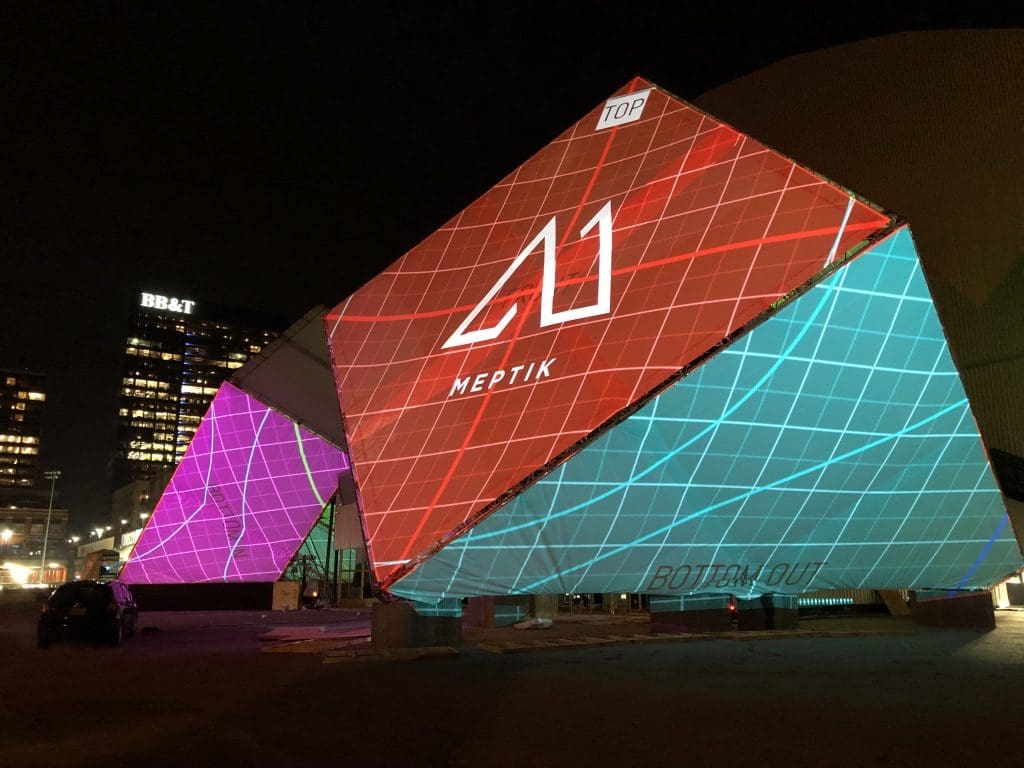 Celebrating at the Super Bowl
MEPTIK's approach was strategized under the direction of Defacto Entertainment, which celebrated its ninth year working in partnership with Murphy Productions and JEM Entertainment to produce the live event experience at DIRECTV Super Saturday Night.
"The goal each year is to create an experience that is unique and unparalleled for the client and stakeholders that this event attracts," said Adam Poel, partner and director of production for Defacto Entertainment, in the press release.
"The visuals [we created], in concert with in-venue activations, DJ sets, IMAG concert coverage and live performances, culminated in a spectacle for one remarkable evening for this purpose-built, single-event venue," he said.
MEPTIK and Defacto Entertainment worked with DIRECTV's Creative Services team to ensure that AV elements aligned with DIRECTV's brand specifications, said MEPTIK founder Nick Rivero.
"We took care to translate the brand into a cohesive live event experience that visually supported the mood, energy and aesthetic of the event as one cohesive experience," said Rivero. "Every interactive element was responsive based on the activity at that moment."