Editor's Blog: Why We Created Commercial Integrator Expo
Commercial Integrator Expo will bring together a dedicated exhibit floor, a conference program and networking opportunities, that will center on the needs of commercial integration channel service providers and growing verticals.
Leave a Comment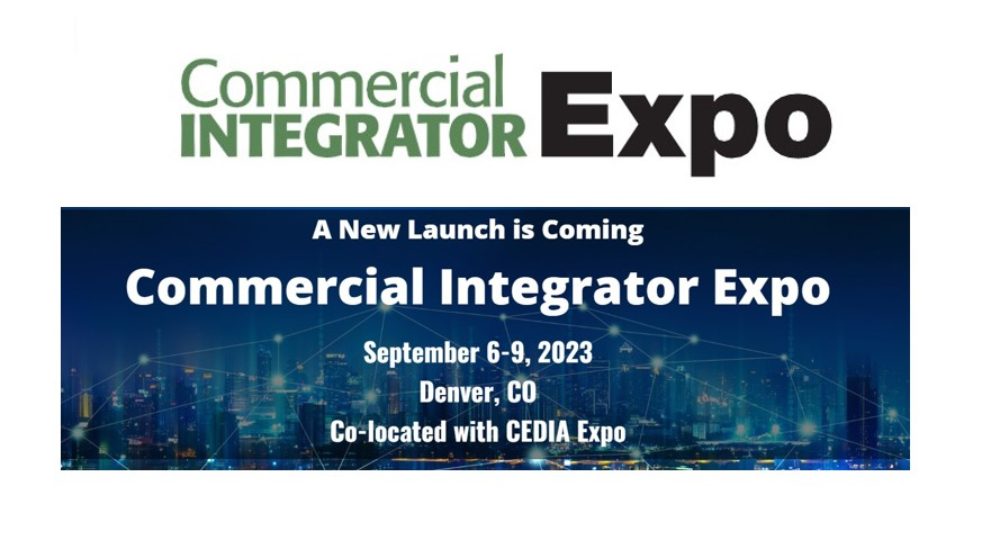 As I write these words, less than a week removed from CEDIA Expo 2022, the buoyant mood that prevailed in Dallas continues, with AV professionals leveraging the connections they made, digesting the education they took in and considering new technology applications. CEDIA Expo also marked the announcement of arguably the most exciting initiative I've been part of in my 18-year career as a technology journalist — namely, Commercial Integrator Expo, which will co-locate with CEDIA Expo in Denver next year. 
In creating the show, Emerald, owner of CEDIA Expo and publisher of Commercial Integrator, will meet a market need among fixed-installation commercial AV professionals and technology managers. Simply put, we will deliver a focused trade event, bringing together a dedicated exhibit floor, a robust conference program and powerful networking opportunities, that will center on the needs of commercial integration channel service providers and growing verticals like corporate, higher education, hospitality, retail and resimercial. Commercial Integrator Expo will lean into the ascent of hybrid work and learning spaces and the blurring of the lines that once demarcated commercial and residential applications. In so doing, we'll empower integrators to widen their aperture and leverage their core competencies in new ways. 
Commercial Integrator's raison d'être is to help integrators run their businesses better. Commercial Integrator Expo co-locating with CEDIA Expo aligns with our publication's mission by recognizing that, post-pandemic, corporate enterprises must consider not only boardrooms, conference rooms, huddle spaces, etc., but also remote associates in far-flung places who want (and deserve) an equitable collaboration experience. Moreover, even as higher-education institutions strive to entice students back to campuses, there's no doubt that distance learners will continue to represent a growing proportion of the student population. And they, too, expect (and are entitled to) an equitable education experience, keeping them at parity with in-classroom learners. If your company can offer a complete solution to clients like these — addressing all of their needs — your firm will earn more business and achieve enduring profitability. 
When informed about Emerald's one-badge-two-shows vision for CEDIA Expo and Commercial Integrator Expo, executives from iconic manufacturers and distributors expressed excitement about the co-located technology experience. 
Richard Ventura, VP of B2B, Sony Electronics, said, "As residential integrators install systems in someone's home, they're hearing from clients, 'I own a couple of businesses. I want you to come work for me there, as well.' So, they want to come to a place where they can see all the resi technology and commercial solutions they need, and how it all works together."

 

Kim Brown, senior director of marketing communications, Planar, stated, "If you're going to a commercial- or a residential-only show, you may not be seeing a whole portfolio of products or solutions that might be a good fit for your organization's customers. By including commercial and residential offerings together in a single event, it opens doors for integrators to consider products or solutions they maybe haven't considered before."

 

Cynthia Menna, VP and GM, AV at ADI, said, "Obviously, there's a lot of noise around the term 'resimercial.' To us, it'll be really exciting because there's crossover with customers and crossover with suppliers. To be able to bring them into one forum and capitalize on both audiences, as well as show adjacencies to those audiences, whether it's suppliers, partners or customers, is a great opportunity and great platform."

 
CEDIA Expo 2023 and Commercial Integrator Expo will take place September 7 to 9 in Denver. We can't wait to see you there!