Enterprise Connect to Hold Virtual Keynotes Next Week
Enterprise Connect, originally scheduled to take place later this month in Orlando, will feature keynotes and other speakers in an online webinar format.
Leave a Comment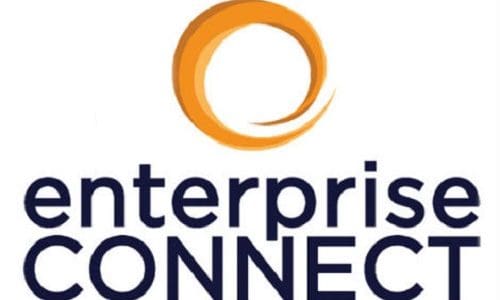 Enterprise Connect, the enterprise communications and collaboration conference and trade show originally scheduled to take place later this month, will now be in an online webinar format on the originally scheduled days.
From March 30 to April 1, the event will be hosting a three-day virtual program featuring the most popular breakout sessions in webinar format, a spokeswoman told Commercial Integrator and My TechDecisions in an email.
Also being presented are video addresses from collaboration tech leaders who were scheduled to deliver keynotes in Orlando. The speakers include executives from Slack, Cisco, Avaya and other industry leading companies.
This is in addition to the actual physical event being rescheduled and moved across the country to San Francisco on Aug. 3-6.
This is of course due to COVID-19, the novel coronavirus that's upending the daily lives of everyone and wreaking havoc on the economy.
Dozens of tech and industry events have been cancelled, and now we're awaiting word on InfoComm, the largest pro AV trade show in the U.S., scheduled for the week of June 13 in Las Vegas.
As of now, that event is still scheduled as planned.
Read Next: Enterprise Connect Becomes Latest Tech Event to be Impacted By Coronavirus
Will virtual conferences be the new normal?
Nothing can beat the networking power of physically shaking hands and discussing business over a cocktail at these events. However, enterprises have been largely quick to replace in-office business meetings with videoconferencing solutions, saving them valuable time and travel costs.
What if you could get almost the same experience at a trade show while you sit from the comfort of your own home? If you coordinate things beforehand, you could even set up some networking calls via Zoom, WebEx, BlueJeans, Google Hangouts or other conferencing platforms.
According to ZDNet's running list of tech events either being cancelled or postponed, many are actually featuring speakers via webinar.
That list includes two Microsoft events, a Google event, Red Hat Summit 2020, SalesForce World Tour Sydney, Adobe Summit, Cisco Live and several others.
Regardless of COVID-19, these events should already be captured and live streamed, even if they're still held in person. Much of the world is just now realizing the convenience of videoconferencing and unified communication and collaboration, and the demand will still be there after this crisis is over.
If you enjoyed this article and want to receive more valuable industry content like this, click here to sign up for our digital newsletters!