Far Right Production, grandMA3 Light The Way For Fortnite Concert Series
Using lighting controls from grandMA3, Georgia-based Far Right Productions helped launch a virtual concert series — in Fortnite.
Leave a Comment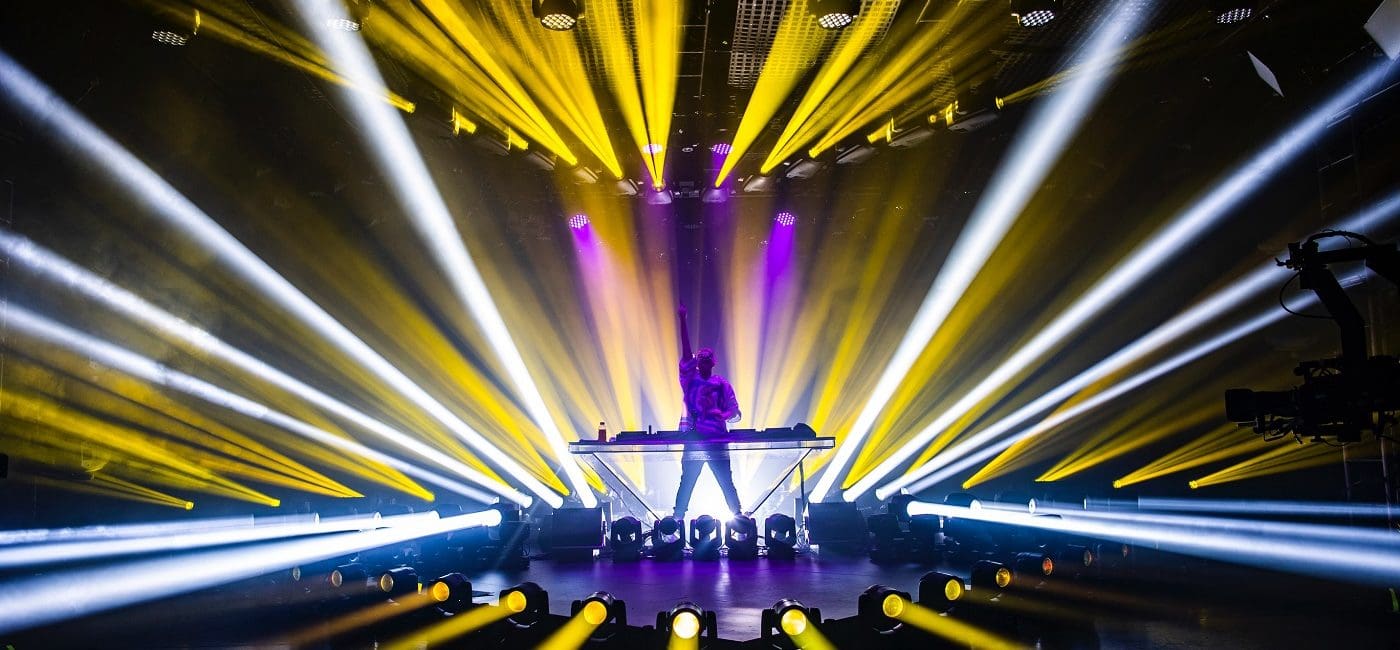 Using lighting controls from grandMA3, Georgia-based Far Right Production helped launch a new concert series – inside popular multiplayer game Fortnite.
The three-week concert series in September included full-scale, tour-worthy artists headlined by hip-hop artist Dominic Fike, Anderson Paak with his band The Free Nationals and DJ Slushii.
They performed at PRG's xR studio in Los Angeles, and the production was shown live within the Fortnite game.
Far Right Production used three grandMA3 consoles running grandMA3 software to control the concert lighting, disguise media servers and image engineering laser systems, plus all in-game events that provided interactivity around Fortnite players and the performers.
ACT Lighting, Inc. is the exclusive distributor of MA Lighting products in North America.
Epic Games, the maker of Fortnite, previously offered players smaller in-game performances, but this time upped the ante to turn the game's virtual festival stage into an important stop for musicians.
Other musicians have also performed inside the game, and the game's theatre has also broadcast an early episode premier of Discovery Channel's annual Shark Week.
"It's a great way for Epic to give back to fans," says Guy Pavelo, who's partnered with Steve Kidd in Far Right Production.  "Epic made a big point of saying they wanted the concerts to be live with rebroadcasts scheduled later in the weekend."
Last year, Far Right Productions worked with Epic to produce the Fortnite World Cup competition, which drew 34 million participants. That massive production pushed the limits of the grandMA2, so Far Right moved onto the grandMA3 platform.
Read Next: Understanding the eSports Technology Opportunity
"We felt it was time to get ready for the future and move to the grandMA3 hardware and software," says Pavelo, adding that the systems were purchased from David Diamond at ProductiveAV in Richmond, VA.
In addition to controlling the concert lighting, Far Right also streamed the in-game events to Epic's North Carolina headquarters.
In-game events included changes CG starts, fireworks, confetti effects, holographic dancers and light streams created by the Epic team.
According to Pavelo, Far Right used three full-size grandMA3 consoles and a programming wing for the three concerts, each of which kept growing in size.
"Dominic's show had 200-300 cues, Anderson's 400-500 and Slushii's 1,600-1,700 – all 100 percent time code," he explains.
"I was very surprised that we didn't need any expansion to our systems: The extra complement of parameters on the full-size grandMA3 resolved the need for this."
"We learned so much as we went along — by the time we got to Slushii we were able to pump out his cues in one week with no issues. We were so pleased with how the grandMA3 works and functions. With show sizes this large we wondered about tanking the consoles but they never went down once."
Pavelo programmed the show using the 3D visualizer built into the grandMA3 software. "Separate computers ran the 3D software for previs records, laser previs, the media servers and lighting, and it never slowed things down," Pavelo says.
"We utilized a separate disguise server system to combine all previs systems into one master view for programming."
"Epic was very pleased with the big step forward they took with the Spotlight live concert series," Pavelo says.
"Shows were immensely better than before, and we hope that Epic will continue to make Fortnite an important tour venue."