AV Can Help Higher Ed Pivot to the New Normal
Higher education was hit hard by the coronavirus, but AV technology can help students and educators adjust to the new normal.
Leave a Comment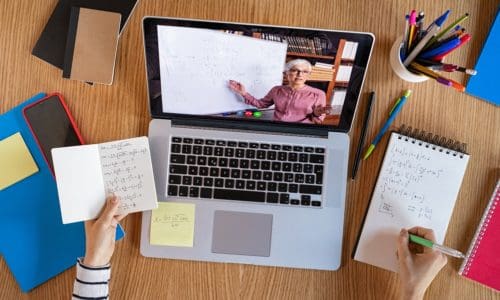 It's not just the enterprise and private business world that has to adjust to living with the coronavirus – it's also colleges and universities.
Higher education, like most the business world, has been conducted remotely for the last few months, but with learning over for most students, now is the time to identify where the needs are and make those necessary purchases and installations, according to a panel of higher education AV experts at an InfoComm 2020 Connected session.
That session, dubbed "Pivoting to the new normal, or whatever," featured Christopher Dechter of Indiana University, Marc Cholewczynski of Oregon State University, Jameson Rinehart of the University of Missouri – Kansas City, Justin Rexing of Western Kentucky Unviersity & Rexing Consulting and Larry Darling of the University of North Carolina.
Act early and often
All panelists agreed that actually getting the technology was challenging in itself since millions of workers need the same kind of tech that students and educators need. USB cameras were pretty much out of the question, Cholewczynski says.
"We had no chance of getting those," he said. "We kind of chose different technologies with kind of SDI pieces and more broadcast-ish technologies that we knew were still on the shelves."
Now, the largest challenges will be getting staff up to speed on the new technology.
"Once you do have it installed, getting the how-to and training is the next biggest hurdle that we're going to see Oregon State," Cholewczynski says.
That's especially crucial in an environment where resources and budgets are tight and becoming tighter due to the pandemic's economic effects, says Rexing. Western Kentucky University is essentially using document cameras with built-in microphones as a stopgap measure that can be deployed in classrooms and help remote learning.
"We're already strapped for resources," Rexing says. "Getting the equipment here is just step one. Then you have to figure out how to deploy it, and so we're leveraging down to student workers."
Think audio first
Much of the talk about remote learning tech has been around videoconferencing solutions like Zoom and Google Meet, but that doesn't mean educators should prioritize video solutions first, says Dechter.
"If you're buying PTZ cameras, stop doing that right now," Dechter says. "Focus on audio, focus on content."
Video would simply be an added bonus to intelligible audio, Dechter says
"If you can get the instructor's image in there, that's great for that personal connection, but do not start there," Dechter says.
"Start with audio. … It doesn't matter what mics you're using, what DSP, what processor, any of that."
Don't get too complex
Now is not the time to introduce new technology that educators aren't very familiar with, says Rexing.
"Don't throw a bunch of stuff out there you've never done before," Rexing says. "Try to leverage what you've always done. Maybe it's not the exact same parts, but it gives that similar experience. We can leverage that technology down the road after this is all behind us."
According to Cholewczynski, educators and institutions should instead be focused on curriculum and thinking of innovative ways to deliver content to students.
"I think we have to take a wholesale look at curriculum and what we're trying to deliver," Cholewczynski says.
Think of deploying technology that will deliver that content to the student, whether it be a whiteboard or document camera.
"it's not going to be any one silver bullet – it's going to be the conjunction of the faculty working to bend it to what they make it do to have it be successful for the students," Cholewczynski says. "It's not about getting the faculty outbound – it's bringing the students in."
If you enjoyed this article and want to receive more valuable industry content like this, click here to sign up for our digital newsletters!