Are Impeachment Hearings Costing Your Company?
Impeachment hearings could be costing your company money as employee productivity nosedives during these politically charged events.
Leave a Comment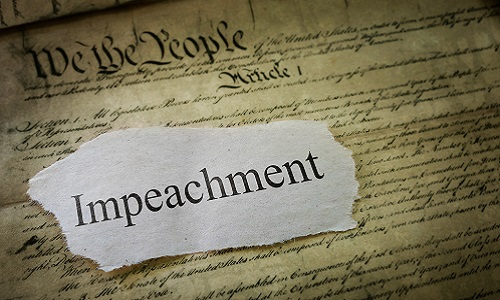 My landlord had to get into my apartment Wednesday to fix our hot water heater (pretty bad timing, since it's just starting to get into the teens overnight here in cold, gray Massachusetts). As such, I worked from home to keep my dogs sane while he made the repairs.
Wednesday just so happened to be the first televised impeachment hearing of President Donald Trump. Congressional hearings might be boring to most people, but I've recently become a big CSPAN fan. This is a big moment in American history and I want to stay informed.
Truthfully, it was hard to focus on work during the hearing. I still fulfilled my duties, but I wanted to get more done since the AVIXA Executive Conference last week set me back a few days.
High-profile political events and hearings could be eating into your bottom line.
However, I'm not the only one who's work output took a hit.
According to an estimate from outplacement firm Challenger, Gray and Christmas, the impeachment hearings are costing U.S. businesses $2.1 billion per hour.
According to Fast Company, the firm used publicly available workforce, wage, internet and survey data to calculate the money lost due to this crazy moment in U.S. history.
"Ellen Ernst Kossek, a professor of management at Purdue University, advises companies to have a policy in place about how to handle big events like this and to remind people to be respectful of other people's points of view.

"Our policy is, 'You can't watch it during the day. Tape it.' Others might say, 'If [you] can't beat 'em, join 'em. It's on in the conference room with food,' and people take a break," she said. "People should be allowed to restructure [their time] for personal interests as long as the work gets done . . . It could be used as a team-building activity."
According to human resources software firm BetterWorks, this trend has been true since the 2016 election.
Can AV integrators and IT managers afford to let employees spend hours watching these events? With the hectic pace of technology and a burdening load of clients, that answer is probably in the negative.
Speaking of crazy, these hearings should serve as a reminder than the country is as divided as its ever been in recent history, so allowing employees to watch the events at their desk doesn't do much to keep politics and work separate, which of course is a complicated thing to manage.
Do be mindful of how much time employees are spending catching up on the political happenings of this particularly wild time in U.S. history, but tread carefully in the intricate minefield of regulating political discussion in the office.