InfoComm '22: A Launchpad for the Future
From practical virtual reality to the rise of hybrid, the #avtweeps community had much to experience…and much to celebrate.
Leave a Comment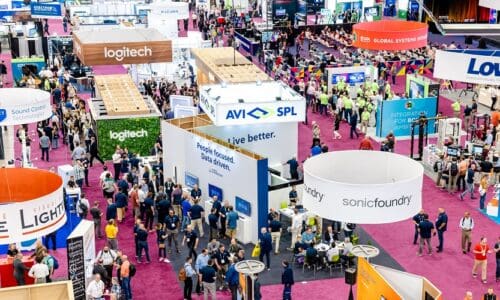 It has been said by some that InfoComm '22 was "the show that we needed." As a member of the #avtweeps community and a keen observer of commercial AV conversation, I can't think of more apt words to describe the week that we all spent in Las Vegas.
Granted — earlier this year, other large-scale shows (e.g., CES, NAB, ISE) staged successfully, drawing tens of thousands to gather in person. However, following on the heels of last October's InfoComm '21, a pandemic-delayed show that attracted only 7,335 attendees, this year's exposition, which drew 19,681 show-goers, represented a return to strength and a fantastic launchpad for the rest of the year. The days might have been very long, and people's legs might have been aching after traversing the distance between the West Hall of the Las Vegas Convention Center (LVCC) and the North Hall, but #avtweeps left InfoComm feeling energized, inspired and better connected to our tight-knit community.
All About the Community
In my own conversations about InfoComm '22, a common theme has emerged: Although the technologies on the show floor were extremely impressive, those who attended derived the most benefit from the networking and mind-sharing occurring throughout the week. Indeed, on the AV+ podcast that launched June 17, David Maldow, founder and CEO of Let's Do Video, said those factors are what bring him to the annual show. "That's a big reason why I'm there," he stated. "I talk to people on video all the time, but it just seems like there are some conversations that don't happen until you're in person. So, it's definitely not just 'a nice thing.' It's an important thing. It's a valuable thing."
David Danto, director of emerging technology with the IMCCA, as well as director of UC strategy and research with Poly, agreed with Maldow, arguing that our community has become the real seat of power. "The community that has built up in the AV and the collaboration space online…is almost even bigger than the show," he declared. "It's also just this fodder — this base — for the community to get back together with each other, and everybody loved it." In sum, Danto added, "The idea that we've now built a real community, and people feel that sense of community which comes around the show, is probably something very special."
Watch: AV+ Podcast: Reflections from InfoComm '22
One hallmark of the #avtweeps family is how welcoming and inclusive it is. Commercial Integrator's own associate editor, Amala Reddie, attested to that personally on the AV+ podcast, sharing perspective on her first InfoComm experience. She talked about her initial visit to the press room, where Joé Lloyd, senior director of communications for AVIXA, welcomed her with a big smile and a warm hug.
"That made me feel more at ease," Reddie said. She alluded to the fact that InfoComm occupied such large halls, while also referencing the throngs of people and the massive exhibits, calling all of it "…a little bit intimidating." With a smile, she added, "But, once that hug came through, I knew I was in good hands."
Staging a Successful Show
Reddie's observation was apt: InfoComm '22 was a massive show. Although the AVIXA team has not yet recaptured the dizzying heights of 2018 and 2019 in terms of numbers, this year's InfoComm was an unqualified success. Indeed, looking at the nearly 20,000 verified attendees, every state in the union was represented, as were 110-plus countries.
With respect to exhibitors, the show drew 522 participants, whose wares occupied 294,500 net square feet of trade show floor. Tentpole brands like Crestron, Sony, Shure and Samsung sat alongside up-and-coming players like Xyte, which recently brought on Randy Klein, Crestron's former CEO and president, as a key advisor.
"InfoComm is the only place in North America where the entire ecosystem of the pro AV industry gathers — from manufacturers, to distributors, to integrators, to end users," David Labuskes, CTS, CAE, RCDD, CEO of AVIXA, declares. "…[W]e saw thousands of AV professionals make the trip to Las Vegas to learn from each other and experience innovative technology in person. AVIXA is proud to play host to such an incredible group of industry professionals as they spent their week advancing their businesses and careers and gaining inspiration to take home with them."
"This week has been a celebration of and for our industry — from the trade-show floor, to the AVIXA council events, to our education sessions," Rochelle Richardson, CEM, senior vice president of expositions and events for AVIXA, says. "There are many people and organizations that help make this show possible: the exhibitors, sponsors, attendees, speakers, media, the Las Vegas Convention Center, Freeman and the AVIXA staff. It's truly the contributions and collaboration from so many that makes this such an exceptional event."
Considering Show-Floor Highlights
During the post-show AV+ podcast, the guests all opined on what most grabbed their attention on the InfoComm '22 show floor. Speaking for myself, I was incredibly impressed by the AVI-SPL booth and its virtual-reality demonstration, executed in partnership with Modus VR. The idea is for integrators and clients alike to use virtual reality to create rooms before they exist in the real world. That's a powerful tool to assist in making final design choices and equipment selections, as well as for evaluating adherence to standards like viewing distances.
What's more, virtualizing spaces before they exist can bring integrators to the table earlier, empowering those in our channel to confer with architects, interior designers and other decision-makers involved in creating meeting rooms and other gathering spaces.
Asked for his biggest show-floor takeaway, Danto opined, "The most interesting thing on technology that I saw is you couldn't escape the concept of hybrid working. Most of the collaboration vendors [and] some of the non-collaboration vendors were embracing this term 'hybrid.'" With a chuckle, he observed that everyone seems to agree that hybrid working is the future, but nobody can seem to agree exactly what that term means.
Watch: Mount-It! PRO Showcases Purpose-Built Commercial Products at InfoComm
"It's something we all throw around, but we haven't really come up with a definition for," Danto added. He did, however, observe some overarching trends that align with the reimagining of work environments — for example, vendors' focus on smaller pieces of equipment to suit smaller rooms (versus large, one-off conference spaces), as well as increased AI and machine learning capabilities.
Sharing some research data that AVIXA briefed him on during InfoComm '22, Maldow reported that, in this post-pandemic world, investment in AV solutions is set to increase dramatically. He cogently explained the reason, saying, "Offices are no longer places you go to do work. The only reason I'm going to the office is for collaboration…for teamwork…for meeting rooms. And that's what hybrid is."
Maldow emphasized that, even if people define "hybrid" slightly differently, everyone agrees that we'll never again return to the days of every employee being in the office each day. There will always be a contingent of people who are remote, he argued. That, according to Maldow, means "…every room in the office is now a meeting room." Accordingly, every room must have microphones, cameras, integrated collaboration platforms, etc. And those solutions were what he eyed most closely on the trade-show floor.
Education and Training
Education sessions, panel discussions and thought-leadership presentations were core components of the InfoComm '22 experience, with many talks drawing several dozen attendees. Commercial Integrator and I were honored to host two sessions, one focused on prominent audio-networking protocols in use today, such as AES67, Dante and Milan, along with the rapidly emerging IPMX set of standards.
On June 8, I emceed a lively discussion featuring respected luminaries like Paul Zielie of AVCoIP; Kathryn Taub of Audinate; Scott Sugden of L-Acoustics; and Andrew Starks of Macnica Technology. Although each panelist was there to represent a particular protocol or approach, the conversation was not confrontational but, rather, constructive. We learned about each protocol's strengths and development areas, as well as the commonalities and points of differentiation among them.
Then, on June 9, I returned to the stage to moderate an all-star panel on the topic of how AV and IT integrators are increasingly encroaching on each other's "territory," with clients approaching each for the other's specialty. Speakers included multimedia journalist Alesia Hendley; Epiphan Video's Tobi Tungl, CTS, CTS-D; Iowa State University's Michael Pedersen, CTS-D, CTS-I; and TD SYNNEX's Sandi Stambaugh.
During the discussion, they evaluated the pros and cons of various approaches that integrators can take — for example, training your existing team to develop expertise in new areas, finding a go-to partner with which your firm can team, or acquiring a firm that can bolster your company's expertise in either AV or IT.
The panelists also chewed over the forces driving AV and IT together, debating whether end users are the primary drivers or whether the technological divisions themselves are blurring. Avid audience engagement indicated that this topic warrants further exploration.
There were, of course, also a large number of press conferences to announce technology advancements and important strategic partnerships. By contrast, others sought instead to illuminate the topical issues of the day.
For example, on June 8, Audinate held a press conference to lay out its efforts to ameliorate ongoing supply-chain challenges. As discussed in my July editorial, supply-chain snarls reached a new global peak in 2022.
Watch: Joe Way, PhD, CTS on Leading Factors Shaping EdTech Today
During the press conference, Audinate made clear that overheated demand is a big part of the problem, and it might well take until 2024 to effect meaningful production increases for semiconductors and the like.
Component availability globally is further complicated by logistical and transport hurdles, as well as personnel shortages. According to its executives, however, Audinate has a multi-pronged strategy to adapt to those difficulties and, as a result, it has shipped more units of its chips, cards and modules (CCM) through May 2022 than its 2021 benchmark for the same period.
Amazing Nightlife
The age-old adage to "work hard and play harder" seems as though it was coined for our industry. This year's InfoComm was packed with after-hours events that allowed #avtweeps to socialize and network in a relaxed, party-like setting.
Two of the biggest names in commercial AV distribution — ADI and Exertis Almo — each held well-attended gatherings on July 7, giving hundreds of industry stakeholders a chance to forge meaningful connections before the show floor opened the following day.
Termed a Partner Appreciation Event, ADI's party at Moon & View at the Palms Casino Resort brought together heavyweights from associations like NSCA, vendors like Listen Technologies and integrators like Verrex.
Meanwhile, at the Hard Rock Café, Exertis Almo celebrated the successful coming together of its component companies and, simultaneously, presented a donation to the AVIXA Mosaic Scholarship in support of diversity in our industry.
The following evening, InfoComm '22 show-goers danced until the wee hours of the morning at Zouk Nightclub, located within Resorts World Las Vegas. The electric-charged party, dubbed "Glow Up the Night," represented a partnership between organizer Peerless-AV and a slew of additional sponsors. It was a perfect embodiment of the immersive and transportive power of powerful audio, large-format video and dazzling lighting.
A Launchpad
At the outset, I wrote that I view InfoComm '22 as a launchpad. I think it'll help propel AVIXA back to the kind of 40,000-person expositions it oversaw in the latter years of the last decade.
I also think it'll help boost the commercial AV community to a strong second half of the year.
Vendors received key guidance from integrators, who themselves learned from the power end users who strolled the LVCC all show long.
The most visible of those were HETMA members, who offered in-the-trenches perspectives on the latest trends in higher-education technology deployment. As conference rooms, classrooms and other spaces continue to be reimagined, the conversations thrumming on the show floor formed a drum beat of sorts, sweeping all of us into a march toward an exciting, profitable future.
InfoComm 2023 will take place in Orlando, Fla., from June 10 to 16, with exhibits from June 14 to 16, at the Orange County Convention Center. Visit infocommshow.org for additional information. Commercial Integrator and I can't wait to see you there.
If you enjoyed this article and want to receive more valuable industry content like this, click here to sign up for our digital newsletters!