K.C. Schwarz Leaves Impressive Legacy As He Retires from USAV Group
USAV Group moves into the future without K.C. Schwarz but members and former colleagues will never forget what he did for them. Neither will I.
Leave a Comment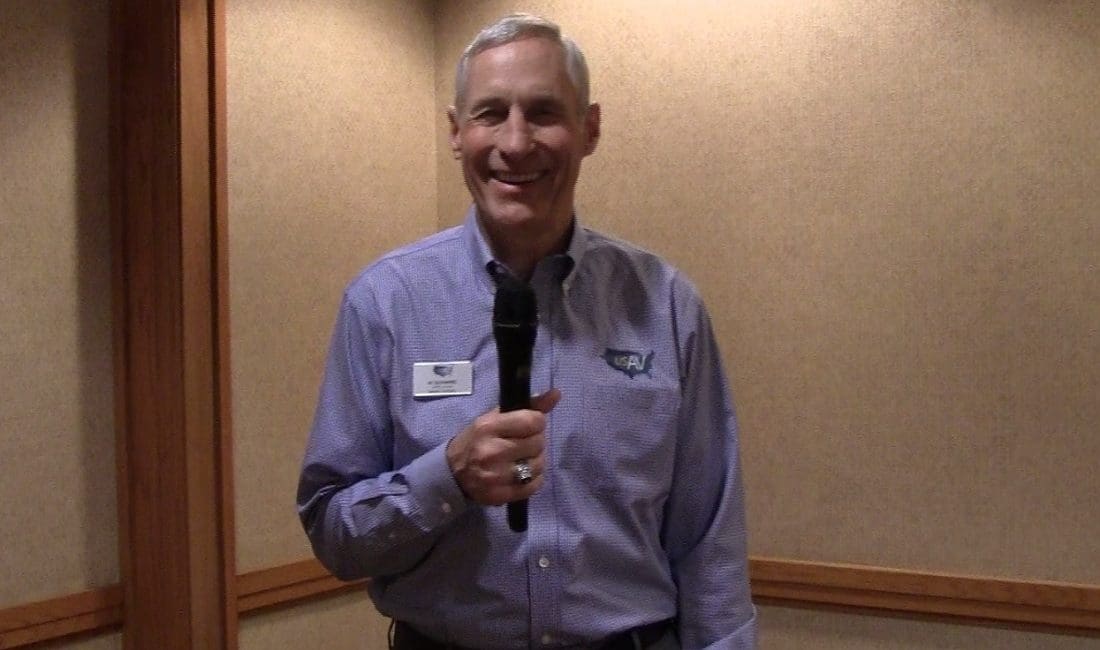 I've never been one who's comfortable with public speaking. It's part of the reason I chose a life behind the keyboard as a professional journalist, although my days of living behind my byline changed in a major way when I joined the Commercial Integrator team seven years ago.
And, whether he knows it or not, K.C. Schwarz played a role in helping me break out of my proverbial professional shell when he invited me to lead a session on the dos and don'ts of working with the media at the annual USAV gathering a few years into my CI tenure.
I'm guessing Schwarz hyped me up as much more of a media guru than I am, because that room was packed with dozens of integrators who wanted to know how to get their names into the pages of our magazine or online in a story that highlighted their newest projects.
Since then, we've covered plenty of projects and written lots of stories about the difference many of its members are having on AV, and Schwarz has always been willing to give his opinions about what those in the AV industry should be doing in the future.
Schwarz retired today from USAV Group, turning the organization over to Chris Whitley and Christopher Salazar-Mangrum, part of PSA Security, which bought USAV Group last year in a move that brought the best in AV and security system integration under one umbrella.
"There comes a time in life for change and my time is now for at least one major change," wrote Schwarz in his farewell to USAV Group members and industry friends.
"'Retirement' has a strange ring, especially when uttered relative to oneself…After a dozen years the change will be significant, at least for me.
How He Found the Industry
"I've always credited my life paths more to divine providence than careful planning. Forty years ago, I never would have guessed pro AV would be the capstone of my professional career. But, hey, that's how things worked out! I've spent over a decade of getting to know you, working with you, and hopefully contributing something to your success. I know you have bolstered my success in innumerable ways," he wrote.
Schwarz attended the U.S. Air Force Academy in the early 1970s and served in the Air Force for 12 years as both a medical evacuation pilot and test engineer. He later worked for Northrop on the Stealth Bomber (B-2 Spirit) supporting simulation modeling and logistics support systems.
He moved to Colorado in the early 1990s to manage Ball Aerospace's information systems before moving into the entrepreneurial realm with several companies in technical industries: institutional investment banking, high-density microcircuitry and digital tape libraries.
Schwarz then struck out on his own, starting a network integration company. After selling that company, he consulted and worked with several early-stage companies before joining USAV Group in 2006.
What's Next for K.C. Schwarz?
And, while Schwarz won't be a fixture at USAV events anymore, "I'm certainly not relegating myself to the rocking chair or a life of recreation and leisure," he wrote, a fact his wife Anne knows.
"I am a business person, through and through," wrote Schwarz.
"The challenges of business have been my calling for a long time and will not be cast off completely. However, we do plan to draw a deep breath, take some time away with the family, and carefully consider next steps. I relish the idea of decompressing a bit and reflecting on how I can add value to a world that needs all the help it can get.
Read Next: Do Young, Tech-Trained Professionals Want a Career in AV?
"Transitions are sometimes cumbersome, necessary for growth and an opportunity to reflect on the true meaning and value. For my nickel, you have represented the real value of the past 12 years in my life," he wrote.
I know I'm not alone in telling Schwarz he's changed my life since I met him. I only wish I had known this retirement was coming so I could've told him in person — as long as he didn't make me do it in front of a crowd.
If you enjoyed this article and want to receive more valuable industry content like this, click here to sign up for our digital newsletters!