Logitech Swytch is a Solution to the Crowded Videoconferencing Market
Logitech introduced Swytch, one-cable laptop link that enables a user to run meetings on any videoconferencing platform, webinar or streaming software.
Leave a Comment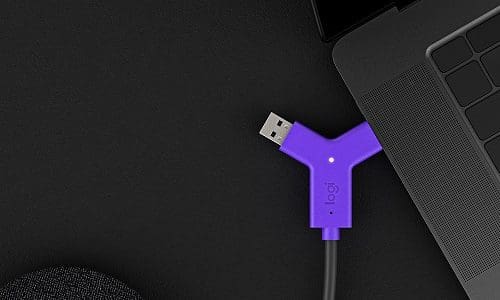 The rise of videoconferencing providers over the last few years – and skyrocketing during the COVID-19 pandemic – could cause some headaches if not everyone is using the same videoconferencing system.
That's why Logitech on Tuesday introduced Logitech Swytch, a compact, one-cable laptop link that enables a user to run meetings with their laptop with any videoconferencing platform, webinar or streaming software.
Plugging in the Swytch USB connector to a laptop provides high-quality native support of nearly any external video meeting service regardless of the conference room standard.
This eases the burden on AV and IT experts when someone wants to use a conference room to join a call, but the call platform isn't supported in the conference room.
Videoconferneicng providers have tried to solve this problem by making some services interoperable with others, but that could leave out some other major players.
Read Next: Barco ClickShare Conference Lets Users Join Video Conferences
Will all of the video vendors give up and all use Zoom or Microsoft Teams? Of course not. That's what makes Swytch a convenient solution to the crowded videoconferencing marketplace.
The compact laptop link Swytch is especially important if organizations are transitioning to modern platforms like Zoom or Teams from legacy services like Webex. After the meeting, users only need to unplug switch from their laptop, and the room is ready for the next user.
Other features of Swytch include:
Bring-your-own-meeting (BYOM) capabilities for Teams Rooms or Zoom Rooms that allow a user to connect a laptop to the room's display, camera and audio devices for meetings hosted on other services.
One cable, connection consolidates HDMI and USB into one cable, offering up to 4K resolutions.
Universal compatibility allows Swytch to work with laptops using USB 3.0 or higher with Type A or Type C and DisplayLink drivers, including Windows 10 laptop, MacBook or Chromebook.
Swytch provides up to 60W of power for laptops that charge via USB-C.
Swytch is compatible with Logitech Sync, which makes it easy for IT to monitor and manage Swytch together with other meeting room devices like Logitech's MeetUp, Rally and Tap.
A magnetic mount keeps the tabletop clean and organized.
Logitech Swytch is $999 and will be available later this month.