Barco ClickShare Conference Lets Users Join Video Conferences
Barco ClickShare Conference is centered around "Bring Your Own Meeting" as it gives users the chance to join with any device.
Leave a Comment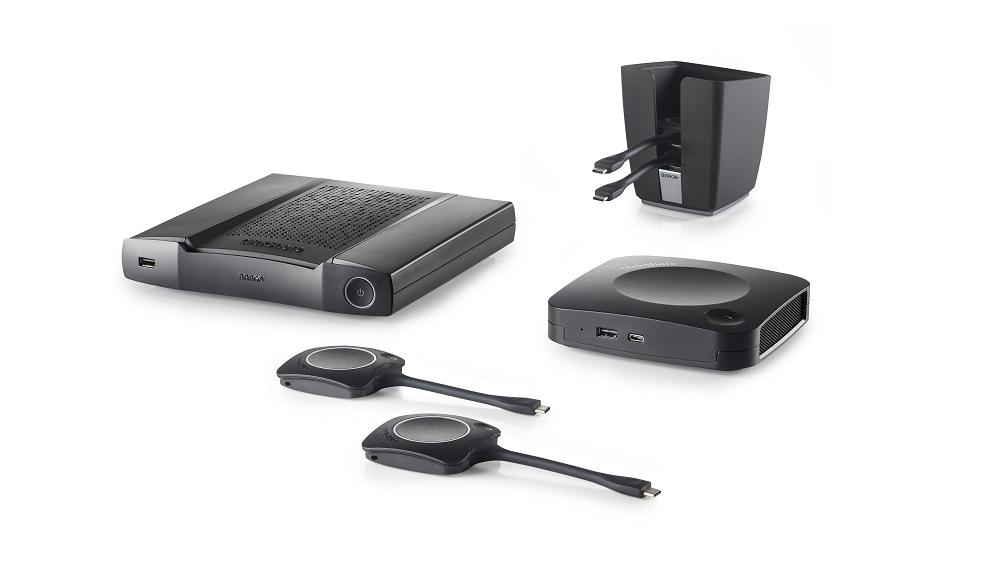 Barco has launched launched a wireless conferencing solution, the ClickShare Conference, based on the concept of BYOM (Bring Your Own Meeting).
The solution "takes away all the friction points related to hosting video conferences from your own device" by allowing videoconferencing users to use their own software, cameras, laptops, etc. in meeting rooms, huddle spaces, or from home, the company says.
The new range includes 3 models: the entry-level CX-20, the CX-30, and the high-end CX-50.
Barco ClickShare Conference features & breakdown:
ClickShare Conferencing Button
According to the company, users can plug in the Button and share all the video and audio streams with the meeting room peripherals.
Additional features include retrieving a local view of the room display, allowing to share the room content remotely, pause content, ideation, moderation and control of AV equipment.
"Ideally suited for huddles and small meeting rooms, offering the key functionalities of wireless collaboration and conferencing," the company says.
A model for standard meeting rooms adds a set of interactivity features such as touch back support, moderation, blackboarding and annotation to make users connect in meetings.
This model is for large meeting rooms and boardrooms, and according to Barco, offers an AV collaboration experience "with superior audio and video quality and offers the best possibilities to integrate into your IT or AV environment."
Rajiv Bhalla, Managing Director, Barco India said, "The workplace is undergoing a fundamental transformation. With the automation of jobs, a peak in freelance work and the gig economy, offering flexible and remote work environments is crucial.
"Millennials and Gen Z, who have grown up with online sharing technologies like Google docs, online gaming, social media, cloud-based apps and more, prove to be natural collaborators. Their expectations for business technology are driven by their digital lifestyles. Workplace strategy is key to companies who want to attract and retain young talent and unlock the productivity of their workforce."
Tips for Selling Collaboration Solutions to CustomersRead Next: 
If you enjoyed this article and want to receive more valuable industry content like this, click here to sign up for our digital newsletters!