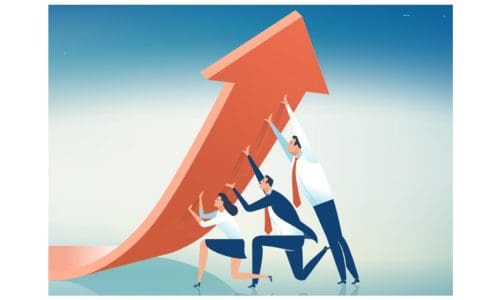 I recently had a discussion with Steve Grace and Collin Hogan of AVH Technology Partners, a consulting firm that graced the November 2012 cover of Commercial Integrator, when the company was called AV Helpdesk.
We discussed the company's experience during the last year, handling the COVID-19 pandemic, navigating the emergency loan program created by the federal government, dealing with the experience of furloughing employees and bringing them back, recovering and returning to profitability heading into 2021. 
Related: State of the AV Industry 2021: The Year Integrators are Needed More Than Ever
AVH is a consulting firm, and the bulk of their work is done in the design phase before projects are even put out to bid. When the pandemic started and companies began to close offices, their pool of business dried up completely. 
Like many integration firms, AVH was dealing with an indefinite amount of time without projects. 
They used that time to their advantage. They conducted a survey of their customers to find out what they were doing right, where they could improve, and gauge the overall expectations customers had for them. 
They rebranded and revamped their websites to create a better online experience. They overhauled their customer engagement strategy and created better systems and processes to manage and continuously contact clients. 
In short, AVH used the pandemic to evolve. I've seen a number of integration firms do the same.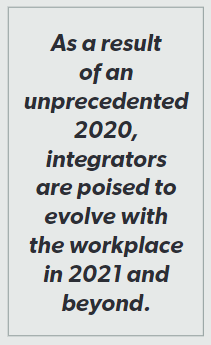 Whether it's evolving business practices, evolving the technology that they offer, involving the services portfolio they provide in order to introduce more recurring revenue streams to their organization – smart integration firms didn't duck and cover when the pandemic hit but rather used the down time for internal growth. 
JLL recently released a study of more than 2,000 office workers across 10 companies that suggested 74% of respondents want to work from the office in some capacity after the pandemic. 
About 72% of employees want to continue working from home in some capacity as well, on average two days per week. 
The workplace hasn't changed in the year 2020; it has evolved. Collaboration and communication have become top of mind for organizations because they've learned productivity can be seen even among teams in disparate locations. 
Still, the social aspect is still necessary for individual workers to thrive and feel part of the team. 
Integrators should use 2021 to evolve with the workplace. I've written before that I believe the cultural shift to UCC tech puts integrators at the forefront of business development and digital transformation. 
Integrators can drive the evolution of the workplace – not as a reactionary provider but as a proactive partner for their clients. 
That starts with changing how you work with and interact with clients. It starts with changing how you discuss options with them. 
It starts with looking inwardly and introducing processes that spur your sales and engineering teams to build strategies – not just blueprints – for new technology implementations. 
Let 2021 be the year that integration moves to the forefront of business development. Next year I want the January issue of Commercial Integrator to read "State of the Industry 2022: Evolution."