NSCA BLC Blog #2: Have We Avoided a Recession?
At NSCA BLC 2023, attendees left Dr. Chris Kuehl's talk feeling more confident about our collective prospects regarding the economic situation.
Leave a Comment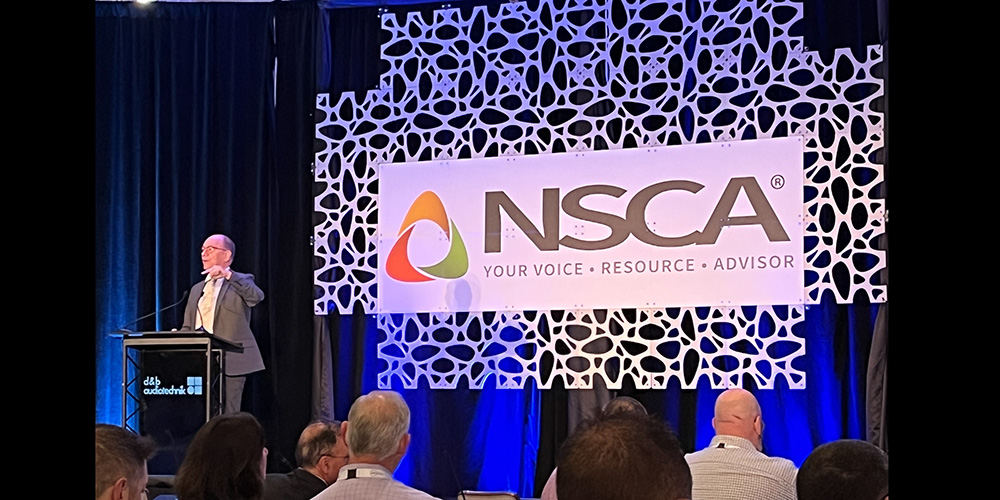 NSCA BLC (Business & Leadership Conference) caters to integration business leaders, the exact audience to whom I target Commercial Integrator. NSCA has a fundamental recognition that commercial AV doesn't exist in a vacuum; therefore, when its executive leadership curated the attendee experience at BLC 2023, they prioritized exploring key macroeconomic issues affecting our businesses. That means that executive director Tom LeBlanc and his team once again invited noted economist Dr. Chris Kuehl to share an overview of his economic outlook.
Here, I will synopsize his comments, which are largely more optimistic than many of us might have expected. These insights, I hope, will arm you to make more informed decisions and run your businesses better.
Although some might dismiss Dr. Kuehl's views as contrarian, he offered NSCA BLC 2023 attendees compelling evidence of economic robustness. For example, he pointed out that Q3/22 and Q4/22 GDP readings came in much better than expected. As a result, the bearish set (once again) pushed out the timeline of the supposedly coming recession. Meanwhile, measures of corporate sentiment continue to be rosy. Indeed, Dr. Kuehl shared survey data underscoring that corporations are particularly sanguine as regards their own industry and their individual business' expected performance. Moreover, real business sales are still growing, global inflation is cooling and corporate investment — especially in categories like robotics — continues to be robust.
What's more, the Federal Reserve currently seems balanced between hawks and doves. That means the Fed might sidestep its typical tack of raising rates until "something breaks." If so, then the U.S. might experience the elusive "soft landing" that economists have long doubted. When you combine those indicators with strong rebounds in key global economies (e.g., Latin America, India), there's reason for business owners to feel good.
When I attended last year's NSCA BLC, Dr. Kuehl spoke mere hours after Russia's invasion of Ukraine began. He — much like all of us — incorrectly anticipated a relatively decisive Russian victory. He also (correctly) underlined the pain at the pump that all of us would soon experience. This year, by contrast, Dr. Kuehl emphasized the U.S.' increasing energy independence. In fact, he said, the U.S. is the world's leading oil producer, generating something like 13 or 14 million barrels daily. Thus, energy prices oughtn't to significantly throttle the economy in the coming year.
Furthermore, he expressed relative confidence that the global economy won't suffer the self-inflicted wound of Congress foolishly failing to raise the debt limit. Absent the predicted last-minute deal that he forecasts, however, significant economic turbulence would result.
Dr. Kuehl shared a few factors with NSCA BLC 2023 attendees that make this economic period unique. For instance, he cited $3.5 trillion in excess savings still sitting on the sidelines, a result of the pandemic-era savings rate skyrocketing to 38%. The question remains when that money will flow back into the economy. We also continue to see remarkably low unemployment, in spite of tech giants' recent reduction-in-force activities.
Also Read: NSCA BLC Blog #1: How Integration Leaders Can Reclaim Their Time
Simultaneously, labor costs are escalating; indeed, they now exceed the rate of inflation. Dr. Kuehl underlined that, unlike commodity prices, which rise and fall, labor costs don't easily reverse. Once someone attains a certain salary and perks package, it's very difficult to pare back those benefits. That's especially true at a time when people who depart a company — of their own volition or due to a layoff — are often snapped up almost immediately. Integration businesses, which often bemoan their difficulties in recruiting and retaining talent, must be cautious here.
Adding it all up, we can say that the risk of a recession is much reduced. Consumer demand remains strong, and it seems unlikely we'll revisit the inflation highs of months ago. Nevertheless, a recession certainly remains possible, and there are some bearish signs out there: For example, Dr. Kuehl forecasts commercial construction to slow in 2024. Meanwhile, frothy corporate investment in robotics, etc., will certainly taper if decision-makers sense growing recession risks. It's something to keep an eye on.
Overall, NSCA BLC 2023 attendees left Dr. Kuehl's talk feeling more confident — not less — about our collective prospects. If we can avoid self-inflicted wounds and self-defeating doomsaying, we should be able to achieve solid growth and robust profits this year.
If you enjoyed this article and want to receive more valuable industry content like this, click here to sign up for our digital newsletters!