PSNI Global Alliance: Proactive, Positive, Productive
Streamlined, unified Help Desk service and member growth are powering the PSNI Global Alliance, which achieved its ISE 2023 goals.
Leave a Comment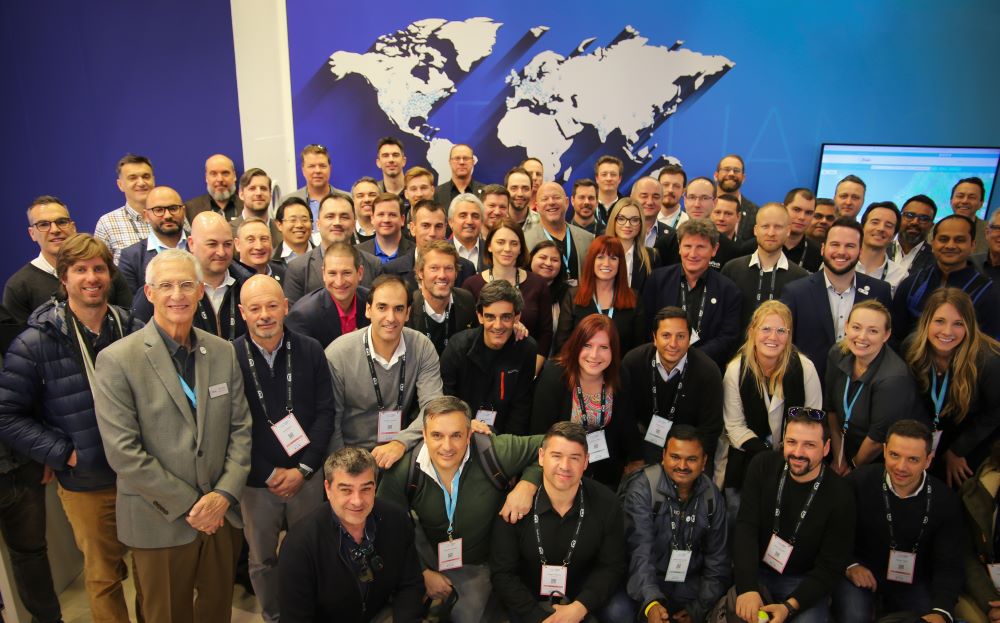 Reconnect, reinvest, reset. These were just a few of the goals that brought AV professionals to Barcelona for the Integrated Systems Europe (ISE) show. It's the new age of AI, hybrid modalities and ubiquitous video. Agile platforms and cohesive services are top of mind.
One of this year's most notable service solution came from PSNI Global Alliance, the worldwide network of premier technology integrators. The Alliance launched its Technical Support and Global Help Desk, while also celebrating its staggering Alliance growth in membership and revenue, which hit $4.7B in 2022.
This new service offering allows enterprise customers to receive comprehensive, Tier-2 technical support through PSNI and its global network of 105 Certified Solution Providers (CSPs).
Exceptional Service Whenever It's Needed
PSNI Global Alliance, with its industry-leading engagement certification for service and technical support, will roll out its Global Help Desk in phases, starting in North America in 2023, and continuing to expand worldwide throughout the year. Its objective is to enhance professional support while minimizing downtime. This vital service will be available exclusively through PSNI's Global CSPs.
Leading the bold new initiative is Steve Riley, director of global professional services for The Alliance. "The PSNI Helpdesk and Technical Support program has been in development for nearly a year with input and direction from Alliance CSPs, Preferred Vendor Partners, experts in AV and IT support and enterprise end-users," Riley said.
He continued, "Our goal is to deliver a unified and standardized help desk approach in support of Alliance CSPs and their end users worldwide. Our global positioning is strong, so launching a Tier-2 technical support offering like Global Help Desk was the logical next step for us."
How It Works
The PSNI Global Help Desk operates via a cloud-based ticketing system with a request generated by the local CSP when a technical system issue should be escalated for Tier 2 support offered by the Help Desk.
For issues that cannot be solved remotely, a request is sent back in real time to the local CSP for quick onsite resolution. By having local technicians and support engineers at their immediate service in over 240 locations worldwide, end users will access the best support in a timely and efficient manner.
"If a customer has a problem at their site," Riley explained, "and it cannot be remotely resolved, the local CSP gets the call." Then, the CSP "sends a tech out to investigate and address the concern, with absolutely no time wasted. Every problem will be addressed efficiently and uniformly. It's a way to standardize exceptional support on a global scale."
With 248 locations across the continents, PSNI CSPs speak the languages, know the nuances, and can handle the logistics, ensuring local care with a worldwide reach. PSNI Global Alliance CSPs can handle global deployments with local resources — it's a rare and powerful combination.
Timing Is Crucial
"If a customer can't get a problem solved immediately, within minutes, then that opportunity is lost," Riley added. "But most AV companies don't have trucks just parked or sitting around, waiting. We're not the fire department. We're not looking for a fire to chase."
Instead, Riley said, PSNI has doubled down on being proactive. CSPs — all vetted AV/UCC leaders in their respective markets — are committed to proactive network-based monitoring and proactive strategies.
"Years ago, the enterprise customer was not inclined to let an AV team on their network, and rightfully so," Riley said. "Today, that's really shifted, thanks to the better experiences, great service, and the higher levels of staffing that PSNI brings to the table. We provide the assurance to every customer that their network will not be compromised in any way."
PSNI Global Alliance executive director Christopher Miller sees the bigger picture. "I believe that's a table stakes issue," he said. "If you don't have that capability to offer an institution, education, corporation or government agency extended features and capabilities with a fair price, I don't think you'll be invited to the table. We can better prepare clients for every scenario, with a value added every time."
Related: PSNI Global Alliance Announces SAS Certification
Contract Renewals
The Global Help Desk and "Built For You" mission makes sure that every PSNI CSP — no matter its size or location — has the precise tools and skill sets they need to thrive. That value gets passed to every customer.
Bottom line: "It's all about renewing the support contract for the service," said Steve Riley. "The license needs to be renewed, and demonstrating value is critical to securing renewals. You demonstrate value by being proactive and offering proactive support everyone can rely on. You don't get a renewal by being reactive."
The Global Help Desk ensures that business keeps moving, no matter what.
Member Growth: CSPs and PVPs
Currently, PSNI Global Alliance has members in 59 countries, spanning six continents. That is the largest global footprint of any AV organization in the world. Affiliation to The Alliance is a commitment to embrace standardization, best-practices, global support, and client satisfaction as one unified voice in the audiovisual industry.
New Preferred Vendor Partners (PVPs) in 2023 include Avocor, Korbyt, Zoom, Vuwall, Nanolumens, Sennheiser, Vitec and SnapOne.
Uniquely Positioned to Support European Partners
The European AV/IT industries are as diverse as they are exciting. Borders, codes, laws, languages, currency power, and other details must be navigated effectively. "That's why it's so important to have an Alliance," said Miller, "because we have experts in those particular markets to help you to carry a standard of excellence and quality out across an entire enterprise, institution, or venue around the world."
If your enterprise client wants to standardize offices in Nashville and Nairobi, PSNI can connect the dots, fostering collaboration among the requisite partners and vendors. "This is the incredible value we bring — no matter the market and no matter the project. We bring a level of expertise to the customer," Miller said.
New Avenues of Growth and Support
Joining the PSNI Global Alliance was a game changer for John Laughlin, president and CEO of CTI, who is also president of PSNI's Board of Directors. Alliance membership translates into "increased revenue and expanded opportunities," he said.
But it doesn't end there. Once you are in, being a PSNI CSP brings plenty more benefits. Laughlin enthused, "PSNI offers so much knowledge, best practices, resources, and local connections you simply cannot get anywhere else or in any other way. You can learn the methods to pivot instantly. You can learn which contact to call halfway across the world. Beyond the additional revenue and standards of excellence, there's a system of resource sharing that will make you even stronger. PSNI membership is a privilege that is utterly unique and incredibly significant."
PSNI Instills Resilience
For AV integrators and service providers who are worried about inflation, supply-chain hiccups or geopolitical instability, Laughlin offers wisdom. "Focus on what problem you can solve right now," he said. "Instead of worrying about what you can't control, focus on what you can do today. We are staying really focused on the possible, and our relationship with PSNI helps CTI do that even better. Global Alliance engineers spent the last 24 months discussing what can be delivered in the next 90 days, what problems and solutions you can solve now, and what equipment you can acquire to support your customers. That's the very definition of empowerment."
With the "Built For You" flexibility and commitment to excellence, the PSNI Global Alliance is transforming the way people work and live, communicate and collaborate.
PSNI GLOBAL ALLIANCE BY THE NUMBERS
Certified Solution Providers (CSPs): 105
Countries: 59
Offices: 248
US: 111
EMEA: 68
LATAM: 23
APAC: 46
Revenue: $4.7B in 2022
Projects Completed as a Network in 2022: About 800
Service: 303
Integration: 494
Personnel: 11,349
Integration: 4474
Service and Managed Service: 2336
G&A: 1941
Sales: 1637
Other: 566
Live Events: 481
New PVPs in 2023:
Avocor
Korbyt
Zoom
VuWall
Nanolumens
Sennheiser
Vitec
SnapOne
---
Margot Douaihy is a veteran technology journalist, as well as an author of fiction, poetry and hybrid forms.
If you enjoyed this article and want to receive more valuable industry content like this, click here to sign up for our digital newsletters!