Total Tech Summit Will Deliver Extensive Networking Opportunities 
Although vendor connections and education sessions are a huge part of the #TotalTech23 value proposition, the 200-plus influencers in attendance will also be there to network. 
Leave a Comment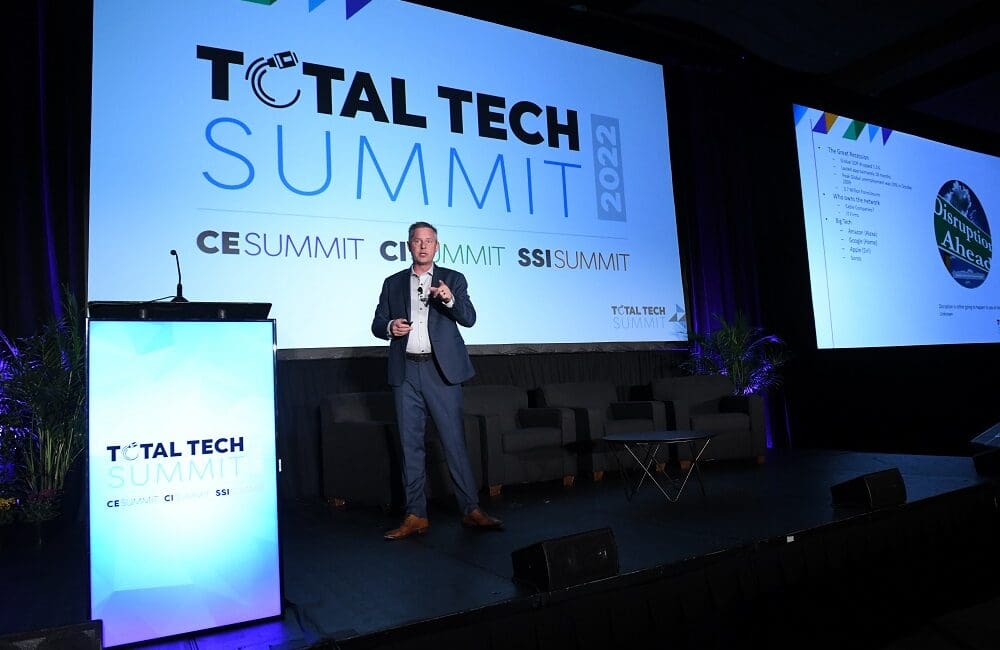 Editor's Note: This story was originally published on Sept. 20 and has since been updated.
Total Tech Summit 2023, known online as #TotalTech23, will be the year's premier networking opportunity for industry members. Emanating from the MGM Grand in Las Vegas, Total Tech Summit is set for November 13 to 15. As always, it will bring together the most respected integrators from the commercial AV, security and custom-home markets. Indeed, this year, we expect about 200 influencers and legends from the integration community, all of whom will have their eyes on forging new partnerships, striking up key vendor relationships, sharing their perspectives and gaining new insights. It's no wonder that #TotalTech23 is already the buzz in technology trade circles.
As always, Total Tech Summit will feature a range of education sessions. In fact, show organizer Emerald has built out discrete content tracks for CI Summit, SSI Summit and CE Summit. Plus, dozens of participating vendors will be ready to unveil technologies that they believe will give your integration business an advantage at a time when competition is fierce.
But the true highlight of the #TotalTech23 experience is no doubt the networking. When you bring together 200-plus influencers from the systems integration world, the opportunities for mind-sharing and strategic partnership are limitless! Thus, the Emerald team ensured there would be plenty of occasions for hosted guests to connect.
Key Connection Opportunities at #TotalTech23
What follows are just some of the networking and connection opportunities that Total Tech Summit will provide:
On Monday, November 13, we've planned a new offering called the "Happy Half Hour." It's a chance to grab a beer, a glass of wine and a snack upon arrival at Total Tech Summit. Plus, it's a perfect opportunity to reconnect with peers right away, in a casual environment, before the general sessions commence.
Later that same evening, the eagerly anticipated 3rd annual Cornhole Cup Tournament will commence. While enjoying hot food and an open bar, teams of two will compete to claim a year's worth of bragging rights. Expect lots of #TotalTech23 social-media coverage of this one!
Then, on Tuesday, November 14, the 2nd annual Topgolf Summit Slam will be the perfect capstone to a day filled with vendor connection points and inspiring education sessions. Guests will get to chow down on pulled pork, barbecue brisket, chicken wings and more — while enjoying beer, wine and spirits — as they tune up their golf swing. There'll be many bays available, and the party vibe will be in full effect!
Finally, on Wednesday, November 15, Total Tech Summit will offer a networking lunch to help guests and attendees "seal the deal" on partnerships, initiatives and plans developed during the course of the event. Business cards and LinkedIn connections will be flying — so make sure you're part of it!
Facilitating Connection and Growth
Just as Commercial Integrator, Security Sales & Integration and CE Pro strive to support and facilitate growth and connection in their respective markets, #TotalTech23 will be a thriving hub that connects the integration communities. All these networking opportunities, plus education sessions and vendor touchpoints, help explain why so many leading integrators return to Total Tech Summit year after year.
If you'd like to apply to join this exclusive group and have us host you at #TotalTech23 for free, navigate to our website and click "Attend" in the upper right-hand corner. It's not too late to apply!
If you enjoyed this article and want to receive more valuable industry content like this, click here to sign up for our digital newsletters!