Total Tech Summit Attracts, Impresses AV Industry Influencers
Total Tech Summit, the premier thought-leadership and networking event of the year, impressed #avtweeps influencers and everyday integrators alike.
Leave a Comment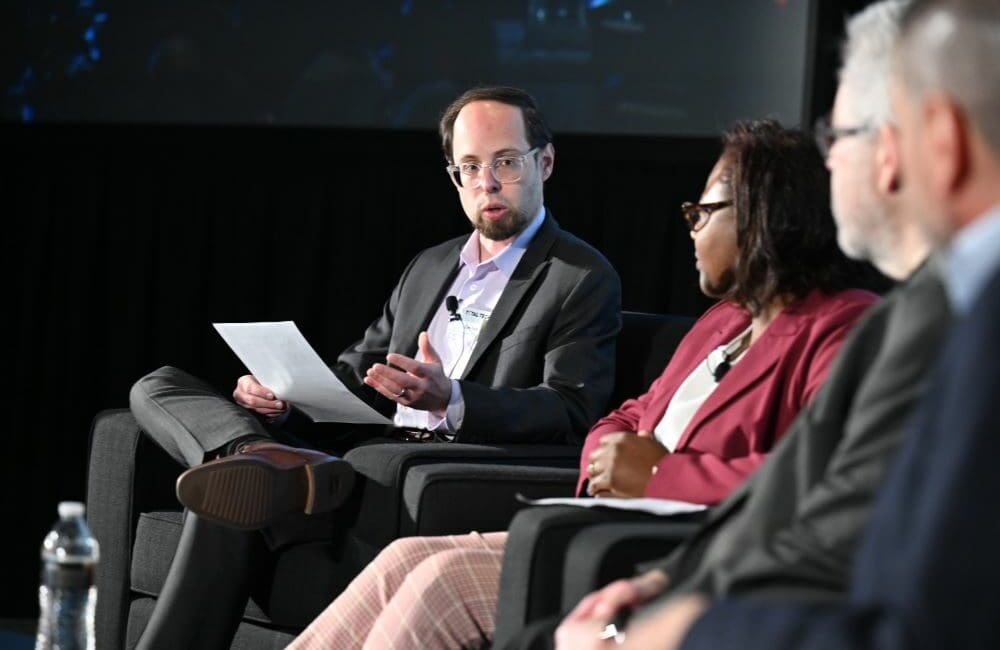 Total Tech Summit, held in Las Vegas earlier this week, brought together thought leaders and market shapers across categories. As always, the event enfolded commercial AV, residential AV and physical security, attracting integrators, consultants and vendors from each. This combination, of course, reflects Emerald's three market-leading properties: Commercial Integrator, CE Pro and Security Sales & Integration.
Each year, Total Tech Summit offers topical content sessions and panel discussions, as well as plentiful opportunities to connect with vendor and distributor partners whose technologies are most highly in demand. And it's all wrapped up in a fun, party-like atmosphere replete with everything from the annual Cornhole Cup tournament to an evening outing at Topgolf.
This year's Total Tech Summit, which emanated from the MGM Grand Resort, earned raves from industry influencers. And the #TotalTech23 hashtag generated a lot of FOMO from those who couldn't make it.
Total Tech Summit Offered Abundant Education
Central to Total Tech Summit's value proposition is its education and content program. This year, the show kicked off with a presentation from Kirk MacDowell of MacGuard Security Advisors. His talk, entitled "Pre-Attrition Indicators You Need to Know," had one main goal — namely, to help the integrators in attendance minimize client churn. MacDowell offered valuable takeaways, such as the importance of conducting an annual relational survey, as opposed to a transactional survey, to get a true sense of clients' satisfaction level.
After the keynote, our general session, entitled "Succession & Future Planning for Your Business," took the stage. This session sought to underscore the importance of ensuring your business is prepared for a future beyond you as an individual. Moderated by The DAK Group's Ari Fuchs, the panel featured speakers Luke Jordan (Electro Acoustics), Max Angst (MAXSYSTEMS) and Kelly Bond (Davis Mergers & Acquisitions Group). Each one underlined that business owners infuse their unique DNA into their business, and they argued that, for that reason, protecting its future is not unlike securing a child's future.
The CI Summit Track at Total Tech Summit
Commercial Integrator Summit, one of the coequal divisions of Total Tech Summit, presented a dedicated, three-course content track. The first panel presentation, entitled "Why Integration Businesses Should Prioritize Company Culture," featured guest moderator Charmaine Torruella of Q-SYS. Torruella led a robust, animated discussion about why today's integration business owners need to cultivate a culture that doesn't merely attract and retain talent but also appeals to potential clients. Panelists included Bill Fons (PTG), Kristin Bidwell (ACT Associates / DGI Communications), Alexis La Broi (MidPoint Technology Group) and Jason Ault (Coffman Media).
The second panel presentation bore the name "Is the Future Interoperable or End-to-End?" Featuring speakers Steve Greenblatt (Control Concepts), David Danto (IMCCA) and La Broi, the panel discussion dove deep into customer demands and their sometimes-contradictory character.
For example, the panelists argued that clients these days demand simplicity and approachability more than almost anything else. However, they also like flexibility and freedom from any particular vendor's supply chain — both factors that tend to complicate, rather than simplify, a system. This session produced a very active post-talk Q&A.
Finally, the third panel presentation, "The Great Coming Together," examined whether the commercial and resi worlds are converging. Featuring SMEs like Alex Fortin (NDS Integration), Ivan Collins (Innoface Systems) and Jeanna Garrett (PIVIUM), the discussion was frank and unvarnished. All of the panelists expressed great skepticism about actively chasing resi work, although they conveyed openness to pursuing elements of commercial physical security (e.g., access control, intrusion detection and video surveillance).
A pre-panel audience poll found that most Total Tech Summit attendees were on the same page. Indeed, 56% of respondents said the following statement best captured their thoughts: "Residential isn't part of my world, period, even if other commercial integrators are doing it."
The Benefits of a Smaller Format
I asked several of the most recognizable members of the industry community why they attended Total Tech Summit 2023. Several pointed to the show's smaller format, saying it added intimacy and facilitated deeper connections. I captured the following comments while onsite:
"Some of the other trade shows can be so big and have so much going on. They're trying to funnel as many people through as possible, [so] you really don't get a chance to meet the people who can solve problems, get you information and really get you on to doing work. Having the smaller, more intentional feel — having invite only for the vendors, for the integrators — really provides a context to develop relationships and get work done."
— Luke Jordan, Electro Acoustics
"It's such a great experience having one-on-one conversations with the people in your industry — being able to see things in a much smaller format than some of the bigger trade shows that we have and really being able to make it work with connections. The folks at Emerald do an amazing job, and I can't imagine why anybody wouldn't want to be here at this event."
— David Danto, IMCCA
"One of the greatest reasons that we love coming to this event is that it has such a unique structure. It's almost like speed dating, but not quite. You get 15 minutes with integrator partners to just understand what their pain points are…really understand their challenges. And then, we're able to talk about the solutions that we can bring to the table and ensure that we follow up with demos, with different product information and with a follow-up meeting with the appropriate people."
— Gina Sansivero, AtlasIED
Total Tech Summit Allows Self-Reflection
Other AV industry influencers pointed to Total Tech Summit's function as a "temperature check" and a benchmarking opportunity for your business in relation to its peers. They also celebrated having the opportunity to lean on each other to solve collective problems.
"I'm really happy we decided to come back to Total Tech Summit for the second year in a row. It's absolutely imperative that you find time to sit down with people like yourselves and just take a moment to take a deep breath and take in what's happening around you in the industry. You might walk out of here realizing you're a little behind the eight ball. You might walk out of here realizing that you're right where you need to be. But, regardless, it is an important box to check."
— Bill Fons, PTG
"First and foremost, you get amazing opportunities to connect with new vendors that you probably wouldn't have seen otherwise. And two, you get to mingle with the very best integrators in North America. The conversations that we have — at the breakfast table, the lunch table and the dinner table, and offsite as well — mean a tremendous amount to me. We get to talk about some of the very best practices as well as some of the challenges that we have and how to solve them together."
— Alex Fortin, NDS Integration
"This show has been absolutely incredible. It's where industry leaders and thought leaders get together to discuss problems we're having at companies; we celebrate each other's successes; and we talk about industry trends and emerging technologies. It's just been a fantastic show, and I encourage everyone to apply for 2024 in San Antonio. It's going to be a great time."
— Kristin Bidwell, ACT Associates / DGI Communications
Making the Right Choice
Total Tech Summit took place around the same time that a few other technology shows, including the IAAPA convention and ISC East, did. That meant some potential showgoers had to make a difficult choice. Those who attended Total Tech Summit, however, seemed to think that they selected wisely.
"Right now, quite frankly, there's a few shows going on. I think I made the right pick. We've closed deals; I've met new vendors; I even sold some stuff. And the camaraderie of the people here is totally different from any other convention or any other place you could go. It's literally the doers…the shakers…they're here in every one of our sectors. And you have one-on-one time to engage with them."
— Michael Restrepo, Restrepo Innovations
"This is an awesome event. It's a great place to come and network with your peers, learn about some awesome products and really just have a great experience. Thank you to Commercial Integrator for having me out. Definitely, if you're in the integration business, this is where you want to be."
— Ivan Collins, Innoface Systems
"It's just been a great experience to be able to network with other integrators and service providers. You get to talk a lot about business and leadership and management — things that you don't really get to see all that much at many industry events in AV. There's plenty of tech, of course…. This is just a great event to be able to let your guard down a little bit, network with other people and do a lot of learning."
— Steve Greenblatt, Control Concepts
It's not too early to start thinking about joining us for Total Tech Summit 2024 in San Antonio, Texas, next autumn! We will update our website, TotalTechSummit.com, in the coming weeks as more details emerge.
Finally, if you attended Total Tech Summit and have feedback or constructive criticism, please email me at dan.ferrisi@emeraldx.com to share your thoughts.
If you enjoyed this article and want to receive more valuable industry content like this, click here to sign up for our digital newsletters!