Is Virtual Reality Coming To Video Conferencing?
A smart glasses company is now offering a Zoom videoconferencing app for its products after clients said they wanted the functionality.
Leave a Comment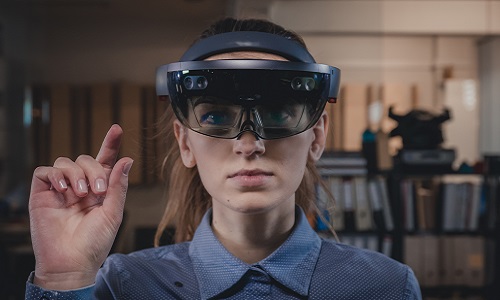 Augmented and virtual reality are finding their way into many different tech-heavy markets, including video games, manufacturing, healthcare and construction.
Now, that technology could also find a home in the office.
Vuzix Corp., a supplier of smart glasses and augmented reality products, announced this week the commercial availability of a Zoom videoconferencing application for its smart glasses products.
According to Vuzix, it has received numerous inbound requests from small and large organizations what want to use Zoom in their daily business operations with their smart glasses.
Read Next: Amazon Echo Frames Put Alexa Inside Your Eyeglasses–Exactly What Everyone Needs!
Using the company's M-Series for Vuzix Blade smart glasses, Zoom customers can connect to a remote mentor or support team hands-free, President and CEO Paul Travers said in a press release.
"The Zoom video conferencing application from Vuzix provides our customers with a version of this application developed specifically for the Vuzix smart glasses that allows them to login, connect and share POV (point-of-view) fed real-time from the camera of Vuzix smart glasses," Travers said.
"And like Zoom, the app is not only good for one-to-one support calls but also one-to-many, which allows remote workers to share what they are seeing with all of the users that have joined the meeting simultaneously."
Zoom has previously announced a partnership with meta, an AR company that makes a headset.
Will this technology ever become part of an integrator's offerings to videoconferencing customers?
According to Travers, the company appears to be marketing the functionality to organizations with remote workers or support staff.
Maybe integrators can use this technology themselves while they're installing devices and need support from experts back in the office.