Here's What the Workplace Could Look Like Post-Lockdown
Companies should expect to see new technology, physical changes and a flexible remote work culture when workplace reopen post-lockdown.
Leave a Comment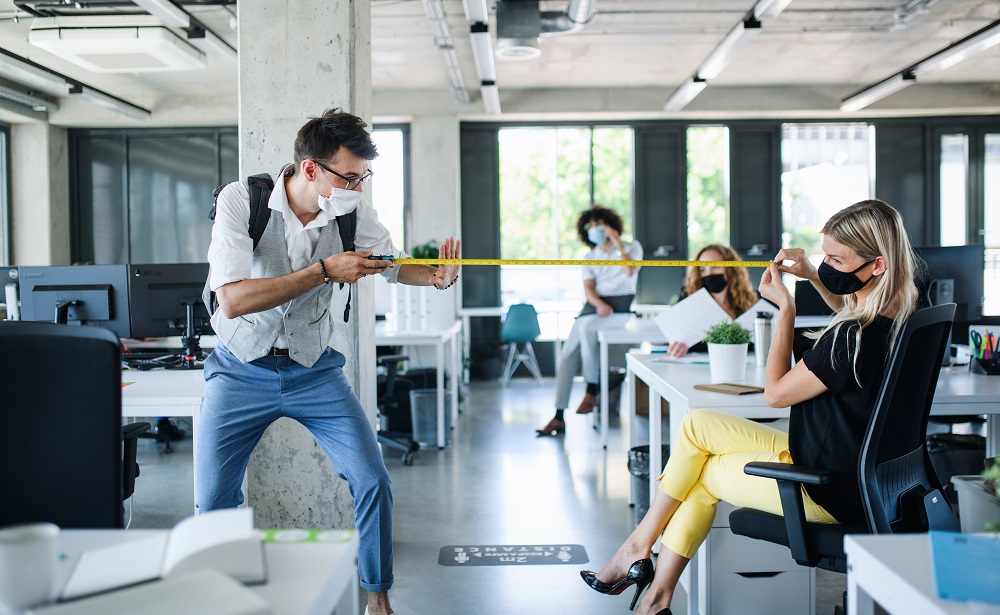 As you would expect, several sessions at InfoComm 2020 Connected – the first virtual iteration of the largest trade show in the U.S. – touched on the changing workplace environment and how technology will play a big role in the return to work.
Technology designer Peter Coman of PTS Consulting gave his take on that trend, which he calls "Workplace 5.0," a new way of working post-coronavirus lockdown that includes new technology, using existing technology in a new way and different ways of using a workplace.
The tech
Coman highlighted how thermal cameras may be placed at turnstiles and other points of entry to scan an individual's body temperature in an effort to detect a common symptom of COVID-19.
Citing the litigiousness of the U.S. market, Coman said temperature-scanning solutions will help keep businesses safe and virus-free.
"Imagine if a building owner let someone in that had COVID and spread it to other tenants within the building," Coman says. "I think they'll start to deploy this kind of technology at the turnstiles – the electronic or physical turnstiles they have — and stop them from actually passing through."
Coman also said facial recognition should play a big role in the U.S. despite the country's resistance to cameras and monitoring.
"I think this will be the tipping point," Coman says.
Touchless technology like voice activation, wireless connectivity, automation, QR codes, sensors, wearable technology, biometrics and others will help keep frequently touched items clean.
Smart assistants like Alexa, Siri and Google Assistant will play a larger role in the workplace, Coman predicts.
"It's very hard to get through the day without touching something, but so we've got to try and reduce the number of touch points as much as we possibly can," Coman says.
The physical space
The emphasis on cleanliness and sanitation will continue for much longer than people realize, Coman says. That includes things like more hand sanitizers and hiring more cleaners.
"So even if they're not cleaning, the fact that the people are seeing the cleaners there is giving the people more confidence that it is a safe environment," Coman says.
Employees may also start to see isolation rooms that effectively quarantine employees who may have been exposed. The rooms could also accommodate someone with health conditions that put them at risk if they're exposed to the virus.
Rather than going back to cubicles or fundamentally redesigning the workplace, Coman says companies will stagger shifts so that only half of the workforce is in the office at any given time. The employees not in the office will work remote.
Read Next: How Immersive, Contact-Free AV Solutions Can Keep Us Healthy Post-Lockdown
The culture
Maintaining a flexible workplace culture that allows for remote work and a generous work-life balance will also play a role in the post-lockdown world, Coman says.
He used the crowded New York transportation system as an example of why workplace measures are just part of the equation.
"You can turn around and have all the social distancing and have all these rules and regulations in place in the workplace, but if you're on a packed train like this, a lot of that actually goes out the window," Coman says.
When employees do have to work from home, they're juggling family, pets, home life and of course work. They don't have the luxury of being able to switch off, leave the workplace and separate their work from their personal life.
That could spell trouble for the next generation of workers that weren't taught to work remotely.
"If we don't get back into the workplace and educate the next generation coming through, we will lose a whole generation of a skilled workforce," Coman says.