Your Customers Are Using Multiple Collaboration Apps
Organizations are increasingly using multiple collaboration apps, and AV integrators can help them choose one or help them support multiple platforms.
Leave a Comment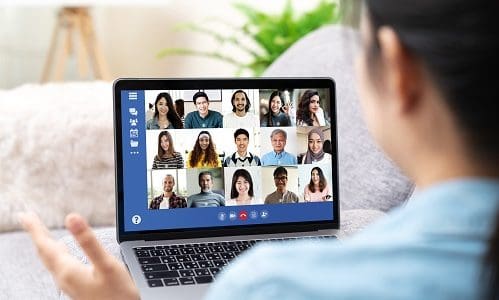 Videoconferencing and collaboration applications are now a fundamental building block for businesses in 2020 and the new normal.
However, there is a glut of these apps available on the market. Apps like Microsoft Teams, Cisco Webex Teams, Zoom, Google Meet, Slack, GoToMeeting and many others have all claimed robust growth due to the coronavirus pandemic.
There's a good chance your organization uses more than one of those.
In fact, the majority of organizations use at least one team collaboration app, says Irwin Lazar, vice president and sales director at Nemertes Research.
According to Lazar, who presented his research during an Enterprise Connect Virtual session "Survival Guide, Working with Multiple Team Collaboration Apps," 55.7% of companies that use multiple apps will continue to do so.
At organizations with just one app, only 46.3% said they'll continue using just that one app.
The primary app of choice at organizations with more than one app was Microsoft Teams, (40.3%) followed by Cisco Webex Teams (27.0%), Slack (9.0%), Google (8.5%) and others (15.2%).
Read Next: Why Your Customers Want Both Teams and Zoom Solutions
What this means for AV integrators
Pro AV professionals building conference rooms for clients may run into these questions from clients:
What application should we use?
Can we use multiple applications?
What application works best for external and internal communication?
Although not specifically talking about conference rooms, Lazar said that answer is, "It depends."
One app, he said, can be easy to manage and more affordable. Sometimes, using multiple apps can overwhelm an IT department and end users. However, restricting communication to just one app can disrupt workflows, Lazar said.
"If you have a single app, it's easier to manage might be cheaper…  but it restricts people, and it might disrupt them if they've already built workflows into the multiple apps you have today," Lazar said
Vendors are acknowledging these issues and are building interoperability and federation between apps. Microsoft Teams, Webex Teams, Zoom, and Slack all offer varying stages of integrations and federation between the services. There are also third-party services that achieve the same result.
And, hardware manufacturers like Logitech and Barco are now offering solutions to this problem.
As you begin to help customers return to the office, be ready to answer those questions about the myriad of platforms they're using.