4 Graphs Show 2018 Predictions for Pro AV Industry Project Profitability & AV Labor Rates
These four graphs paint a picture of the AV industry project profitability, once again showing that AV labor rates and project backlog are keys to success.
Leave a Comment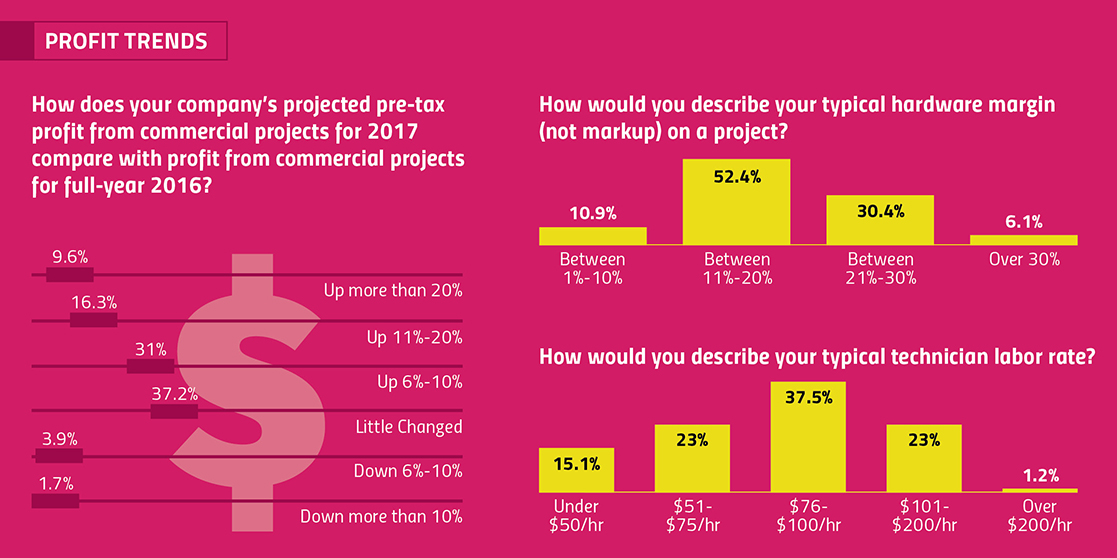 The relationship between hardware margins and AV labor rates in the pro AV industry continues to leave some dismayed. Project profitability seems to be up overall, but like a dubious contract, there are some "hidden costs" to the advancements.
NSCA executive director Chuck Wilson says he finds project profitability reports promising, but not the continued underpayment of AV labor rates.
In terms of pre-tax profitability in 2017 versus 2016, it's "great to see" that 26 percent say they're up more than 10 percent, he says
"I think we are finally seeing better business practices being implemented across the channel."
Read more 2018 predictions with CI State of the Industry 2018: The Incredible Shrinking AV Industry
Less of the AV Industry is Struggling to Increase Project Profitability
It's also good that hardware margins are climbing, sort of.
It's basically flat from last year's survey to this year's that 37 percent (39 percent last year) claim their typical margin is at least 21 percent, but it's great that only 11 percent say their typical margin is between 1 and 10 percent versus one-fifth of the industry last year.
Many in the AV industry look to offset margin profits by simply charging more for service. But as we've said before: that, is an over-simplified and ineffective solution.
Wilson suggests there are way too many — at 76 percent of respondents — charging less than $100 labor rate.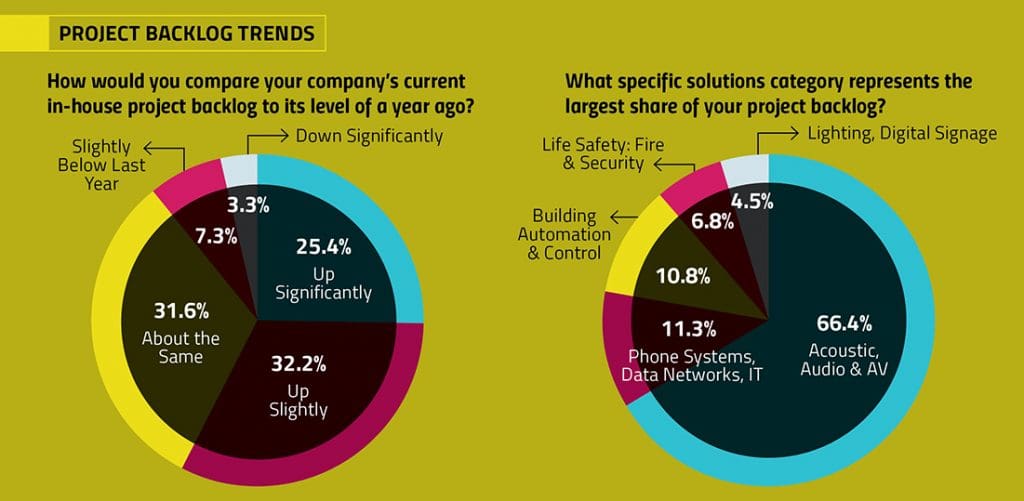 Project Backlog Data Shows AV Industry is Looking to Hire
Project backlog is up year-over-year and that's a very good thing.
NSCA finds a lot of value in analyzing backlog, says Wilson. He calls it the "best predictability tool for labor requirement."
It makes sense, therefore, that the industry is hiring according to the Integration Business Outlook survey, which shows that the average firm is currently looking to hire seven employees.
One thing about backlog, however, is that integration firms should strive for diversity of product categories.
If you enjoyed this article and want to receive more valuable industry content like this, click here to sign up for our digital newsletters!