CI Summit & VIP Peer-to-Peer Networking Groups Application Deadline Extended!
Applications close on Friday, November 20 for those looking to attend the CI Summit and VIP Peer-to-Peer Networking Groups.
Leave a Comment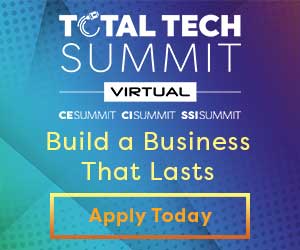 Friday, November 20 marks the official last day that you can submit an application for the CI Summit Kick Off Event and the CI Summit VIP Peer-to-Peer Networking Groups.
Although the kick-off events are not happening until December, we close registration early so that we can create unique and personal one-on-one meetings and bespoke networking groups.  
CI Summit East, December 14-15 and CI Summit West, December 16-17 each include educational sessions and one-on-one meetings with potential vendor partners. 
The educational sessions include our highly anticipated keynote on the Workforce of the Future, a session on the Opportunities for AV Integrators Selling Software, how you can Use Marketing Tactics to Find New Customers and Keep Old Ones, and how you can Take Your Business to New Heights with New Technologies. Learn more about these sessions here. 
These educational sessions and one-on-one meetings are not the only thing that the Total Tech Summit has to offer. In case you missed it, new this year are the VIP Peer-to-Peer Networking Groups. 
These groups offer CI Summit guests the opportunity to meet with groups of other integrators of similar size and in non-competing markets.
Meeting once a month from January to October 2021 via Zoom, guests have the chance to have discussions ranging from predetermined topics to a place where you can find shared experiential solutions to a challenge you are having.
You'll even have additional access to 24/7 chat forums, where you can get a problem solved now, instead of waiting until the next meet up. 
This is your chance to meet with the elite in the industry during a time when meeting hasn't been possible. Get your application in by 11:59 PM ET on the 20th to be considered for this prestigious and exclusive opportunity.
And just in case all of that wasn't enough, here are some more benefits for applying and being accepted to attend: 
Private Year-Long Peer-to-Peer Networking

 

Private 24/7 Access to Networking Group Chat Forum

 

Exclusive World-Class Research

 

Exclusive Deep Dive Reports

 

Exclusive Master Class Webinars

 

Exclusive In-Person Meetups

 

Exclusive Marketing Email Blasts to Your Target End-User Markets

 

Exclusive Marketing Promotional Video Production by 

The

 

CI

, SSI, and CI Teams

 

Access to Kick-Off Events

 

One-on-One Meetings with Leading Suppliers in Your Vertical

 
Related: After the Toughest Year in Recent Memory, This is What the AV Industry is Thankful For
If you enjoyed this article and want to receive more valuable industry content like this, click here to sign up for our digital newsletters!