Almo E4 AV Experience: 3 Important Takeaways
There are many reasons to go to the Almo E4 Experience show in one of many stops across the country. Here are a few important lessons learned this year.
Leave a Comment

It isn't often that integrators get the chance to earn CTU credits, catch up with peers from other companies, comb through an exposition of full-package product solutions, and more… without spending tons of money to go to something like InfoComm or CEDIA. But attendees of the Almo E4 AV Experience can walk in the door for free and leave with so much more than they came in with, says Almo Professional A/V.
The distributor celebrates the 10th anniversary of its traveling trade exhibit this year, having stopped at several large U.S. locations in the spring and early fall. The Almo E4 show brings together manufacturers and integrators for a full day of business, networking, and education opportunities.
From a concierge who creates custom schedules for attendees; to an entire section of the floor dedicated to wireless security and AV solutions; to a
We just came back from its flagship stop in the New York Metro area, and while we collected so much useful information at the show, we wanted to compress it down to three digestible parts which we thought were particularly interesting.
4K Is More Than a Crisp Picture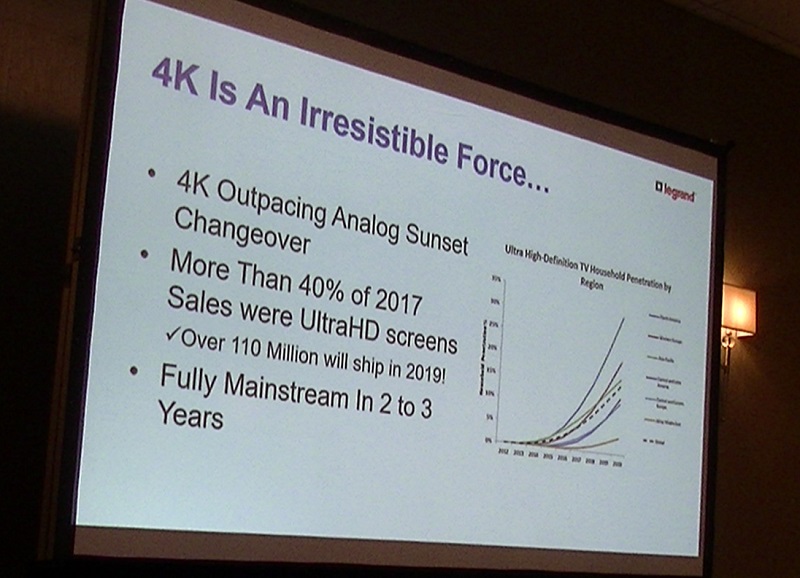 In his "AV in an IT World" presentation, Legrand's A/V Tech Evangelist Joe Cornwall said that 4K is so much more important to the industry than a pretty picture.
4K, he says, is essentially shorthand for displays which include more interoperability standards, since most 4K screens have such standards built into even the most basic models.
But it's also a shorthand for spatial resolution. The fact that 4K tends to produce greater dynamic range — or the level of contrast between brightest whites and darkest blacks in an image — means it is more applicable in most situations than high dynamic range.
The usefulness: you may very well still encounter customers who are hesitant to spend the extra money on 4K… but when you sell to these customers, you can explain the efficiencies 4K affords and the long life such a picture quality will have compared with high-res.
It's Not So Hard to Earn IT Trust…With a Little Help
We know that integrators often run into issues earning their IT clients' trust. After all, these networked devices need to be accounted for, and CIO's aren't the most forgiving of open doors to their networks (nor should they be).
But with tools like Watchdog software, integrators can not only assure their design's security, they can also sell valuable business data, and maybe even some managed service contracts.
See the video above for a demo of Watchdog.
…Now KEEP Their Trust with a Little Know-How
It IS possible to provide a solution which is both secure and collects valuable business data — amplifying your value to the client. In the video above, Eric Olsen, business development manager for Almo, explains which kinds of data to be most careful with.
The next, and final, Almo E4 AV Experience show this fall takes place October 15 near Atlanta. Find out more here.