The Almo E4 Experience Brings Partnership, Education Opportunities to Anaheim
The smaller-footprint E4 event from Almo Professional A/V offers an opportunity to "dip your toe" back into in-person industry gatherings.
Leave a Comment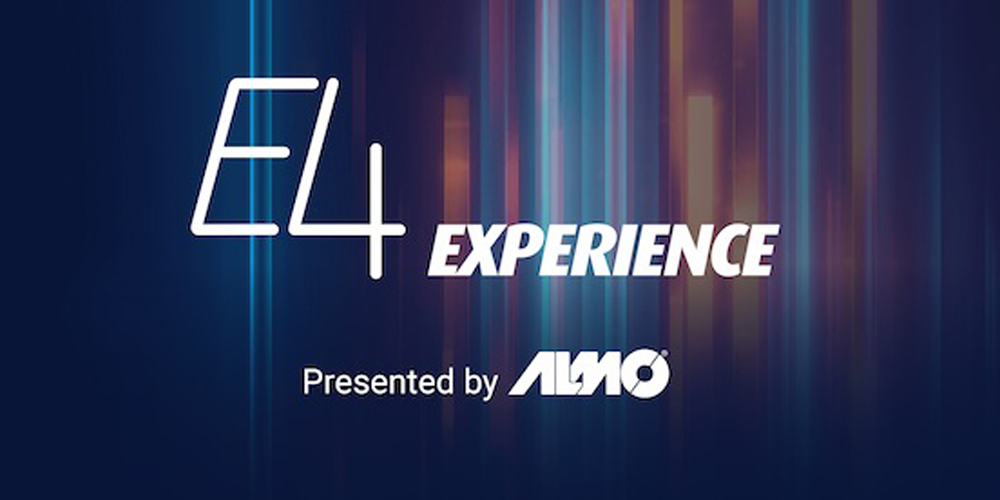 With clear signs that the COVID-19 pandemic is waning and people craving a return to face-to-face interaction at hands-on industry events, Lutherville, Md.-based Almo Professional A/V's next E4 Experience, taking place March 22 in Anaheim, Calif., is like an AV oasis, beckoning us from our homes. The E4 Experience has earned a reputation for carefully blending thought-provoking keynote presentations, practical education sessions and hands-on product exhibits to give integrators and other AV professionals in attendance a jam-packed day of inspiration and enlightenment. Next week's event, emanating from the Anaheim Marriott and set to host about 500 people, will certainly be no exception. Recently, I caught up with Melody Craigmyle, vice president, marketing and communication at Almo. In this article, we'll offer further insights into the E4 Experience and a sneak peek at what's in store for attendees next week.
Dipping Your Toe Back In
Craigmyle reflects on the two-plus-year period in which very few in-person AV events were staged, and she underscores the point that the AV community desperately wants to gather. "It's exciting to be getting back out there and seeing customers and partners," she enthuses. "There's just a real, genuine sense of enthusiasm to get back together." However, she acknowledges, some portion of that community does remain skittish about attending events with tens of thousands of people. In that sense, the E4 Experience offers the best of both worlds — an occasion for education, networking and product browsing but also a smaller footprint and mitigated risk profile. As Craigmyle characterizes it, "E4 offers an opportunity to dip your toe back in." 
If you've ever partook in the E4 Experience, you know that education lies at its heart. Indeed, the team at Almo Professional A/V takes the quality of its education sessions so seriously that all the classes taking place in Anaheim will earn attendees CTS renewal units (RUs), and many of them are also eligible for CTS-D and CTS-I RUs. "We take great pride in making sure that all of our curriculum is certified," Craigmyle says. "It gives people confidence that they're not going to sit through a product commercial." Foremost among the topics on deck for next week's E4 Experience is cybersecurity, a subject that, Craigmyle says, should be at the forefront of every AV professional's mind these days during integration projects. "We need to be discussing that topic and helping [AV professionals] understand the implications," she declares. To that end, cybersecurity expert Art Ehuan, vice president of Palo Alto Networks and an advisor to the U.S. Department of State, will present during the Anaheim event.
 Related: Almo Hybrid E4 Experience Melds Thought Leadership, Holography
Debunking Myths
That's just a taste of the education on offer, though. Commercial Integrator columnist Alesia Hendley, who is also a multimedia journalist, will moderate a panel discussion called "Debunking the Myths of AVoIP." Joined by panelists Rob Voorhees (of Almo) and Sean Cameron (of AMX), Hendley will work to reveal the truth about AVoIP solutions as it relates to network infrastructure, scalability, flexibility and cost. Just consider the trio the E4 Experience's own personal "mythbusters"! 
A perennial E4 Experience presenter, Tom Kehr (of Almo), will be pulling double duty, emceeing two classes during the Anaheim event. In the first, he'll explore the fundamentals of power and grounding. Craigmyle describes this as a topic that remains popular at every event. He'll touch on the basics of AC power systems and offer guidance on what your system requires. The best-practices discussion will include AC power and grounding requirements, reducing ground loops, safety issues, AV signal connections and reducing noise. Then, in the afternoon, Kehr will turn his attention to the proper way to conduct a needs analysis. "If you don't do the needs analysis right, everything else is rolling downhill," Craigmyle rightly observes. She adds that, the last time Kehr taught that course, a seasoned integrator approached him and declared that he wanted every single person in his organization to complete the course.
The E4 Experience always opens with a thought-provoking keynote — this year will be no different. Longtime industry figure Gary Kayye will present "The Future of Work Spaces is all About Experiences" to kick off the March 22 event. The keynote will explore human-centered design thinking and how integrated technology can complement it. The keynote will also consider the topic of meeting equity and the importance of ensuring that those who work remotely are just as engaged as in-office workers are, and that they enjoy an experience that's on a par with the in-office experience. 
Lots of Vendors, Products
As is typical of the E4 Experience, there will be no shortage of big-name vendors in attendance, showcasing their wares and technology innovations. These include Almo Professional A/V's key display partners, such as Samsung, Panasonic, Sharp NEC Display Solutions and LG. Newer Almo partners will also be in the mix, including AVer, Nureva and Sony. Other exciting brands whose products you can check out in Anaheim include Absen, Atlona, Kramer and Huddly. 
The companies mentioned reflect a broad cross-section of the hottest and most profitable solution areas in commercial AV today. Craigmyle specifically promises that the E4 Experience will highlight "…a lot of the partners that are bringing the pieces together of these retrofitted or redesigned classrooms and conference rooms." And if you have a hankering for new products, there'll be several debuts in sunny southern California. For example, Epson's new short-throw projector will be making its U.S. debut at the E4 Experience. 
Related: Almo Pro AV Announces First Leg of E4 Experience Tour in Anaheim
Craigmyle adds that, although the video-based component will enjoy very robust representation in Anaheim, Almo Professional A/V will not skimp on the audio side. "You can have a meeting without video," she observes, "but the audio has to be crisp; it has to be clean; and it has to be intelligible." And that, she continues, "…[is] what partners like Nureva are bringing to the table." In Craigmyle's view, clients are becoming more discerning than ever, paying more attention to the audio element of integrated systems, rather than simply adding a 90-inch panel to their conference room and thinking they've created an environment conducive to successful collaboration. 
A Fantastic Opportunity for Integrators
Speaking of end users, Craigmyle underlines that the E4 Experience is a fantastic opportunity for integrators to engage with clients and new prospects face-to-face, and with key vendor partners ready to show off their wares. "The savvy integrators are the ones using this as an opportunity to invite their end users," she explains. "Our exhibit hall can be their showroom for the day." This aligns with a key message that Craigmyle conveys: Leverage your partnership with Almo and the power it unlocks. "Look at all the solutions I can provide to your organization," she envisages an integrator partner saying to a key client. In a sense, then, more than it's an industry networking and education event, the E4 Experience is a platform that allows integrators to showcase their capabilities. 
"We're here to partner with [you]," Craigmyle underscores. "That's what we want to do."
If you're interested in seizing on this opportunity, go to e4experience.com/ca22/ and register to participate.
If you enjoyed this article and want to receive more valuable industry content like this, click here to sign up for our digital newsletters!