AV Pros are 'All In' For InfoComm 2021
AVIXA says it's not about the size of this year's Infocomm 2021 show, but the quality of it.
Leave a Comment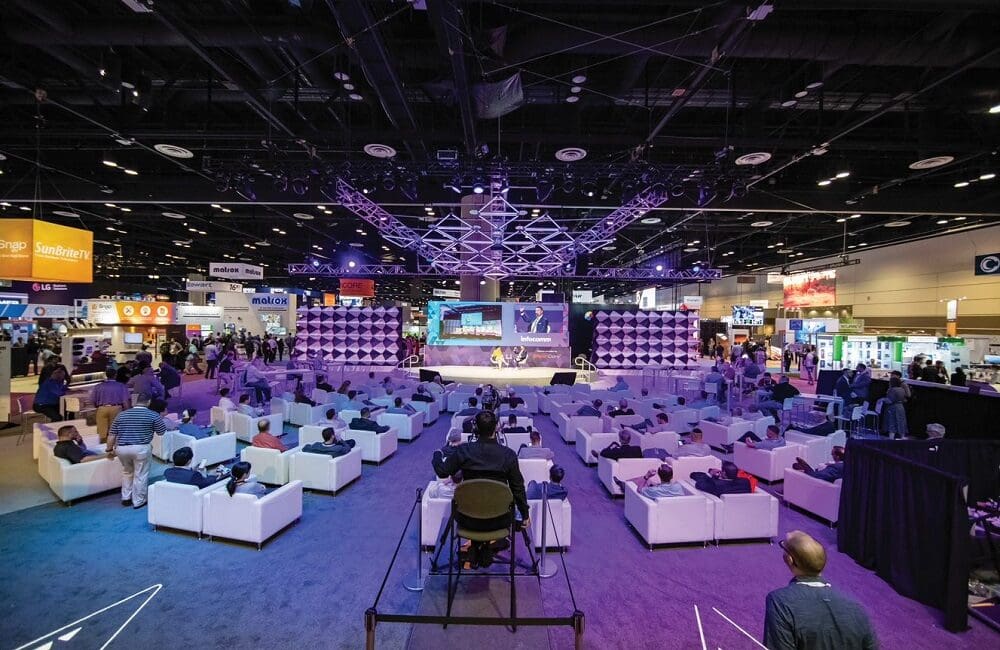 InfoComm, the largest technology exhibition and conference in North America focused on the pro-AV industry, is scheduled to take place October 23-29, 2021, at the Orange County Convention Center in Orlando. 

Integrators can learn about new technology, make new business connections, and meet up with longtime industry peers.
Following a 20-month in-person event hiatus due to the global COVID-19 health pandemic, show organizers are looking forward to having a face-to-face business gathering again.
"We have a number of testimonials of individuals that are all in for InfoComm, and all in for our face-to-face gathering, which includes our speakers, as well as our attendees, and our exhibitors," says Rochelle Richardson, senior vice president of expositions and events at AVIXA. 
Safety Standards at Infocomm 2021
With the increased concern over the Delta variant of the virus, masks and complete vaccination and/or negative test results will be required for this year's show. 
"We have always said from day one that our show would look a little different," says Richardson.
Masks are required to be worn by everyone in attendance regardless of vaccination status. Face masks and complimentary COVID-19 testing will be available on site. 
AVIXA has teamed up with Impact Health to provide an onsite COVID-19 testing opportunity. Limited appointments, which must be booked in advance, will be available each day. Additional testing sites in the area will be listed on infocommshow.org. 
Those who are vaccinated may use the HealthPass app, but to expedite the check-in process, bringing an original copy of one's vaccine card is recommended.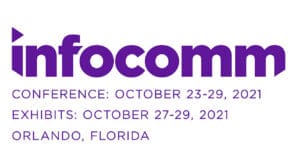 A six-foot social distancing guideline will be implemented across the show, including the exhibit areas, meeting rooms and education sessions. Aisles on the show floor will be widened to help with social distancing. 
To prevent overcrowding in exhibitor booths, attendees are advised to use the appointment setting function via My Show Planner. 
Additional protocols include controlled occupancy in education rooms, one-way entry and exit doors. Hand-washing facilities and additional sanitization stations will be provided at all entry points and at high contact public areas. High-touch areas will be cleaned and disinfected regularly throughout the day as needed. 
Shuttle buses will be running at 100% capacity. High touch areas will be wiped down after completion of each trip. Masks are required while riding the shuttle bus.
Exhibitors are expected to do their part by wiping down products after each demonstration session, having their booth sanitized daily, and have plenty of hand sanitizer that is visible and easily accessible.
Crestron announced it will be sending a small, experienced team to Orlando to meet with partners and industry peers attending the show. They also announced they would be cancelling demonstrations, trainings and panels at their booth.
Sony, Panasonic and Canon, all have also said they are pulling out of InfoComm,
Related: NAB, Citing Delta Variant, Cancels Nab Show 2021
About 420 exhibitors are expected for this year's show. "We're very proud of the list of companies that are committed to joining us," says Richardson. "We recognize that this has been a very unprecedented time over the past 20 months and there are a lot of decisions that that are being made for different reasons," she says. AVIXA understands many exhibitors will not be able to attend due to travel restrictions or personal preferences.
"We fully support AVIXA and everything they've done to manage a show under these extraordinary circumstances," said Crestron's EVP of Global Marketing in a statement.
"We're all in this together," Richardson says. "Our goal is not only about the size of our show, but the quality of our show."
AVIXA will be adapting plans based on new and evolving information through the recommendations of Orange County, the state of Florida and Centers for Disease Control and Prevention (CDC). The latest information can be found at infocommshow.org.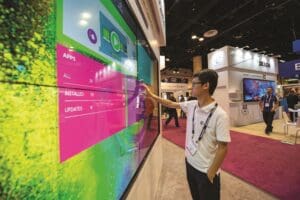 Focus Areas
This year's focus areas will be content, production, and streaming; conferencing and collaboration, digital signage, learning, live events and audio.
As conferencing and collaboration are forecast to generate $43.5 billion in 2021 globally and reach $49.9 in 2026, according to AVIXA's latest market intelligence, InfoComm sessions will explore topics like designing flexible collaboration spaces, clear audio for conferencing, hybrid workspaces, and Bring Your Own Meeting (BYOM) systems.   
Digital signage is another AV solution that has been top of mind during the pandemic. This solution has enabled businesses to maintain up-to-date messaging to their customers about health and safety procedures and traffic flow. 
To explore the digital signage world, the show will host the D=SIGN conference, in collaboration with the Digital Signage Federation (DSF), as two half-day programs on Tues., Oct. 26., and Wed., Oct. 27. Sessions will explore trends in interactivity and touch screens in a post-pandemic world, overcoming connectivity barriers using 4G/5G connectivity, using AI and machine learning to trigger content changes and more.
Related: InfoComm 2021 Registration Opens For Live Show In Orlando Oct. 23-29
InfoComm sessions will examine topics such as adding remote guests to live streams and automatic speech recognition and caption delivery.
InfoComm will also explore AV solutions for learning – K-12, higher education and corporate learning environments for remote learning or on campus. Sessions will discuss developing flexible institutional AV standards, automatic camera tracking for classrooms, and case studies such as New Jersey Institute of Technology turning 100 classrooms into hybrid learning environments. 
Education sessions will also explore topics like creating events with virtual production and extended reality, content creation with generative media and gaming engines, and immersive audio for multi-sensory experiences.
The Technology Innovation Stage will provide bite-sized insights into the latest technology advancements and applications on Wednesday through Friday on the trade show floor at booth 1961. The free sessions will feature product announcements and demonstrations, New Technology Lightning Rounds highlighting the most exciting new products at InfoComm 2021, a state of the industry presentation from AVIXA's market intelligence team, and more.
For those who cannot attend the show in person, a virtual live stream from the Innovation Stage will be available. Not all content will be available. "[It's] just too rich and too much," says Richardson.
In addition, there will be many opportunities for networking at events like the Tech Managers Forum, the Independent Technical Services, Systems Integrators, and Consultants Councils Reception, Young AV Reception, Women's Council Breakfast, Live Events Forum and Reception, and the Diversity Council Networking event. 
AVIXA looks forward to everyone coming back together and to conduct business successfully, safely and responsibly. "We believe confidently that we're able to do that," says Richardson. "We're all in for Infocomm and we hope that everyone else will be as well."
If you enjoyed this article and want to receive more valuable industry content like this, click here to sign up for our digital newsletters!