D-Tools to Showcase Commercial-Focused Enhancements in System Integrator (SI) Software Release
D-Tools SI v13 includes service plan sales and management and enhancements to project management capabilities, drawings and more.
Leave a Comment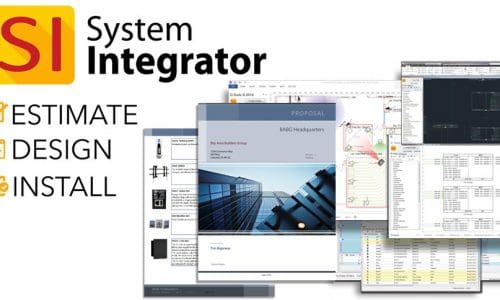 D-Tools, Inc. recently announced it will demonstrate new capabilities of the forthcoming release of its estimation, design and project management System Integrator (SI) software solution – System Integrator v13 – at InfoComm 2019 [booth 2361].
SI v13 delivers what company officials call "critical new productivity features" including:
Service plans. The ability to define, create, sell and manage service plans for new and existing projects, extending the reach of SI. Users can manage projects in SI from the initial proposal through the ongoing post-completion service relationship. Service orders will be linked to service plans to track estimated vs. actual results, both in terms of hours and dollars.
Allowance packages. SI users can create allowance packages during the bidding process and then replace those placeholders with actual products after the contract is signed without affecting the project price.
Bundled wire/cable packages. A new bundled wire/cable package option eases specification and enables connections down to the individual conductor.
Payments processing. The D-Tools customer portal now enables users to accept and process credit card and ACH payments from clients.
AV-iQ database integration. A new integration between D-Tools and AV-iQ provides SI software users with access to a growing library of product information from AV-iQ's database of products.
When used together, this product and engineering data helps find, select and use information for their proposals and project documentation.
The newest version of D-Tools SI "helps system integration firms, like never before, by improving operational efficiency for increased profitability, while reducing time, cost, and errors for a streamlined business process," according to the company announcement.
D-Tools Manufacturer Training at  InfoComm 2019
D-Tools will also offer a manufacturers training session at InfoComm 2019 titled "Create a Project in System Integrator (SI)," which will detail the process of starting and designing a project with D-Tools SI.
The session will take place Thursday, June 13 from 1–2:30 p.m. in room W303A. All InfoComm attendees are invited and, upon completion, will be rewarded 0.75 CTS credits.