Why AVIXA's InfoComm 2018 Broke Its Las Vegas Show Attendance Record
InfoComm 2018, the first North American show since InfoComm International became AVIXA, set records and reflects optimism in the pro AV industry.
Leave a Comment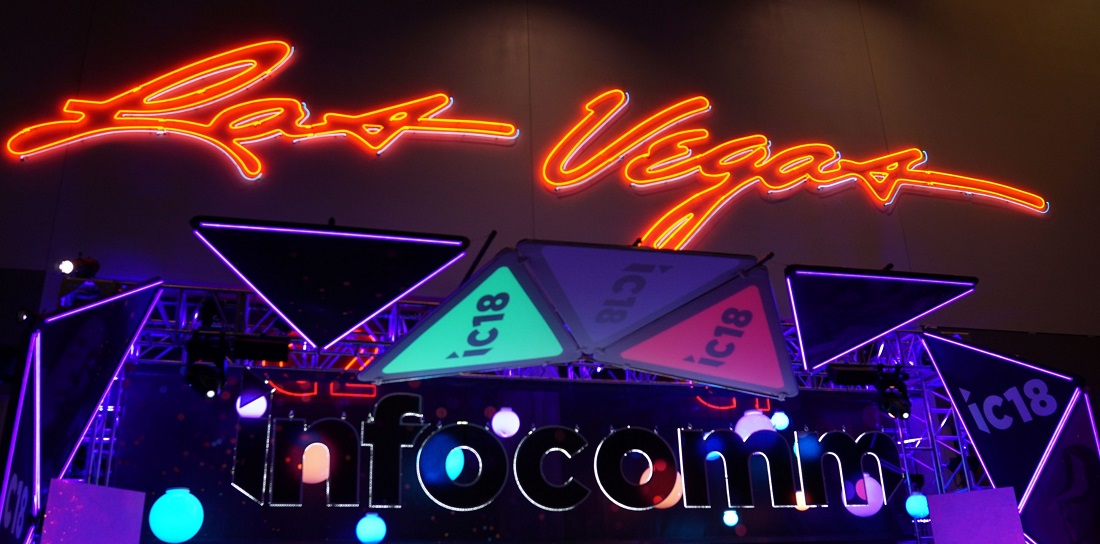 For me, InfoComm 2018 began 15 feet above the show floor as I took advantage of the Sky C2 element that AVIXA brought to its June 4-8 event Las Vegas, in part, to inspire new perspectives on the pro AV industry's integration market.
The show itself – the first InfoComm since InfoComm International changed its name to AVIXA — set an InfoComm in Las Vegas attendance record with 42,811 attendees, shy of the overall InfoComm attendance record set at InfoComm 2018 in Orlando with 44,077 but reflecting 10 percent growth over the previous InfoComm in Las Vegas.
Detractors will point out that AVIXA is courting end-users to the show and changing the dynamics of the AV channel trade show. (One first-time exhibitor at InfoComm 2018 asked me if there are "many dealers at the show.")
But the AV industry is changing and so are end user customers' roles in the technology decision-making process.
AVIXA is clearly evolving with those changes and InfoComm 2018, in several ways, reflected that it's bringing its signature trade show along for the ride.
Sky and TIDE at InfoComm
The Sky C2 ride is just one example – a collaboration with innovative, interactive business conference C2 Montreal that forces participants out of their element (or above it) and to consider their day-to-day business challenges from new angles.
Perhaps the best example of how AVIXA is evolving its trade shows is with the TIDE [Technology. Innovation. Design. Experience.] conference, which was launched at InfoComm 2016, continued at Integrated Systems Europe 2018 and punctuated at InfoComm 2018.
TIDE, which took place on Tuesday prior to the trade show floor opening on Wednesday, showcases speakers and presentations that go far beyond AV and hopefully inspire ideas that will influence business strategies.
TIDE "drew its largest crowd to consider ways of applying human-centered design to AV solutions," says Jason McGraw, senior VP of expositions, AVIXA, in a press release.
That type of content is essential to evolving trade shows, explained AVIXA senior VP of marketing and communication Dan Goldstein, prior to InfoComm 2018.
The omnipresence and availability of product information necessitates new trade show elements. "It's incumbent upon us to offer content that is unique, that is face-to-face, that's not available online and which places all that technology that you have on the show floor in a broader context," he said.
It's even truer in the B2B trade show world, Goldstein said as "there's definitely a shift in the direction of original content."
My current view of #infocomm18 ….. Thanks @AVIXA for a completely unique C2 Sky experience. pic.twitter.com/FFOswoX0YJ

— Tom LeBlanc (@leblanctom) June 6, 2018
Front and Center at InfoComm 2018
That shift was further reflected on Center Stage at InfoComm 2018 where presentations by exhibitors and beyond created context for the experiences created by AV system design.
If there's any question about how invested AVIXA was in created a memorable experience on Center Stage, consider that director of program design Rachel Bradshaw leading up to InfoComm 2018 called it "the absolute coolest program I've ever had the opportunity to be associated with."
The new elements worked for me. Kicking the trade show off with perspective-challenging Sky C2 set a euphoric tone for my InfoComm 2018.
Related: 4 Most Important InfoComm Trends, According to Integrators
I found, however, that I wasn't alone with optimism a consistent theme on the show floor.
In past years I've been aware of a nervous skepticism in the pro AV industry – almost a "woe is me" take on how AV fits into the future of providing technology solutions to customers. I didn't see that at InfoComm 2018. I saw enthusiasm and confidence.
Along with its new moniker, the organization AVIXA renewed what a trade show in the AV integration market ought to be at InfoComm 2018. Now, with the Las Vegas show in the rearview mirror, the challenge is on to keep the evolution going.
If you enjoyed this article and want to receive more valuable industry content like this, click here to sign up for our digital newsletters!