Integrators, Beware of Business-Crushing Legislation
NSCA will always battle bills that may negatively affect your business, but it will be more effective if you step up. The NSCA Pivot to Profit can help.
Leave a Comment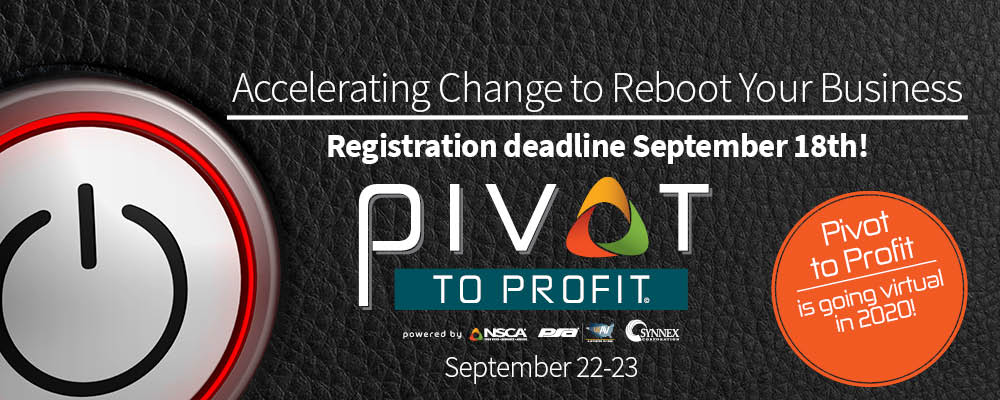 Priorities are everything, especially these days. As integration firm leaders focus on doing whatever they can to get through the COVID-19 crisis, it can be difficult to prioritize a vague bill proposed in the Maryland State Legislature – especially if your company doesn't do business in Maryland!
Well, there is a very strong business case that integration firms regardless of where they do business in the United States ought to pay much more attention to a flurry of proposed legislation in a growing number of states that would limit your company's ability to legally do work you're well qualified to do.
As the trade association for the integration industry, NSCA is extremely dedicated to spreading awareness of and battling against these bills – but we need grassroots help from integrators like you.
A great first step would be to join us at 2020 Pivot to Profit Virtual, NSCA's annual business transformation conference, during which a keynote session, "2020 Legislative and Regulatory Challenges with Emerging Technology," featuring leaders of the Connected Technologies Industry Consortium, including me, lay out the legal issues on the table and exactly how the integration community can band together.
First, let's take a step back, and make sure we understand the types of regulations the integration market is facing. This will not only help you better leverage the 2020 Pivot to Profit session but the context will help you to understand how to stay informed and involved.
What Types of Laws Are We Battling?
It's important to note that NSCA doesn't oppose all proposed laws that touch the integration market. There are some that are good. There are some that require a closer look. The important thing is to monitor proposed laws and to understand how they might impact your business.
We primarily follow bills that propose changes to licensure requirements to make sure NSCA members are properly licensed in the states and municipalities where they choose to work.
We also look at regulatory or code-related bills that by local, state or federal law may require companies to pull a permit.
Another focus is labor law issues. For instance, we should all be watching California Assembly Bill (AB) 5, which determines whether a worker is an employee or an independent contractor.
This is often thought of as impacting only Uber and Lyft, but we want to make sure it doesn't extend to contractors used by integration firms. This is relevant beyond California-based integrators. A lot that happens in certain states tend to flow through the rest of the U.S.
There are also proposed changes to prevailing wage regulations. This defines hourly wage, benefits and overtime paid to the majority of workers in a particular area. In some cases, integrators are required to pay prevailing wage to all workers on a project.
It used to be that workers at the "job site" dictated prevailing wage jurisdiction. We're seeing some regulations that expand that, requiring integrators to pay prevailing wage to workers that "touch" the jobsite such as off-site staging.
We constantly monitor this and update integrators on requirement changes. You want to make sure you price projects knowing the prevailing wage jurisdiction because it can cause a huge swing.
What Trends Are Spreading Across the Country?
A lot of the proposed laws we're watching relate to Power over Ethernet (PoE). In the early days of PoE it wasn't threatening to the electrical community. Now, however, there are so many enabling factors to PoE, sending power along with data circuits.
This gives us opportunities to power remote surveillance cameras, access control devices, video conferencing and other end points that operate on the higher levels of defined voltage that we can do over PoE. That seems to have hit the threshold for the electrical community and triggered many proposed regulations.
Related: Pro AV Integrators, It's Time to Start Paying Attention to the Government
Last year, NSCA went into more than 20 states to defend our current low-voltage licensing or the exemptions to have an electrical license. We were successful but we had to prove without a shadow of a doubt that class 2 and class 3 wiring, which is in our domain, was a safe way to get that power to those edge devices.
With those edge devices becoming so prevalent with Internet of Things, the proliferation of these endpoints is growing and growing. To our industry we see this as a huge opportunity. Others see it as a threat.
There are also trends spreading that can be positive for integration companies. For instance, Alyssa's Law, which requires public school buildings to be equipped with a panic alarm tied directly to emergency responders, is catching steam. We're seeing 11 states considering it.
This can provide opportunities for integration firms that provide life safety or communication solutions. Consider that there are about 4,600 schools in Florida, an Alyssa's Law state, that have yet to build out those systems.
What Steps Can You Take Now?
The first and easiest thing integrators can do to defend their companies against business-limiting regulations is to go to the Advocacy tab on NSCA.org and click on "Track Legislation."
From there, you can select states, counties and see the hundreds of bills we're currently tracking. Look at the bills in states in which you work and make sure that you're in compliance with the licensure requirements. If you see something concerning, reach out to your lawmakers.
The NSCA web portal displays your legislators and you can even write them a letter using this tool.
You can access all those resources without logging in as NSCA member, but you should join NSCA. Then you should be mindful of the emails that we send.
Whenever there is a bill that concerns us and we need a grassroots effort, we let NSCA members in the impacted area know.
We might need you to volunteer to go to your statehouse. We've seen instances where, without members stepping up, integration firms would have gone out of business as a result of proposed regulations. It's crucial to be aware and be responsive.
And, of course, you should attend NSCA Pivot to Profit Virtual where "2020 Legislative and Regulatory Challenges with Emerging Technology" dives even deeper into these issues.
NSCA will continue to battle potentially business-crushing legislation on your behalf, but we need your help. We're in this together.