AV News to Know Aug. 14, 2020: New Products, Cool Projects and People in New Places
In this week's edition: AV manufacturers team up to help others, Martin Audio supports U.K. live events pros and AVDG Group adds Timothy Hill as GM.
Leave a Comment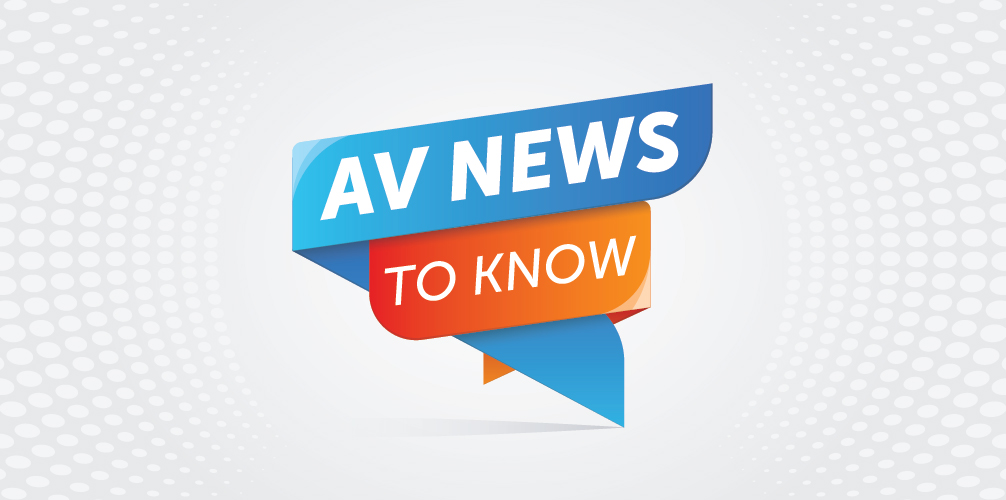 Here's a closer look at some of the AV news, products and projects you might have missed this week. We call it AV News to Know:
New AV Products
D-Tools Releases System Integrator Version 14 Software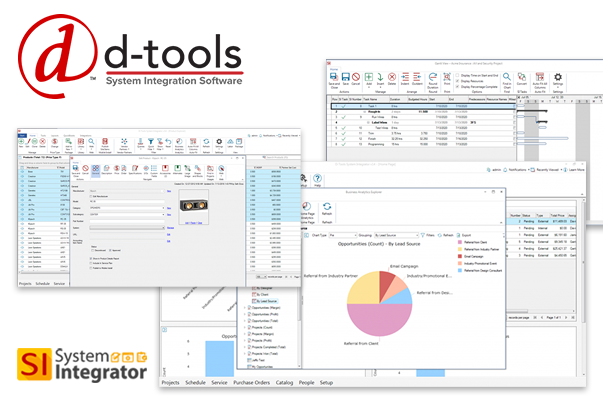 D-Tools, Inc., this week announced the availability of System Integrator version 14, which includes new capabilities for its end-to-end estimation, design, project and service management software solution.
The latest release, SI version 14, provides new performance-enhancing features that include Gantt charts, customizable checklists, new business intelligence reporting, bulk purchase order creation and updated user interface.
Reflect Systems, BrightSign and NEC Create Retail Resurgence Program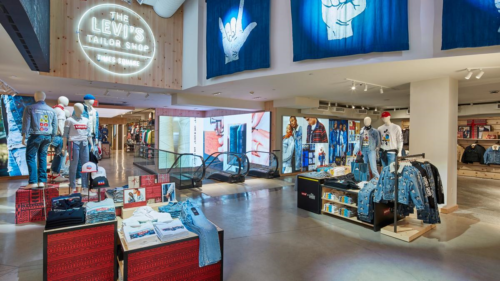 Reflect Systems this week announced it has joined forces with BrightSign, NEC Display Solutions and NEC Financial Services to offer digital signage packages to help companies drive positive, safe customer experiences through its Retail Resurgence Program (RRP).
The program bundles digital signage packages with financing options. Reflect, BrightSign, NEC Display Solutions and NEC Financial Services work with each customer to create a tailored, interactive experience. Customers can select—and customize—digital signage displays, kiosks and wall-mount kits.
Extron and Poly Partner to Deliver Scalable Meeting Experiences
Extron and Poly are working together to develop scalable integration options for Extron control systems, audio devices and signal switching for Poly Room Solutions for Microsoft Teams Rooms and Zoom Rooms solutions.
One of the first developments, allows a tap on the Poly GC8 touchpanel to manage the meeting experience as well as send commands that trigger automation events for display power, shades, lighting, and more.
EonDigital Partners with BrightSign to Develop ExoMetrics Wrist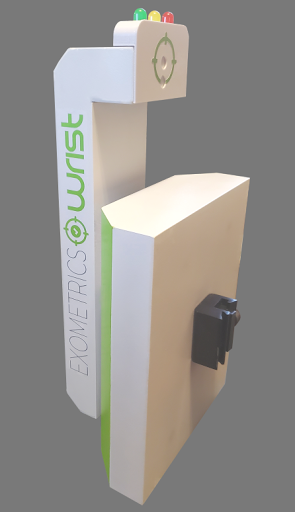 BrightSign, LLC, announced this week that EonDigital, Inc. has incorporated the BrightSign HD1024 media player in its new temperature screening solution, ExoMetrics Wrist.
This new solution achieves temperature measurements by taking hundreds of temperature readings in seconds. This hands-free solution enables businesses to screen patrons with minimal disruption.
Environmental Lights Releases EcoFlex 4-in-1 LED Neon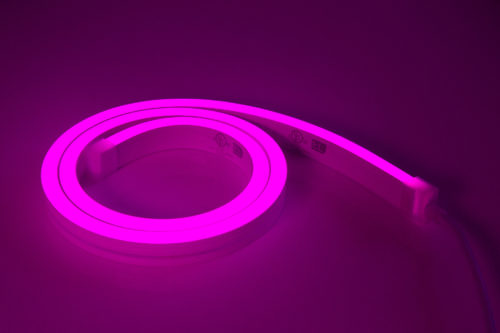 Environmental Lights this week announced the launch of EcoFlex 4-in-1 LED Neon.
EcoFlex 4-in-1 LED Neon is an LED-based replacement for traditional neon that provides more color options than standard LED RGB neon. It enables users to mix RGB with one of three different color options to create colors that are not possible with standard LED RGB neon.
The UL listed EcoFlex 4-in-1 LED Neon utilizes a silicone casing and fits many retail, scenic and commercial applications.
ClearOne COLLABORATE Space Now Allows 49 Participants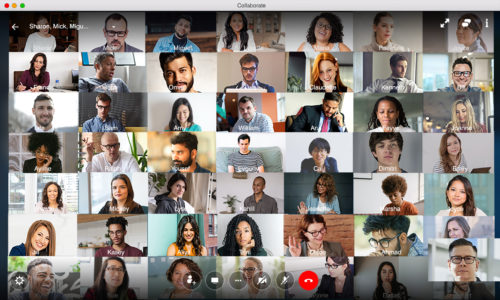 ClearOne has expanded the number of participants visible during a COLLABORATE Space meeting to 49 through a 7×7 gallery view.
Users can now reach out to colleagues, business partners or customers outside of their enterprise group who are also using COLLABORATE Space by inviting them to share their Space contact information.
Pro and Enterprise-level users can enjoy meetings with up to 100 participants and will be increased to 300 participants soon.
Audio Visual Projects
Duquesne University Music School Gets Pristine Audio for Remote Learning and Auditions
On March 12, Thomas Kikta, chair of contemporary music media and jazz at Duquesne University in Pittsburgh, got word that his campus was shutting down due to COVID-19.
Remote learning was to begin 4 days later, leaving Kikta with only a few days to find the students and facility at the university's Mary Pappert School of Music a solution that would improve upon the poor audio quality during Zoom meetings.
Kikta turned to Digigram's IQOYA *SERV/LINK, a multi-channel IP audio codec, and paired it with IQOYA GUEST, Digigram's web-based solution, to allow Mary Pappert students and facility could receive their video via a Zoom link and their audio.
Designed for live remote broadcasting, the *SERV/LINK and IQOYA GUEST provided students and facility with the pristine audio and ultra-low latency needed for the music school to better conduct remote lessons, classes and auditions.
"When it was announced that we were closing the campus, the first complaint I got from faculty was, 'There's no way I can do private lessons on Zoom,'" Kikta said. "They said, 'I can't tell vibrato, it warbles, it goes in and out. I can't tell the tonal quality of the student. I can't demonstrate for them.'
"On scale of 1 to 10, audio quality is an 11. It's absolutely paramount. We need to hear vibrato; we need to hear the decay of the reverb. As the instrument decays, it starts to digitize, and it starts to flutter. If there's a gate on it or a compressor, you hear that. It cuts off your decays," he said.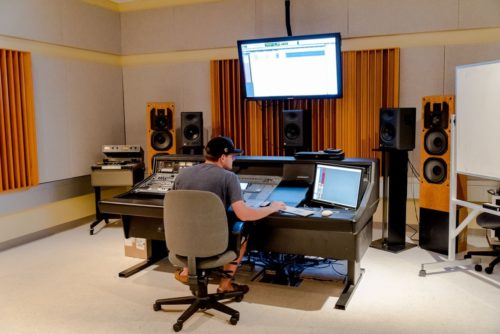 Improving Distance Learning
The Mary Pappert School of Music is using 24 stereo channels and 48 mono, splitting them up daily depending on what classes, lessons and auditions are on the schedule.
"When it comes to lessons, I worked with a class that had 16 violinists and one professor," said Kikta. They can all play away and she can play back to them and then she can ask them to play back what she just played."
According to Kitka, a setup video has been key in getting professors and students up and running on the platform.
"I send the setup video to the professor and the professor sends it to the students," Kikta said.
With in-person classes set to resume on Aug. 24 at half-capacity, Kikta said the *SERV/LINK will be critical heading into the 2020-2021 school year.
"A class that normally held 23 people will be down to 12 or 13," he explained. "Those that don't come into the classroom will be told to stay in their dorm room and log in via Zoom to see the lecture and use the IQOYA link to listen in."
Lectures and lessons aside, the *SERV/LINK will also play a key role during the music school's audition process.
"No one is allowed on the Duquesne University campus that isn't already a part of the 'school family,'" Kikta said. "So, we are going to distribute the IQOYA link and Zoom link to the students and judges so judges have the opportunity to hear the fine details of the student's playing."
When the pandemic is over, Kikta said using the IQOYA for remote auditions will help the school reach a broader base of students, including those who live too far away to attend in-person auditions.
"It will help us get the cream of the crop," Kikta said. "Students who normally wouldn't travel all the way from China or Honolulu can now audition via the *SERV/LINK."
Similarly, Kikta plans to use the IQOYA's X/LINK IP audio codec, which is designed for live remote broadcasting, and couple it with a link from free web streaming site Caster.fm, to showcase the students' music on the university's website.
"Our goal is to have a 24/7 loop broadcasting recordings from the Mary Pappert School of Music," he said. "When someone comes to our web page, there will be a button that says something like, 'Hear the Students of Duquesne University.' When someone clicks on it, concerts will be streaming from Caster."
Two other channels will broadcast student recitals — making it easy for students who have family and friends out of state to virtually "attend" their performances.
"This will allow grandma, who lives in Washington State, hear her grandson's recital in Pennsylvania," Kikta said. "We plan to broadcast all the student recitals so that friends, families and donors can listen without having to physically come to the university."
Martin Audio Supports #WeMakeEvents Campaign
Martin Audio has been supporting the PLASA-led #WeMakeEvents campaign, which highlights the plight of the U.K. live events industry and the need for additional government support to this highly technical and specialized sector.
The campaign culminated with a day of action with up to 5,000 people lining the banks and bridges of the River Thames to raise awareness of the crisis with politicians and the wider public.
A day of action was coordinated across the industry on Aug. 11 and Martin Audio joined other well-known entertainment technology manufacturers in backing the campaign. Alongside fully supporting the industry with social media, Martin Audio helped organize a full TV production and livestream of the activities in London, including a helicopter swoop across the city.
These included many of the capital's major landmarks being lit up in red and people gathering along the banks of the River Thames and bridges, dressed in red T-shirts, wearing red masks and waving their own red lights.
Martin Audio also supplied its loudspeakers as the main PA for the boat that took members of the press and industry professionals on a trip along the River Thames past the illuminated landmarks.
Closer to home for Martin Audio, the company also supported the Wycombe Swan Theatre and High Wycombe Town Hall being lit in Emergency Red, alongside its own headquarters.
Meyer Sound Powers Upgrade at Australia's Adelaide Convention Centre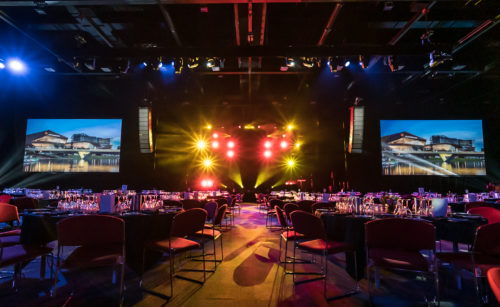 Situated at the heart of Adelaide's Riverbank Precinct, the Adelaide Convention Centre comprises three distinct yet seamlessly integrated buildings totaling more than 20,000 square meters of multi-purpose space.
Widely recognized as one of the world's most flexible and technologically advanced meeting facilities, the Adelaide Convention Centre (ACC) in South Australia recently completed a $397 million redevelopment which included a major overhaul of the venue's audio systems.
The loudspeakers and associated processing were augmented or completely replaced with new Meyer Sound systems in seven halls, including the addition of LYON line arrays for the ACC's largest configurable space.
When combined with existing inventories, this latest round of investments brings the total Meyer Sound loudspeaker count up to 270, making ACC the largest single-site user of Meyer Sound systems in Australia.
In addition to the 20 LYON line array loudspeakers and accompanying eight 1100-LFC low-frequency control elements, the latest additions also include 65 ULTRA-X40 compact loudspeakers and 10 900-LFC elements.
For networkable drive and optimization, the project included the integration of five each of GALAXY 816 and GALAXY 408 Network Platforms and, for comprehensive monitoring via the network, two RMServer.
"We're committed to delivering a premium experience across all client touchpoints," said Simon Burgess, general manager at the Adelaide Convention Centre. "Our ongoing investment in the latest technology — specifically our sound systems — has enabled us to continue to elevate the quality of our production as well as create greater efficiencies for our team."
Matthew Stanton, the venue's technology services manager, adds, "The latest upgrades have enabled us to further expand the flexible, self-powered ecosystem we've been building in recent years."
The new LYON arrays reside in the ACC's central building, where they can be flown in different configurations and orientations to cover the facility's largest single open space, a combination of three separable halls (F, G and H) covering 5,600 square meters.
The LYON-W wide coverage versions were chosen to allow flexibility for setting stages in either wide or narrow room orientations.
"We're delighted to now be able to offer premium concert-level sound across our venue, which enables us to accommodate, for example, a top Australian act for banquet entertainment without need to rely on any outside rentals," said Stanton.
The new complement of 65 ULTRA-X40 loudspeakers will be spread around the venue, serving in both permanently mounted and portable capacities either as mains in small to mid-size rooms, or as fill or delay systems in the largest halls.
Four of the ULTRA-X40 loudspeakers were flown as delays in ACC's 3,000 capacity Plenary Hall, opened in 2017, where they provide high frequency boost to seating areas that were shaded from the main LEOPARD arrays by video screens, ensuring seamless coverage across the auditorium.
Another Meyer Sound solution provides controlled coverage in the glass-enclosed Gilbert Suite, where distributed overhead sound is supplied by MM-4XP miniature self-powered loudspeakers, augmented by directional podium sound from two UP-4slim loudspeakers and bass from two MM-10XP miniature subwoofers.
The ACC also retains its inventory of 32 M'elodie line array loudspeakers and 12 500-HP subwoofers, allowing deployment as temporary main systems indoors or out, or as supplementary side fill systems for the LYON arrays in the largest hall configurations.
"ACC management's continuing emphasis on the highest quality audio for every room and every event underscores their commitment to ensuring the best overall experience for every client," said Audio Brands Australia technical sales and business development manager Owen Ironside.
People and Places
AVDG Appoints Timothy Hill as GM of Eastern U.S. Operations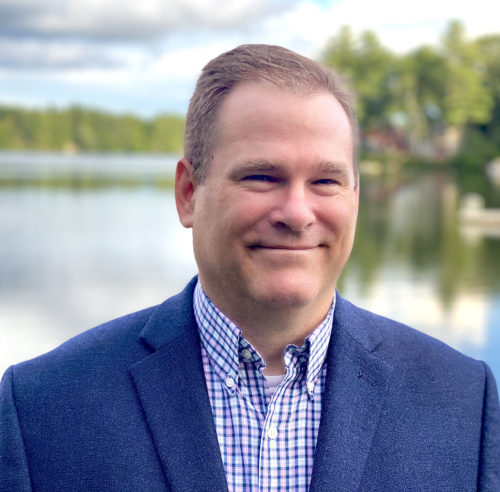 AVDG this week announced the appointment of industry veteran Timothy Hill to the position of general manager of the company's eastern U.S. operations.
Prior to joining AVDG, Hill was global VP of engineering at AVI-SPL, where he established engineering standards, overseeing the management of an international team of more than 350 personnel, consisting of pre- and post-sales engineers, solution architects, and CAD technicians.
He was the founder of OmniPresence, an audiovisual and video conferencing integrator, from 2002 to 2011, where he served as the chief technology officer until its acquisition by Carousel Industries.
The DAK Group Taps Robert Devine to Lead Strategic Leadership Advisory Division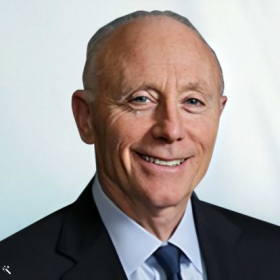 The DAK Group, a leading investment bank specializing in middle market businesses including in the pro AV space, announced this week that Robert Devine has joined to lead the strategic leadership advisory division.
Devine has 35+ years of experience, as a manager, business owner, board member and a consultant and is the CEO of Strategic Leadership Advisory LLC.
PSA Announces Corporate Social Responsibility Program
PSA this week announced the launch of its corporate social responsibility program to better its community as well as the low-voltage systems integration industry as a whole. PSA is focused on philanthropic giving, volunteerism and employee wellness, as well as developing the next generation leaders in the industry.
PSA established a community service committee that regularly comes up with initiatives for employees to support. A key focus for charitable giving is organizations with causes that impact PSA employees, their families or PSA members and owners.
At its annual PSA-TEC conference, PSA offers a chance for the industry to get involved in a charitable project by partnering with Mission 500 to support the host-city community, from building hygiene kits to stuffing backpacks.
PSA awards an annual $5,000 security scholarship to someone working in the security industry or their child. The recipient must aspire to a career in physical or cybersecurity, be in good scholastic standing and provide a statement about why they are the best candidate for the scholarship.
PSA is also exploring how it can promote diversity within the security industry through internships and additional scholarships. PSA plans to launch this part of its corporate social responsibility program in 2021.