AV News to Know Feb. 26, 2021: New Products, Cool Projects and People in New Places
In this week's edition: Crestron panels integrate with Microsoft Teams, colleges embrace digital learning and CTI acquires AV Nation.
Leave a Comment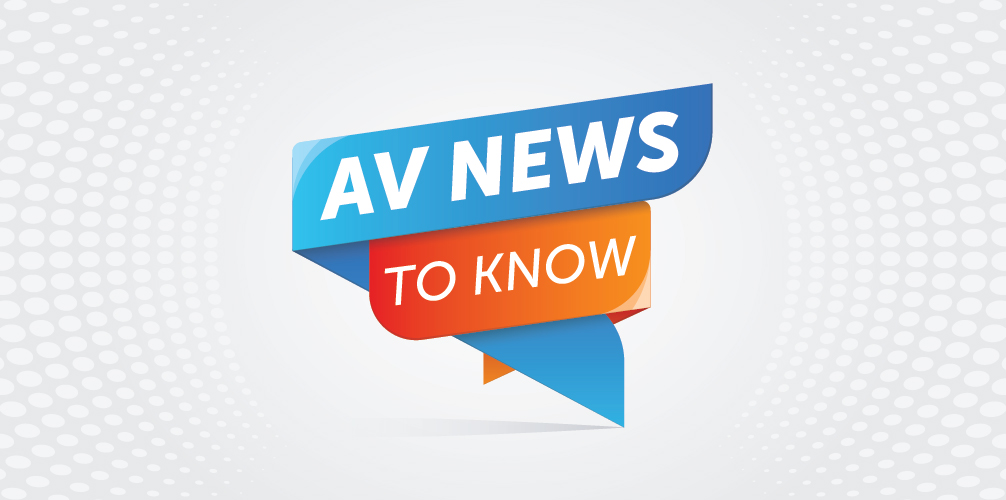 Here's a closer look at some of the AV news, products and projects you might have missed this week. We call it AV News to Know:
New AV Products
Crestron 70 Series Scheduling Panels Integrated with Microsoft Teams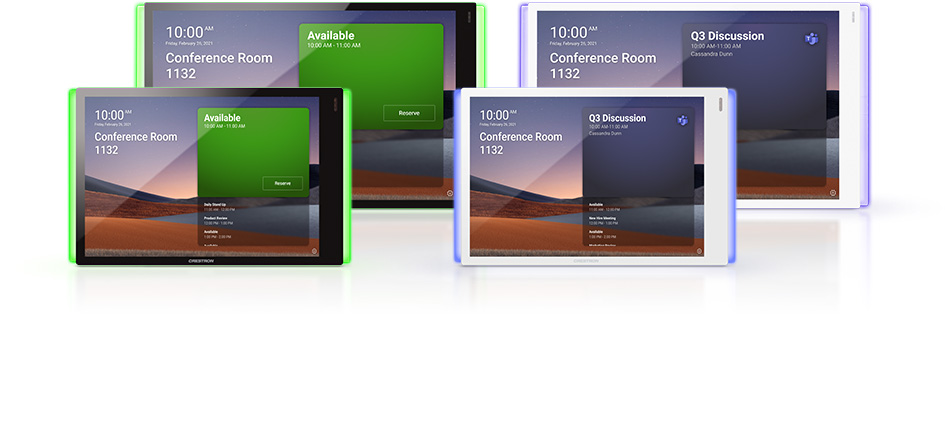 Crestron's new 70 Series Scheduling Panels with native Microsoft Teams panels software will provide cross-enterprise Teams experience for in-office employees.
With an overview of each corporate rooms' status in real-time, the Crestron devices display occupancy, availability, cleanliness and more via the Teams panel functionality coupled with Crestron hardware for any bookable space.
The ability to gather, share, and act on room scheduling data in real time helps keep employees and management efficient and compliant with reconfigured safety protocols.
A Microsoft Teams firmware upgrade is now available for the Crestron 70 Series Scheduling Panels.
Bose Expands Availability of VideobarTM VB1

Bose Professional is now partnering with Barco to offer a complete audiovisual meeting solution. As people adapt to working both in the office and remote, it's the hybrid office and meeting rooms that enable continued collaboration while maintaining human connections.
Conferencing keeps work moving, and the Videobar VB1 can be combined with any Barco ClickShare Conference device, getting meetings up quickly and running smoothly with premium audio and video.
The Videobar VB1 is ClickShare Certified, ensuring interoperability with Barco technology. Barco leads in wireless technology, so pairing ClickShare Conference with the Videobar VB1 significantly reduces the need for wired components in conferencing spaces.
This declutters work areas and simplifies the act of joining meetings to a single button.
Poly's DECT Headsets Deliver Confidence and Clarity
Poly this week introduced the Savi 7300 Office Series, the latest addition in the company's lineup of Savi wireless headsets. The Savi 7300 Office Series is designed with enhanced DECT security and Poly's audio.
The Savi 7300 Office Series offers Poly's Acoustic Fence microphone technology so workers will always be heard, but never overheard. The Savi 7300 Office Series ensures that even the strictest internal security requirements for wireless headsets are met with ease.
Vanco International Releases Ultra High-Speed HDMI Cables
Vanco International LLC this week announced they are one of the very first companies to release a new line of HDMI cables certified to the stringent Ultra High Speed HDMI 2.1 specification.
The new line of Vanco cables includes four models (UHD8K01, UHD8K03, UHD8K06 and UHD8K10) that each offer an uncompressed bandwidth of 48 Gbps and support resolutions up to 10K@30Hz, 8K@60Hz, and 4K@120Hz.
Transmission of static and dynamic HDR (High Dynamic Range) video is also possible, as is support for the wide angle theatrical 21:9 video aspect ratio.
Audio Visual Projects
University of South Florida takes hybrid learning to next level
University of South Florida (USF) is a preeminent state research university located in the heart of Tampa Bay. With a student population of almost 50,000 students across 14 different colleges, USF prides itself as being at the cutting edge of medicine, science, engineering, the arts and more.
Early last year, USF's IT team tested and subsequently acquired a Sennheiser TeamConnect Ceiling 2 (TCC2) system in one of its main conference rooms, moving one step closer to realizing its vision of having a microphone in every classroom.
Once the pandemic hit in March 2020, the USF IT team — and by extension the entire university — was faced with a pressing need to make its vision of implementing a campus-wide, hybrid learning scenario a reality.
The Sennheiser TCC2 which had already been installed in one of the campus' high-profile meeting rooms, delivered flawless performance — paving the way for the USF to greenlight a cost-conscious, campus-wide installation of TCC2 across 96 classrooms.
When COVID-19 hit the U.S. in mid-March, the USF IT team sprang into action to ensure continuity of its classroom offerings.
"The very first thing we did was get our entire team together so we could do a full inventory assessment of the campus," said Michael Kraus, audio vision engineering & systems at USF IT. "We deployed emergency personnel on campus with PPE to document everything we had, and anything we didn't have full information on."
By April, the USF IT team had a full assessment of classroom readiness, as well as a complete dashboard of what a hybrid solution might look like. This gave university leadership the information it needed to make a decision.
"We wanted a technology solution that enabled full student participation for both online and in-person," says Kraus. "Noah [Kessler, technology & systems manager at USF] came up with a design for about 700 rooms of what could be done, how much it would cost, and what it would look like to achieve this new definition of 'flexible hybrid technology'."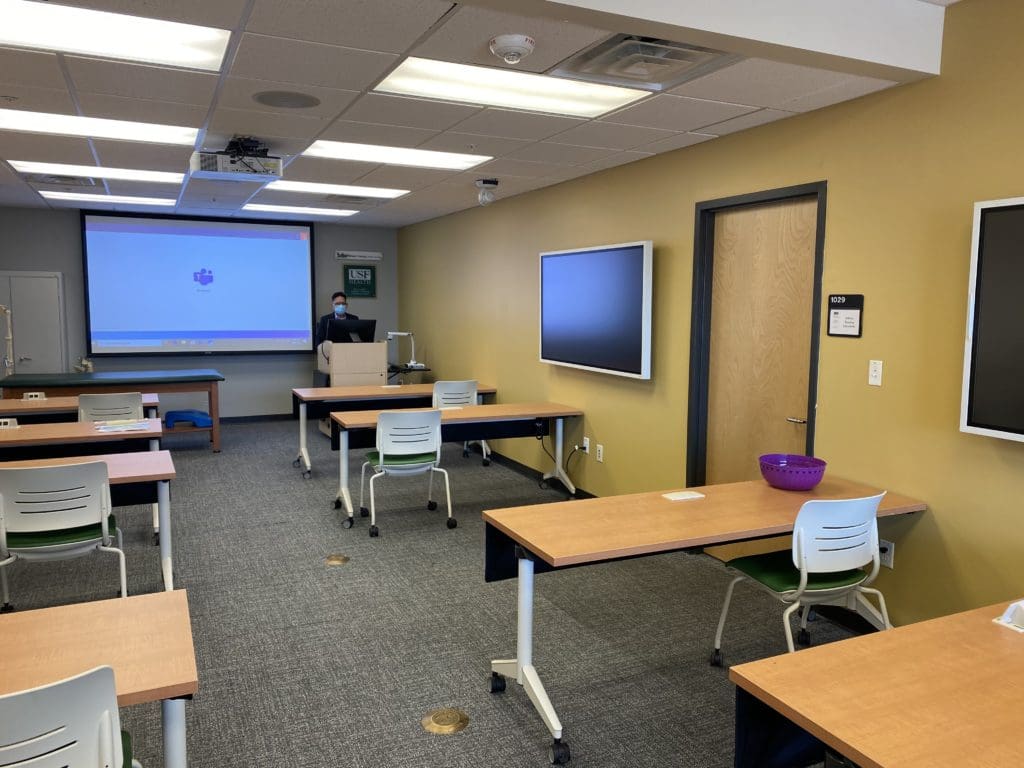 For USF, Sennheiser's TeamConnect Ceiling 2 presented a cost-effective option that featured excellent performance and was also easy to deploy.
"We always wanted to be able to mic an entire classroom, but until then didn't see a solid cost-effective solution," said Kessler.
Once the scope of work and design phases were completed, the physical deployment took just three weeks. Working with the full support from Sennheiser, USF's team of IT and AV experts engaged integration firm AVI-SPL to assist with the installation.
Jake Gilray of AVI-SPL recalls: "Mike [Kraus] called and said, 'We've got a pretty big project and we will need a super-fast turnaround.' The project entailed outfitting 96 classrooms across 17 buildings, and we had to have everything completed before classes started in the Fall semester."
The USF commissioned design called for both in-person and online students to engage within the classroom, using a camera and the TCC2. Gilray rallied his team at AVI-SPL to accommodate the compressed time frame.
"USF staff are team players," says Gilray. "They take a collaborative approach to each project and communicate regularly with their partners. After we received the brief from USF, we understood what they wanted, and knew we could handle their requirements on deadline."
"For the most part, most of the signal routing was pretty straightforward," said Kessler. "Typically, we would take the analog out, connect this to our Crestron processor and then back out of it. If it came to needing more mics, we could integrate other Crestron USB mixers, or alternatively send signals straight into the computer using a Dante USB adapter.
In addition to the TCC2 which handled all the audio signals, each room was outfitted with an audience cam and a professor cam.
Not surprisingly, the IT team at USF collects and shares product feedback with its peers at other prominent colleges across the nation.
"It is nice to not have to worry about the mics," said Kraus. "The ability for a professor to walk into a room, not have to put a mic on and just focus on what they need communicate to the students is extremely valuable."
Kraus adds that since the hybrid system with TCC2 has been installed, classes are moving ahead strongly and the team routinely meets to discuss any necessary tweaks and changes.
"This is a living system and we are feeling like we are taking all the right steps," he said.
USF is confident that its TCC2 installation will continue imparting value to staff and students — not just during the pandemic, but well afterwards.
"That was part of the original discussion—whether we could use all this equipment post-COVID," said Kraus. We know we will be able to use all these systems and it is a good future investment."
As a point of added value, many professors are using TCC2 to capture high quality recordings of their lectures, said Dominic Cesario, lead audiovisual project manager at USF.
"Since the pandemic started, we have been encouraging instructors to use the recording capability within our videoconferencing software, and the mics in TCC2 allow for high quality audio capture," he said.
University of Michigan Professor Creates Digital Blackboard Learning Experience
As higher education institutions extend their remote learning programs and limit in-person classes due to COVID-19, Google Jamboard — distributed exclusively by BenQ — creates an online education experience that resembles in-person collaboration and information exchange.
Indika Rajapakse, associate professor of computational medicine and bioinformatics, mathematics, and biomedical engineering at the University of Michigan, chose Jamboard because it's integrated with the Google for Education and Google Meet applications right out of the box.
"Learning comes from writing, not memorizing slides, which is why you need to be able to engage students while you're teaching," said Rajapakse. "That happens when they see you work through problems, or even see where mistakes are commonly made.
"I'm able to interact in that way just as if I were in class. I didn't have to think about or learn Jamboard's features because I already use them. In fact, I teach about Google network, how the search engine works, and Google's PageRank algorithm," he said.
Once the Jamboard was mounted on Rajapakse's office wall, the all-in-one interactive display's built-in and familiar cloud-based Google Workspace applications allowed him to get started right away. To hold classes, he simply launches Google Meet right from the screen or taps a link on his Google Calendar.
Using the whiteboard feature, Rajapakse is able demonstrate how to solve math problems as if he were in the classroom. With a tap on the screen, he can seamlessly switch between video conferencing and the whiteboard.
Jamboard allows for 16 point of simultaneous touch, with the option to use a finger or the included stylus to work through problems.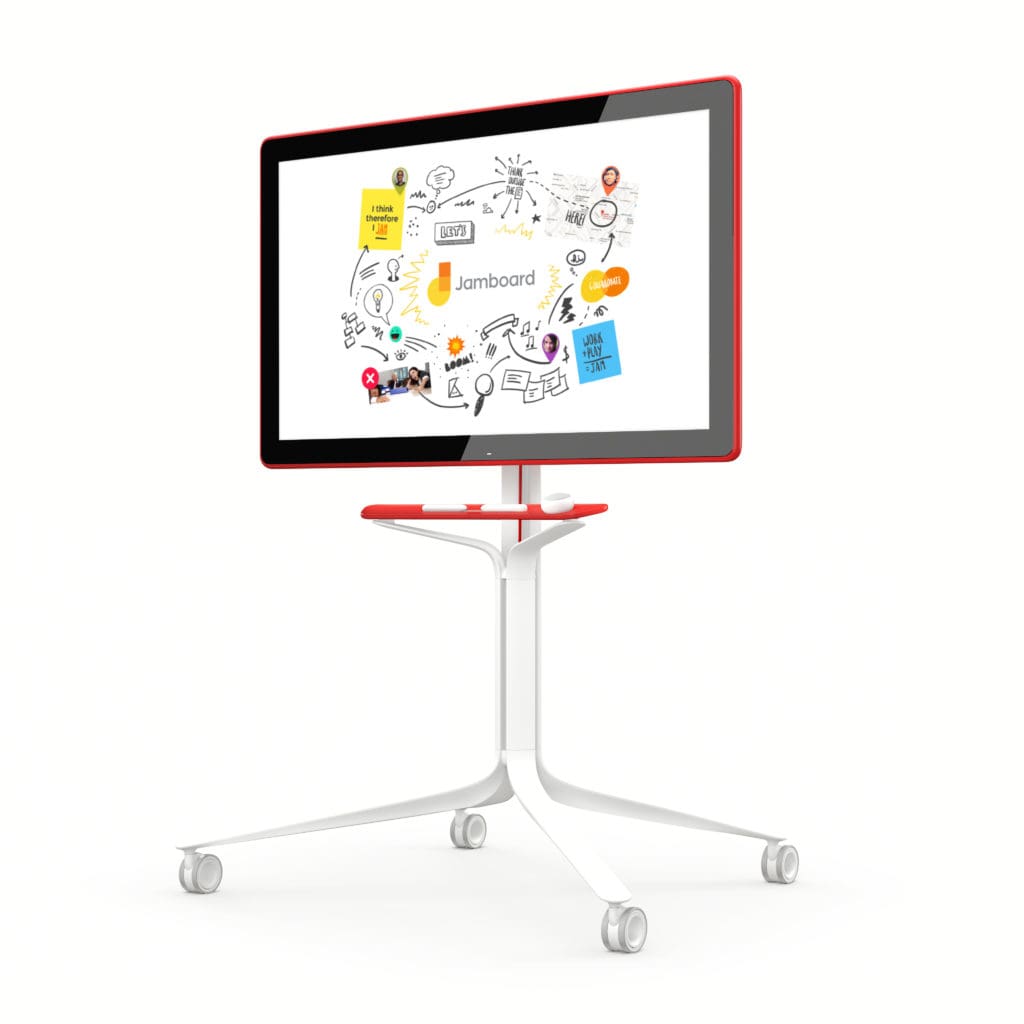 When Rajapakse makes mistakes, he simply wipes them away using the Jamboard eraser. He also can search for graphics and images online to incorporate into his session on the fly, creating dynamic, timely material that helps students better comprehend information and commit it to memory.
Rajapakse's students are able to watch the entire process in real time. What's more, he can invite students to work on screen within Meet, the Jamboard app, Chrome browser, or from another Jamboard.
After class, he shares the session with students to review and study via Google Workspace cloud sharing capabilities, going beyond the chalkboard experience that is highly coveted in higher-education mathematics departments.
Since installing the Jamboard, Rajapakse reports that his students have completely embraced the collaborative learning experience.
He also uses the display in his research and lab work on the immune system and its impact on learning, with the hope of possibly creating novel forms of machine learning. He can meet with colleagues across the world, share ideas, and work through theories.
"Professors teaching online need technology that is simple, effective, and — most importantly — reinforces the material," said Penny Su, business unit director at Google Jamboard & Enterprise Collaboration Solutions for BenQ America Corp.
"Dr. Rajapakse's installation is a great illustration of how instructors can use the same Google tools that they've trusted for more than 14 years to create a successful, engaging online learning experience," she said.
People and Places
Conference Technologies Inc. Acquires AV Nation

Conference Technologies, Inc. (CTI) today announced the acquisition of AVNation Media, Inc., a podcasting and news company servicing the global audiovisual industry audience.
AVNation Media employees will join CTI as part of the acquisition. An editorial board will be created "to ensure the media arm remains true to its mission to educate and entertain audiovisual end users around the world."
Conference Technologies, Inc. employs more than 450 people across 25 U.S locations.
Symetrix Welcomes Scott Gellner as Product Development Program Manager
Symetrix announced Scott Gellner has joined the company as Product Development Program Manager. In this role, he will be guiding the development and implementation of new program initiatives working with both program and project teams.
Gellner joins Symetrix with more than 20 years of project management and product development experience in managing complex projects with cross-functional teams, including foyr years as a program manager for LOUD Technologies.
AV Stumpfl Appoints Two Executive Directors
AV Stumpfl GmbH recently appointed two executive directors as part of restructuring measures aimed at maximizing the company's management efficiency.
At the core of the new executive directors' tasks will be the operative coordination of the screen and media server departments.
In her new role as executive director, Stefanie Niederwimmer will be responsible for projection screens, with her colleague Christine Doppelmair taking over her former position as head of sales – screens.
Niederwimmer has been with AV Stumpfl since 2004 and has held a number of different positions of strategic importance during that time.
Harry Gladow, formerly a global business development manager, will become the new executive director for the company's media server department. Gladow joined AV Stumpfl in 2017 and was tasked with growing the global distribution network.
SnapAV Taps Sean Halloran as Security Business Development Manager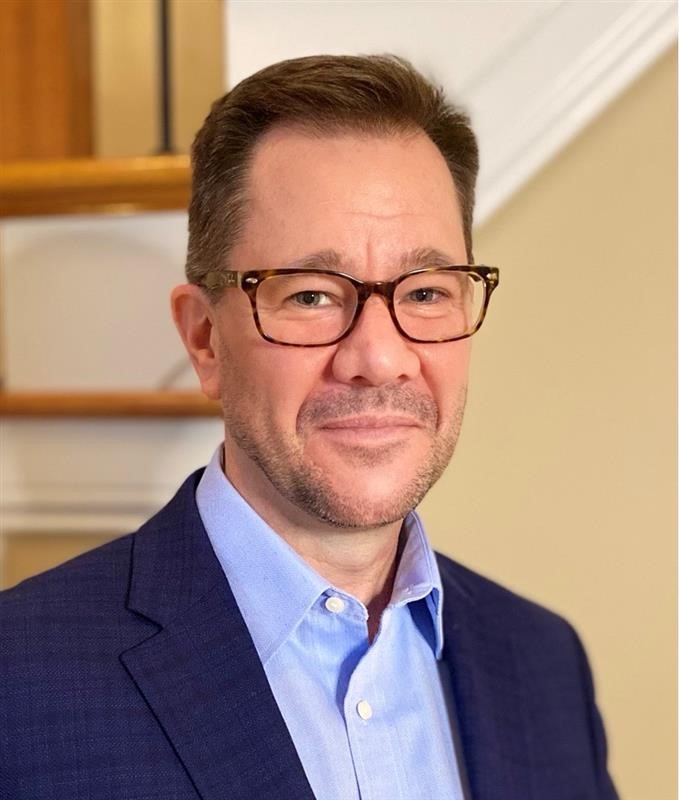 SnapAV this week announced the appointment of Sean Halloran to security business development manager in the western U.S.
In 2019, Halloran joined Control4 as an area sales manager with over 30 years of previous leadership and management experience at companies like Guardian Protection Services, Inc, Protection One, Brinks Home Security and ADT Security Services, among others.