AV News to Know July 17, 2020: New Products, Cool Projects and People in New Places
In this week's edition: Spinitar announces cloud service solutions, venues host crowds and Leviton opens experience center in Chicago.
Leave a Comment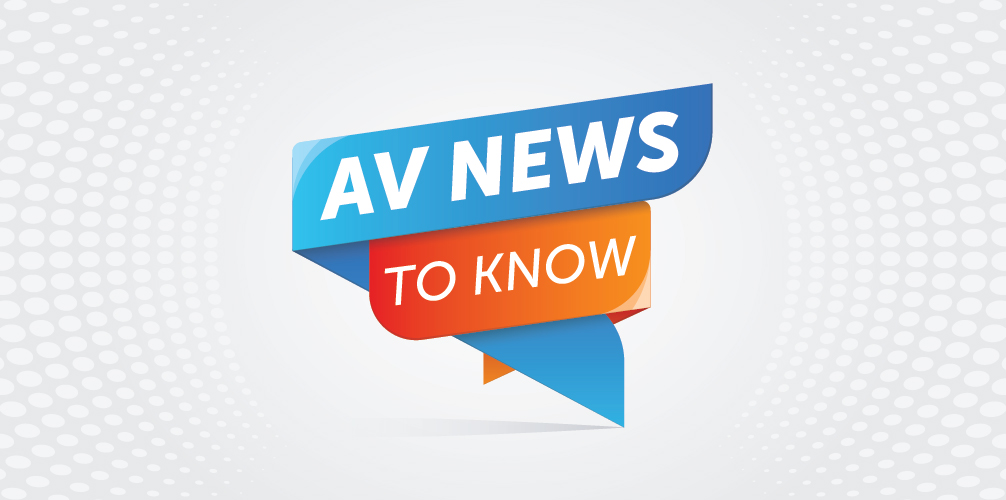 Here's a closer look at some of the AV news, products and projects you might have missed this week. We call it AV News to Know:
New AV Products
Ricoh Launches AV Managed Services
Ricoh this week announced the launch of its AV Managed Services to give customers better control of their meeting room and workplace experience.
Part of an integrated service delivery model and infrastructure, Ricoh's AV Managed Services "have been designed to help customers make best use of space, improve the employee experience and achieve cost savings."
The three packages from Ricoh – ranging from purely reactive response to remote monitoring all the way to the most comprehensive option of proactive monitoring, control and support – allow for smarter use of energy consumption, room booking functionality and device management.
22Miles Announces Protection-as-a-Service Solutions
22Miles this week announced the release of a suite of Protection-as-a-Service (PaaS) solutions.
Developed to be a series of integrated technology features and capabilities as part of a customizable software platform created to address viral pandemics and the evolving safety measures of social distancing, PaaS features a growing number of options for businesses and organizatons.
22Miles' PublisherPro Software was built on an expandable platform to power experiential digital signage and interactive wayfinding.
Spinitar Introduces Cloud Service Solutions
Spinitar this week announced the addition of consultative cloud-based services and solutions.
The cloud services offered by Spinitar provide a number of solutions including Internet bandwidth, voice and contact center and network security.
Extron Ships XPA Ultra Amplifiers with Switchable Bridging

Extron this week announced the immediate availability of the XPA U 1004 SB and XPA U 2002 SB, ENERGY STAR qualified audio power amplifiers, featuring channel pairs that can drive 8 ohm, 4 ohm, 70 volt, or 100 volt loads.
The individually bridgeable channel pairs of the XPA U 1004 SB can deliver two 100 watt channels into low impedance systems or one 200-watt channel into low or high impedance systems, while the XPA U 2002 SB delivers 200 watts and 400 watts respectively.
A rotary switch on the rear panel of the amplifier allows the user to select the desired output mode.
ContactPath by Watkyn Launches to Reduce the Spread of COVID-19
Watkyn this week announced the launch of ContactPath, a COVID-19 case investigation and contact tracing software enables health authorities and others (e.g., colleges and universities, businesses) to reduce the spread of infectious diseases, including future pandemics.
In addition, the software helps identify potential outbreaks and facilitates support services to be provided for those in quarantine.
D-Tools Cloud Integrates with D-Tools System Integrator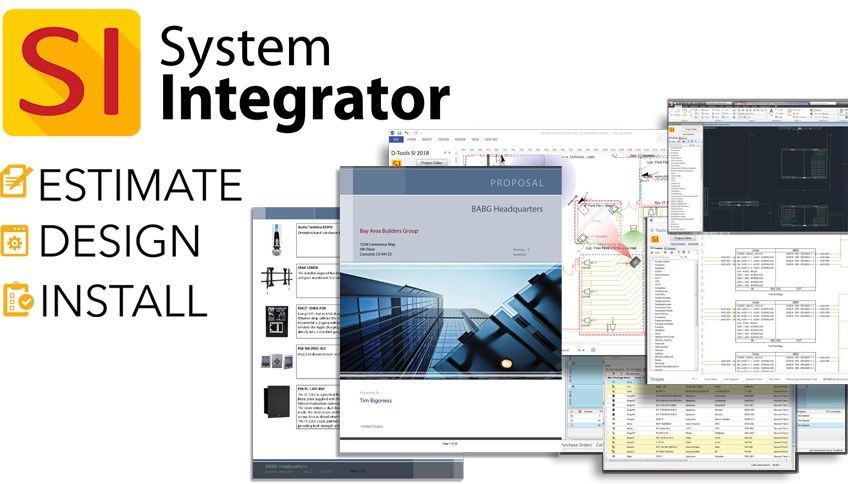 D-Tools, Inc. this week announced it has completed a direct integration between the multi-OS, mobile-friendly, web-based D-Tools Cloud, and on-premises flagship solution, System Integrator (SI).
D-Tools Cloud allows salespeople to implement intuitive sales opportunity management and estimating, while downstream users responsible for project fulfillment continue to rely on the software for system engineering, project management and ongoing service.
NETGEAR Brings Smart Managed Switches to Small Businesses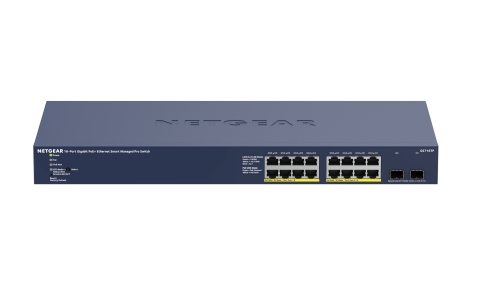 NETGEAR Inc. this week announces the availability of GS716TP and GS716TPP, two new 16-port Gigabit Ethernet PoE+ smart managed pro switches with 2 SFP ports with optional cloud management and 180W and 300W Power-over-Ethernet (PoE) budgets respectively.
Both of these new smart managed pro switches include configurable L2 network features like VLANs and PoE operation scheduling, DiffServ QoS, LACP link aggregation and Spanning Tree.
Audio Visual Projects
L-Acoustics K1 Helps New Zealand's First Post-Isolation Live Concert
Marking the country's much anticipated return to live music events, chart-topping band L.A.B. played a sold-out show for 6,000 fans at Spark Arena in Auckland.
Moved from its originally scheduled theater venue, this was the first major concert since lockdown. College Hill Productions supplied an L-Acoustics K1 system.
"The show was originally scheduled as a smaller club-style show to happen later in the year. Once COVID-19 hit New Zealand, we weren't sure when the industry was going to pick up again," says College Hill audio production manager James Thompson.
Once restrictions were lifted, the team had approximately a month to pull everything together, working closely with the band to select the right equipment to cater for their needs.
College Hill's inventory has a full complement of L-Acoustics products, from the flagship K Series systems, through to smaller coaxial enclosures.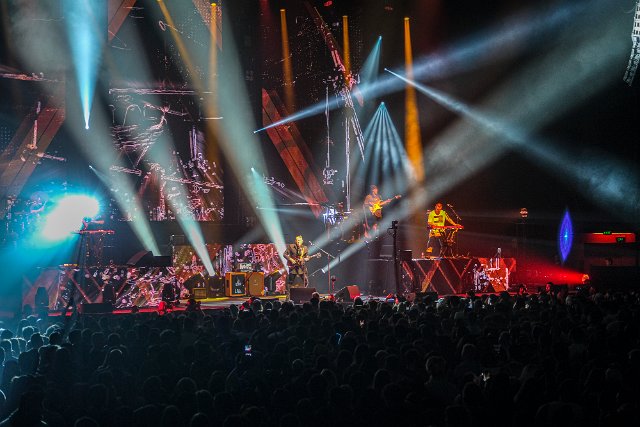 Using L-Acoustics Soundvision 3D modeling software, a preliminary design was made to evaluate cabinet counts and configuration options, then refined on-site to a more detailed prediction for inter-box angles, as well as FIR filter and Air Compensation starting points.
Using SPL mapping and probes, the team was able to predict in advance how the PA would respond in an empty, dry room, as well as where they foresaw any problematic areas caused by different atmospheric conditions during the show.
Soundvision allowed planners to verify the sub array design visually, again allowing them to see in advance any areas they might want to focus on when approaching alignment and optimization of the system.
The final configuration comprised left / right hangs of eight K1, four K2 and four K1-SB subs. Eight K2 were deployed for sidefill, with additional fill from 12 dV-DOSC and six ARCS, while 24 SB28 subs were floor-stacked.
"The flown system was configured with a K1-SB extension to increase throw and directivity of low frequency energy in the array," said system engineer Johnny Keirle. "The speaker configurations were designed to maximize coverage uniformity both in terms of SPL and tonal balance, as well as frequency distribution and response."
The side hangs of eight K2 at 90 degrees (asymmetric) were required to fill just a small section of seating outside the coverage of the main hang, said Keirle.
"The crowd could really feel the energy of the band through the PA, which was a fantastic result," said Thompson. "We were told by several attendees that it was good to be back at a concert with great sound."
The College Hill team followed up their support of L.A.B.'s Auckland show with another sold-out performance in Hamilton, New Zealand a few days later.
"It was a great feeling for us all to be back in the workforce," said Thompson.
Vox Church Holds Drive-In Worship with dBTechnologies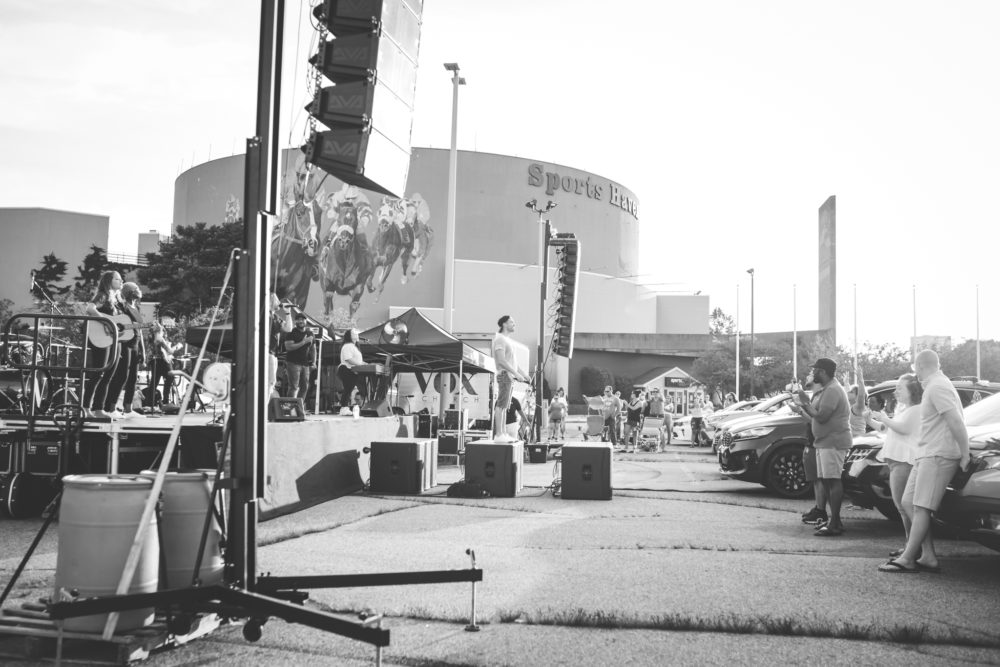 As a response to the 2020 COVID-19 pandemic, New Haven Conn.-based Vox Church recently held three drive-in worship services using dBTechnologies DVA K5 active line arrays and SUB 18H powered subwoofers.
A growing church with seven locations, Vox has standardized on these dBTechnologies models for most of their needs and uses them for "load-in/load-out" services in several locations. This simplifies crew training, speeds setup and makes it easy to configure systems for large events.
The drive-in system, used for all three services, consisted of left and right arrays of 11 DVA K5s and a 3×3 end-fire cardioid array of SUB 18H subwoofers. Vox Church FOH engineer Eugene Mulcahy used dBTechnologies Composer software to design and optimize the DVA arrays.
"We had good audio out to at least 200 feet," he said.
Mulcahy simplified FOH electronics by using the church's digital mixer for processing, routing and EQ. Monitor engineer Justin Beardsley mixed the band's in-ear monitors from back stage.
"I was directly behind the (DVA K5) arrays and did not have that flush of PA right on me or on the band," he said. "That was nice."
Vox Church plans four more similar events, said Robert Roy Jr., the church's central production lead.
"These outdoor events for our church are going to become a norm," he said. "Now, all the gear is spec'd and pre-rigged with the array angles set in the shop. We know how to pack it on the truck so moving from one location to another is simple – just 'copy and paste'. All we had to do on site was to fly it.
"After the weekend, lead pastor Justin Kendricks came into our normal Tuesday meeting and he simply said, 'Our production team only knows one gear and that is awesome!'"
DiGiCo Makes Houston's Fourth Of July Show A Real Firecracker
Doing live music performances during the COVID-19 pandemic has compelled live sound companies to use every resource at their command to ensure that shows sound and feel authentic, even when performances have to take place without a live audience.
That was recently the case at Houston's "Shell Freedom Over Texas" July 4 celebration, a live broadcast that paired artists including headliner Pat Green, Trae tha Truth, Bun B, Los Luzeros De Rioverde, Mariachi Imperial and virtual performances from Lyle Lovett and La Mafia with the Houston Symphony Orchestra in its Jones Hall venue.
The three-hour-long music show was televised live on local ABC Channel 13 and culminated in a live fireworks display, all mixed through a pair of DiGiCo SD10 consoles provided by audio vendor LD Systems and linked to three SD-Racks with 32-bit input cards and sharing I/O via an optical network.
One SD10 was at monitors, where LD Systems audio department operations manager Thomas Ruffner managed three downstage monitor wedge mixes and eight IEM mixes for artists, plus five wedge mixes for the orchestra, as well as sending left-right program mixes to other points around the stage and to a mult for a press/media position.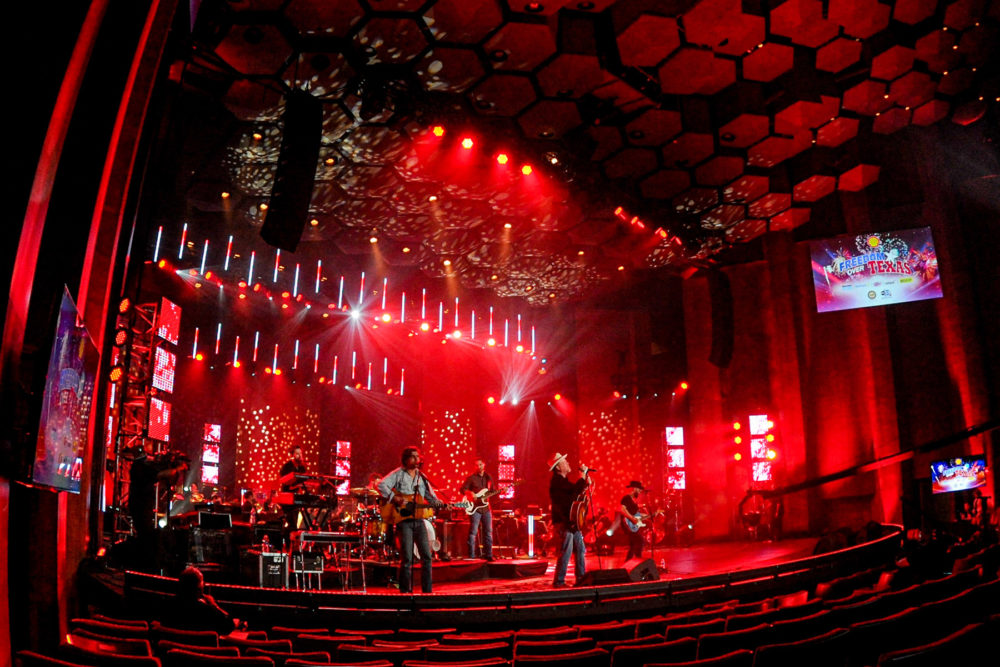 Meanwhile, LD Systems A1 Rafael Rosales mixed the concert portion of the broadcast live on ABC 13 through a second DiGiCo SD10, sending his stereo mix to the station's remote-broadcast production truck.
"For me, being able to customize the SD10s layers for each music artist at rehearsal, and then being able to quickly call those up during the show was what made all the difference," said Ruffner, who mixed wedges and IEMs for nearly a dozen artists as well as a L-R mix used in the house PA at Jones Hall.
"By the time the rehearsals were finished, I had the entire 112 inputs of the show on just 24 faders within two fader banks. I had one layer for each segment of the show, so I didn't have to worry about using snapshots or sharing channels. I had a fader for every element of each performance and in addition to all of the monitor mixes I was managing," he said.
"Using a combination of control groups and input faders made the show flow easily from one artist to the next," said Ruffner.
The recorded rehearsal mixes were also useful in minimizing the time that artists and others spent on and around the stage, which was an important factor in maintaining the "safe distancing" protocols put in place for this event.
Analog Way Drives LED Display at Children's Hospital Media Production Facility
A new state-of-the-art media production facility at a major U.S. children's hospital, funded by private donations, gives ambulatory patients a chance to participate in content creation while children in isolation can join in as interactive participants.
The in-house, closed circuit radio and television station teaches children through entertainment and peer interaction as they DJ radio shows, appear as on-air talent and run the lights and cameras for live game shows, celebrity interviews, and cooking, science, art and music programs.
Taped shows are also produced in the studio and at sites around the community. The studio, which opens onto the hospital lobby, features a ribbon-shaped LED video display above its glass windows. The display is driven by an Analog Way Picturall Quad media server.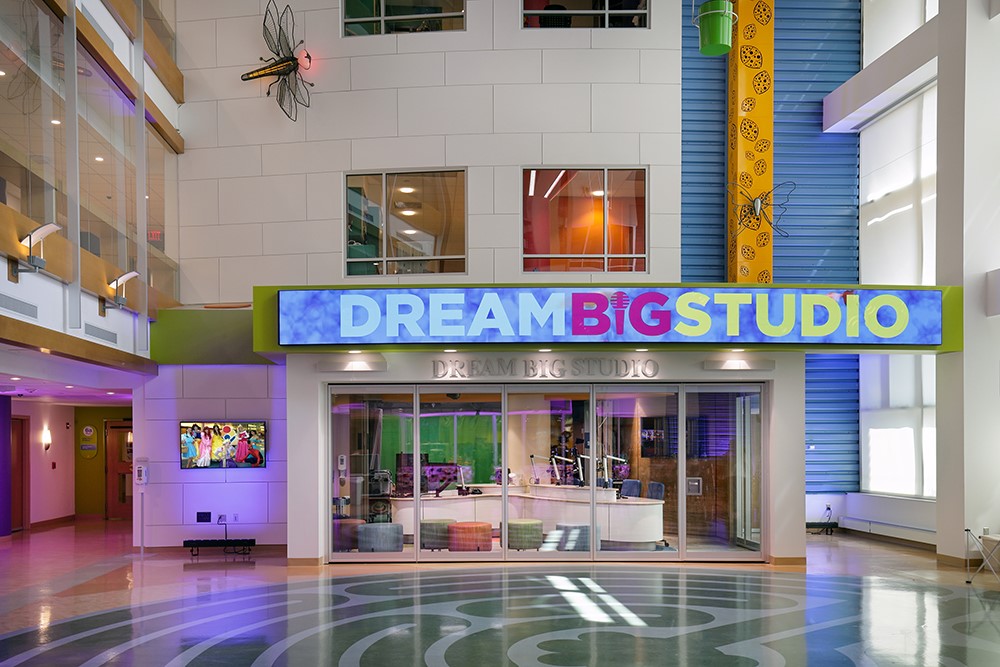 "The media production facility gives children a chance to escape from what's going on in the hospital," said Mark Grassi, principal consultant with The Sextant Group, an NV5 company, which designed the studio's AV, acoustics and specialty lighting.
"Every child can join the community even if they are bedridden by calling into shows and playing the live games and winning prizes," he said.
The studio entrance is topped by a ribbon-shaped Planar LED video display with a resolution of 5120 x 360. Analog Way's Picturall Quad media server enables full-screen playback of custom content across the display at full resolution.
"The LED display wasn't originally intended to have the wow factor it does," said Grassi. "We discussed the display's possibilities and a donor made it happen." The display can be customized for holidays and special events, he said.
People and Places
Peimam Hosseini Assumes Role of Bodle Technologies CEO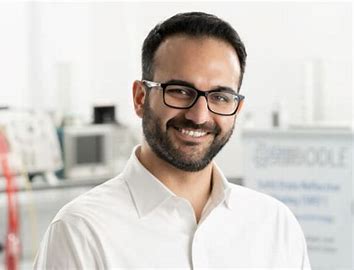 Bodle Technologies Ltd., the Oxford University spinout transforming non-emissive digital screens with its reflective display technology SRD, announces co-founder and CTO Peiman (Pei) Hosseini as new CEO.
Hosseini, who founded the company with Oxford professor Harish Bhaskaran, has led its technology development over the last five years. He takes over the CEO position from Mike Clary, who left after three years.
New Leviton LIVE Facility Opens in Chicago
Leviton announced this week the opening of its Leviton LIVE experience center in Chicago.
The state-of-the-art facility will allow customers to experience how Leviton's products can transform any space via private in-person or virtual tours.
Located in the heart of Chicago on Rush Street, this latest addition to Leviton's existing LIVE facilities was designed to not only showcase the wide range of Leviton products, but to highlight its best-in-class lighting brands and how they integrate with smart, flexible and secure controls.
Leviton LIVE Chicago is one of three Leviton LIVE experience centers in the U.S. Additional Leviton LIVE centers are located in San Francisco and New Orleans. All Leviton LIVE facilities are now open and ready for both in-person and virtual tours.