AV News to Know Nov. 20, 2020: New Products, Cool Projects and People in New Places
In this week's edition: Pure Resonance announces mini ceiling speaker, Black News Channel elies on Clear-Com and Planar adds to sales team.
Leave a Comment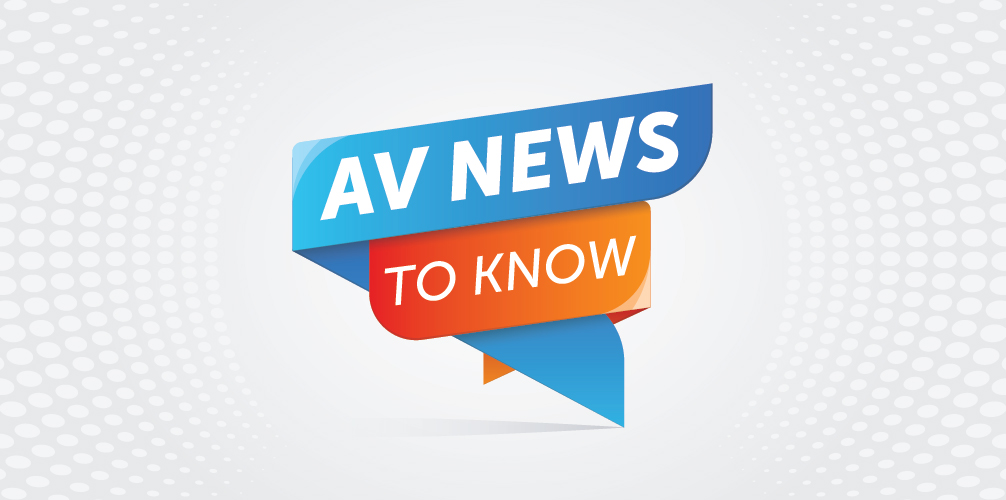 Here's a closer look at some of the AV news, products and projects you might have missed this week. We call it AV News to Know:
New AV Products
Atlona Ships 5×2 Matrix Switcher for Wired and Wireless with USB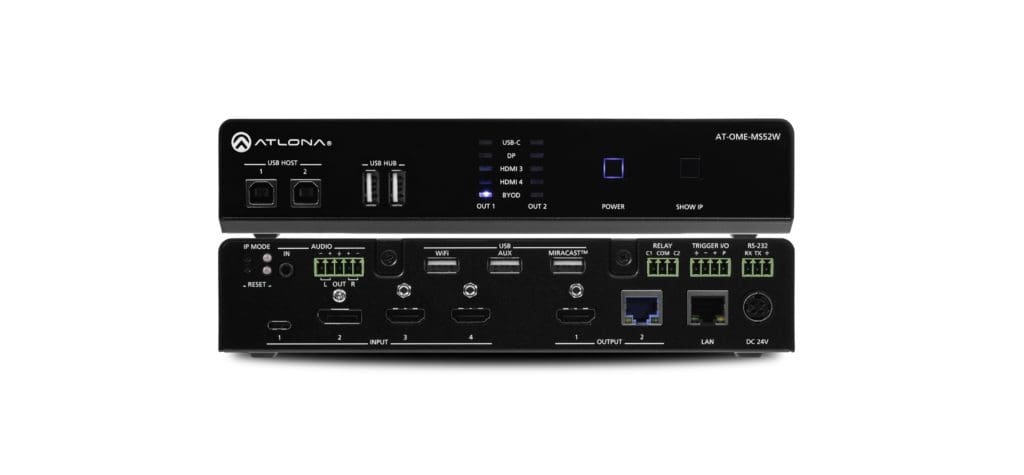 Atlona, a Panduit company, has begun shipping the AT-OME-MS52W 5×2 matrix switcher. The new switcher combines wired and wireless AV input support, integrated USB extension and rich integration features to empower applications ranging from video conferencing to multi-participant presentations.
The OME-MS52W features HDMI, DisplayPort and USB-C inputs alongside mirrored or matrixed HDBaseT and HDMI outputs with selectable switching modes. All wired AV inputs and the local HDMI output support High Dynamic Range (HDR) formats and 4K/60 4:4:4 video at HDMI data rates up to 18 Gbps.
Native, platform-based, wireless interfacing enables screen mirroring for iOS, Android, Mac, Chromebook and Windows devices without the need for a separate app, while moderator functionality, accessible through the OME-MS52W's web interface enables an authorized user to preview, allow or block content from up to 16 wirelessly connected devices.
Extron Now Shipping 8K Switching and Distribution System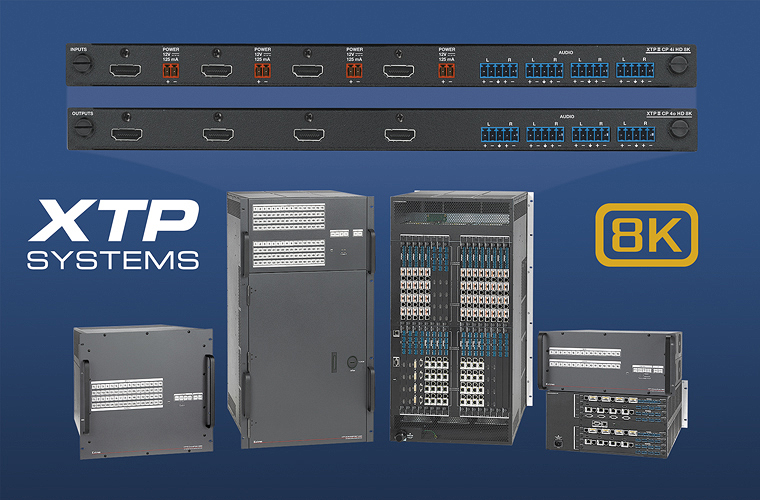 Extron has announced the immediate availability of the XTP II CP HD 8K I/O Boards. They accept HDMI 2.1 data rates up to 40.1 Gbps, enabling support of uncompressed 8K video with HDR.
These HDCP 2.3-compliant boards provide input equalization and output reclocking and feature connections for powering active, Ultra High Speed HDMI cables.
The XTP II CP HD 8K I/O Boards leverage the 50 Gbps backplane of XTP II CrossPoint Series matrix switchers to deliver a future-proof AV infrastructure that supports growth and upgrade without needing to replace equipment.
Pure Resonance Releases Audio C3 3" Micro Ceiling Speaker
Pure Resonance Audio has set a new standard for versatility with the introduction of their latest micro ceiling speaker. The all-new Pure Resonance Audio C3 3" micro ceiling speaker is intelligently designed with different mounting systems that provide amazing multi-functionality. The C3 can be installed as a traditional ceiling speaker with easy-mounting ring, pendant speaker, or drywall mounted speaker, giving it the flexibility to work perfectly in any commercial environment.
The C3 easily attaches and blends into drop ceiling tiles with the screw on Easy-Mounting threaded mounting ring. The uncomplicated installation and beautiful architectural look make the C3 a great option for any space requiring a traditional ceiling speaker.
JVC Professional Unveils Live Streaming-Focused Firmware Updates
JVC Professional Video, a division of JVCKENWOOD USA Corporation, expands its live streaming features for its GY-HM250 Series 4K camcorders.
JVC's 250 Series 4KCAMs will now include SNS video streaming with vertical and square guidelines on the viewfinder to ensure an ideal image capture on a variety of platforms and devices. The company is also adding direct streaming to YouTube Live to the GY-HM250. The firmware update also incorporates additional features, such as Face-Only Auto Focus (AF), Digital Image Stabilizer (DIS), Zoom Ease and Auto Color Matrix Adjustment under LED lighting, not only for the GY-HM250 but also for GY-HM170- and GY-HM180-Series 4KCAMs.
Platinum Tools Announces New Fiber Optic Visual Fault Locator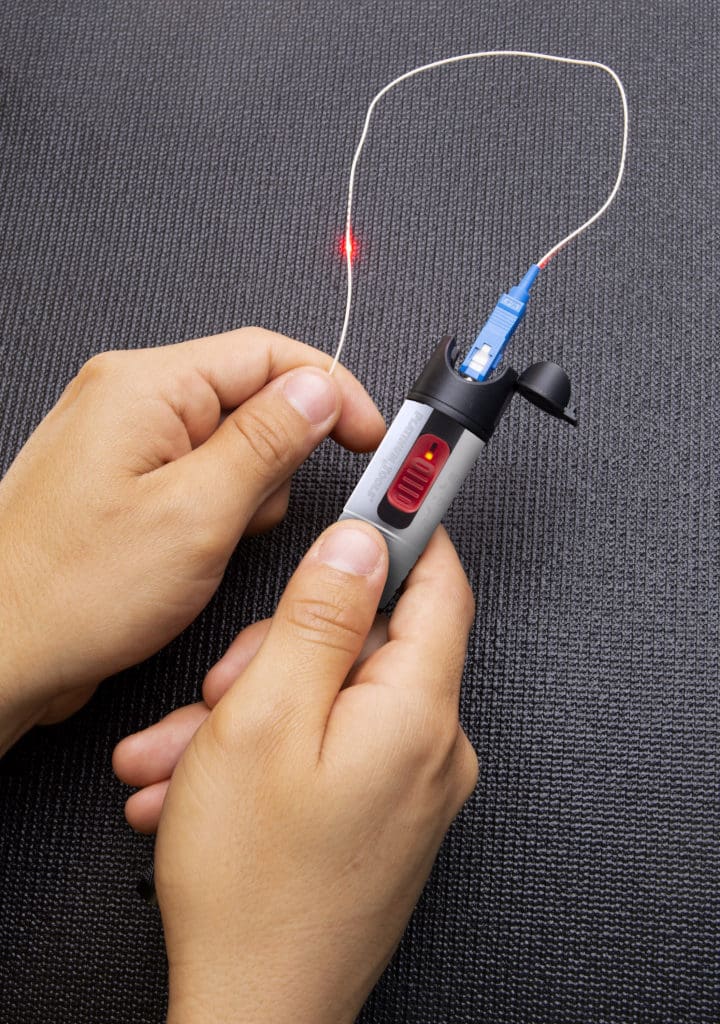 Platinum Tools this week announced the launch of its new Fiber Optic Visual Fault Locator (p/n TVFL100). Now available, the fault locator has an MSRP of $105.00.
Additional features and specifications include:
Bright 10mW laser for continuity testing; also shows breaks and performance-reducing bends in most types of fiber optic cable
Aluminum construction for durability
Runs for more than 20 hours on 2 AA batteries (included)
Simple slide switch to select either a flashing or solid beam for easy identification of problems
Fast & easy pass/fail testing of most fiber optic cables
Convenient hinged endcap protects tip when not in use
BriefCam Advanced Analytics Powers Verizon Intelligent Video Solution
BriefCam this week announced that its advanced video analytics software platform will serve as the analytics engine for Verizon's Intelligent Video solution.
The comprehensive monitoring service from Verizon helps law enforcement and security teams keep public and private facilities secure with near real-time, actionable data from video content.
The combined solution enhances the ability for these organizations to protect lives and property in remote locations and in the center of cities – equally. This includes critical infrastructure from dams and power plants to oil refineries and transportation systems.
Blackmagic Design Announces New Micro Converter 3G Models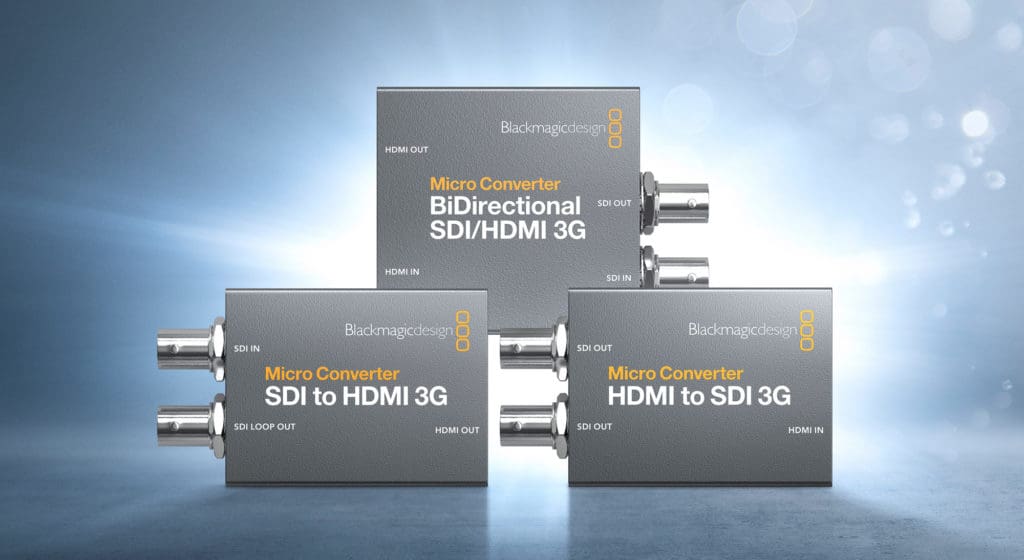 Blackmagic Design this week announced a new family of Micro Converter 3G models that lets customers use HDMI equipment with professional SDI systems.
These new models feature custom hardware developed by Blackmagic Design and include features previously only found on high-end converters. Micro Converter 3G models include features such as 3D LUTs and more video formats than the older models they replace.
Micro Converter 3G models are available immediately from Blackmagic Design resellers worldwide from US$45.
Audio Visual Projects
Black News Channel Mobilizes with Clear-Com IP-Based Communications System
Debuting in February 2020 during Black History Month, Black News Channel (BNC) operates out of its brand new headquarters facility based in Tallahassee, Fla.
BNC is an independent network that is minority-owned and operated, whose mission is to provide intelligent programming dedicated to the unique perspective of African American communities.
Almost immediately after bringing their new purpose-built facility online, the network had to shift to a remote production workflow as COVID restrictions sent people home. The flexible, IP-based comms system from Clear-Com, which had been installed in the facility by BeckTV, was able to flex to meet the comms challenges of today and tomorrow.
BNC is the nation's only provider of 24/7 cable news programming created "by people of color for people of color."
One of the goals of the network is to recruit and train aspiring African American journalists and technicians, providing them with a world-class platform and facility where they can learn and grow. Part of this includes incorporating the market's latest technology that new employees may not have access to otherwise.
"The comms system was a priority from the facility's inception," said Kenneth Thomas, director of OTT/IT operations for BNC.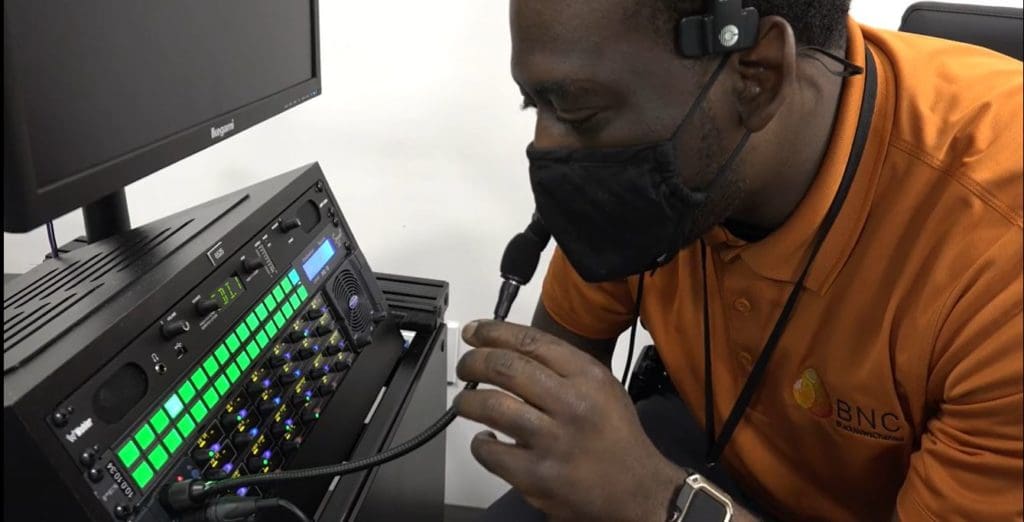 BNC equipped its facility with Clear-Com's Eclipse HX Digital Matrix with V-Series intercom panels throughout. Dante and MADI interface cards offered a variety of I/O to other audio, video, and routing equipment, and E-IPA IP interface cards enabled AES-67 for FreeSpeak II wireless.
The E-IPA cards allow for flexibility by providing IVC IP connections for the Agent-IC mobile intercom app and LQ Series interfaces hosting SIP telephony and remote site connection capabilities.
In the fall of 2019 and winter of 2020, BNC staff spent time with Clear-Com applications engineer Jonathan Sorensen to familiarize themselves with the system and to finalize custom integrations for their workflows.
When it became time to rethink aspects of the system to accommodate remote workflows, BNC relied heavily on their prior training and close relationship with Clear-Com to make the changes.
The Agent-IC mobile app was crucial in the transition to much of BNC's staff relocating into their homes.
Agent-IC can integrate with traditional intercom systems, like the Eclipse HX digital matrix in BNC's headquarters. The app can operate anywhere in the world over 3G, 4G, LTE and WiFi networks, allowing remote team members to effortlessly connect with the core intercom system.
Honeywell Temperature-Monitoring Solution Deployed at JFK Airport
Dubai National Air Transport Association (dnata) has deployed the Honeywell ThermoRebellion temperature monitoring solution at John F. Kennedy International Airport in New York to help people return to air travel with confidence.
dnata is one of the world's largest air services providers offering ground handling, cargo, travel and flight catering services across five continents around the world.
In partnership with dnata, Honeywell has now installed ThermoRebellion systems at each of the entrances to JFK's International Terminal One to support passengers traveling on major airlines, including Air France, Lufthansa, Korean Air and Japan Airlines.
"The COVID-19 pandemic is redefining aviation processes and with the holiday season fast approaching, we wanted to deploy the best possible temperature-screening solution for passengers and airport personnel," said David Barker, CEO of dnata USA.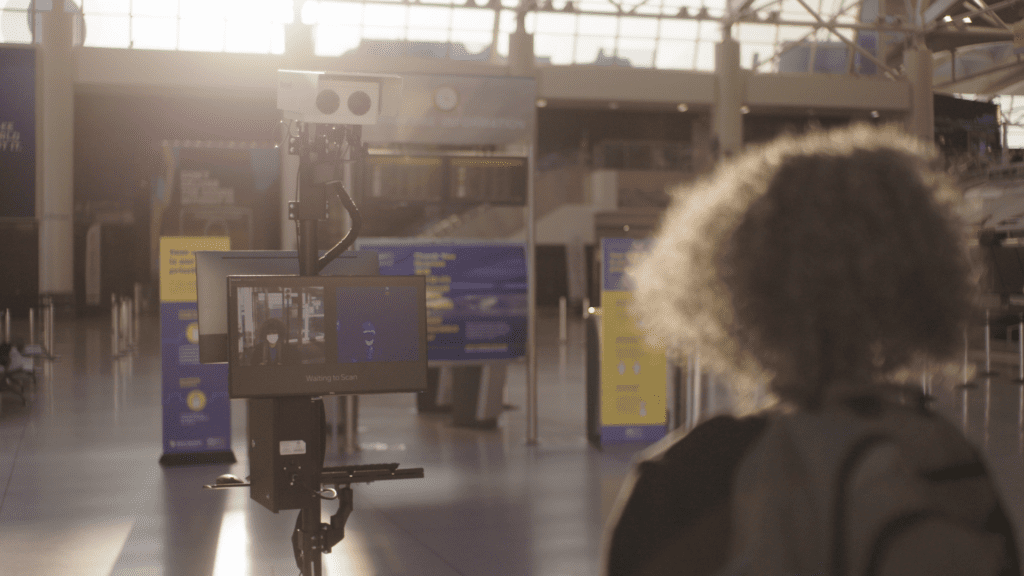 "Installing the solution at JFK International Airport underscores our commitment to delivering the highest levels of safety and efficiency for our airport and airline partners, as well as their passengers," he said.
The Honeywell ThermoRebellion system was designed and tested to meet the recommendations set by the U.S. Food and Drug Administration (FDA) in April 2020 to address the usage of thermal imaging systems during the COVID-19 pandemic.
Among other guidelines, the FDA recommends the use of a specialized device known as a "black body", which enables the system to provide two points of reference to deliver the most accurate temperature readings.
In addition, the system complies with Section 889 of the 2019 National Defense Authorization Act (NDAA), which prohibits the U.S. government and government contractors from using video and telecommunications equipment required for these types of systems from specific companies and their subsidiaries.
"Terminal One Group Association strongly believes in the health and safety of its passengers," said Steve Rowland, executive director of the Terminal One Group Association. "We have partnered with dnata and Honeywell to deploy the Thermo Rebellion solution that offers an additional layer of safety protocols for the traveling public and Terminal One workforce."
The Honeywell ThermoRebellion system incorporates infrared imaging technology and cutting-edge artificial intelligence algorithms to deliver accurate temperature measurements.
As individuals pass in front of the high-resolution, thermal imaging camera, skin temperature is detected within seconds and displayed on an accompanying monitor, alerting airport personnel if travelers require additional screening.
"Protecting the health and safety of air travelers is the top priority for our customers, who are now operating under stricter policies and with limited staff," said Renaud Mazarguil, president of Honeywell's Gas Analysis and Safety business.
"We are excited to partner with dnata and JFK Airport to augment their terminal screening processes and reduce the need for invasive monitoring."
People and Places
Planar Adds Richard Threadgill to U.S. Sales Force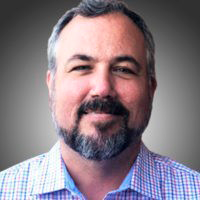 Planar this week added Richard Threadgill to the company's U.S. sales force.
As the regional account manager for Ohio Valley, Threadgill will manage Planar's sales efforts in Ohio, Michigan and Indiana. He is based in the greater Cleveland area.
With 28 years of experience in the AV industry, including regional sales roles, Threadgill joins Planar following his role as an outside sales manager for JB&A Distribution. He previously worked in systems integration, selling custom collaborative AV technologies to clients across the region, and also managed Grass Valley's resale channel and sports markets for North America.
Mike Grindele Joins IDEAL Networks as North America VP of Sales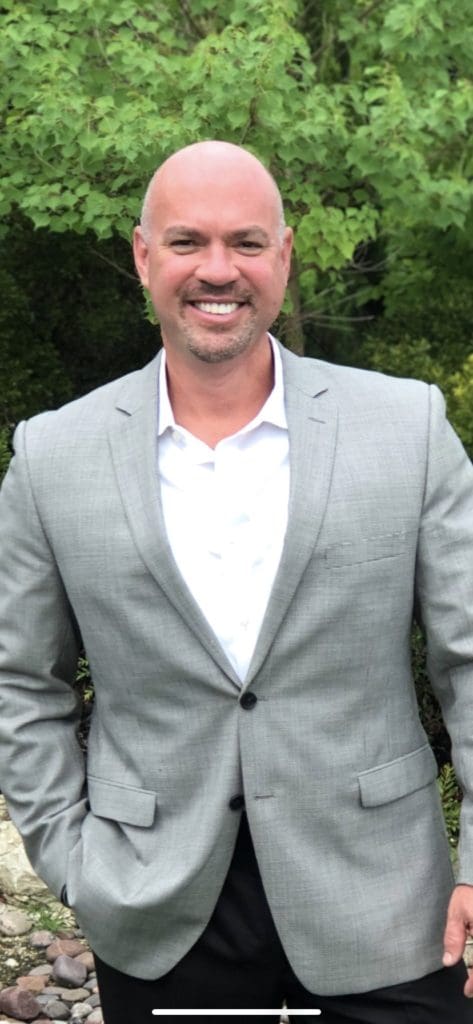 IDEAL Networks has appointed Texas native Mike Grindele as new VP of sales for North America.
Grindele, who resides in Dallas, began his career in IT with Electronic Data Systems (EDS) in the 1990s, before moving to a role at a manufacturer sales representative, selling network test equipment and providing support directly to customers.
He then spent more than 19 years with Fluke Networks, leading the sales and operations teams as area VP in North America.
Focusrite Makes New Appointments in Professional Division
Focusrite bolsters its long-term strategic business plan with the announcement of two new appointments in its sales force representing its pro division, which includes RedNet range of Dante-networked audio converters and interfaces, Red interfaces and ISA mic pre's.
The new appointments include Matt Pliskin as Focusrite pro broadcast and immersive audio sales Manager, and Peter Tilley as Focusrite pro educational and post-production sales manager.
In his new capacity, Pliskin's responsibilities will include (but not be limited to) strengthening relationships with the broadcast community in the U.S. and Canada; building upon Focusrite Pro's presence in the immersive audio community and the post-production and recording verticals; and coordinating projects with Focusrite's post-production sales personnel.
In his new position, Tilley's responsibilities will include (but not be limited to) strengthening relationships with the educational community in the U.S. and Canada; serving as a resource for educators and students on the use of Focusrite Pro in educational applications (including distance learning) as well as students' potential future fields; and coordinating projects with Pliskin and the rest of the team to increase the brand's market share in post facilities.
Editor's note: AV News to Know will return Friday, Dec. 4. Happy Thanksgiving
to all AVtweeps and their families!