AVIXA Increases Emphasis on Diversity, Equity and Inclusion with Pledge, Toolkit
AV Industry Pledge for an Equitable Future and inclusive language guide are two pieces of a long-term effort to change AV's demographics.
Leave a Comment
AVIXA officials hadn't made a practice of dipping their toes into social and political issues in the past, but that all changed in May when the association launched the Diversity Task Force, an internal team focused on helping members increase their awareness of diversity, equity and inclusion.
The task force's work reached an important milestone last week with the release of the AV Industry Pledge for an Equitable Future, a document that asks those who sign it "to advance inclusive behavior across their company and the industry."
The AV Pledge for an Equitable Future is a commitment to:
Foster Awareness: Positive change starts with understanding and acknowledging the existence of systemic racism, leaning in to tough conversations, and analyzing how we can contribute to creating a better world.
Take Action: Pledge to set measurable goals, follow through on findings, and commit resources toward the goal.
Be Accountable: Share your progress with AVIXA and industry peers – the challenges and successes so everyone can learn.
Individuals who sign the pledge are asked to consider joining AVIXA's Diversity Council and participate in future council events, take part in diversity and inclusion surveys, as well as participate in future Diversity, Equity and Inclusion (DEI) events.
But the release of the pledge doesn't mean the work of the AVIXA Diversity Task Force has reached the finish line, says senior director of communications and task force member Joé Lloyd. In fact, the pledge in many ways is the first step in a long-term effort to increase diversity, equity and inclusion across AV.
"It's a starting point," she says. "It's by no way an end point. This is the beginning of change. This is a conversation we're going to be having year after year.
"The goal is seeing the demographics change and our stages such as InfoComm, our webinars and other events change. That's the accountability part,"
The focus for now is finding as many people across AV to take the pledge as possible, says Lloyd. From there, AVIXA will talk to and survey its membership about the pledge and what steps the association should take to move the effort to the next level, she says.
"We want to know what we should do with the information to make real significant change," says Lloyd. "There's more than just saying 'I care.'"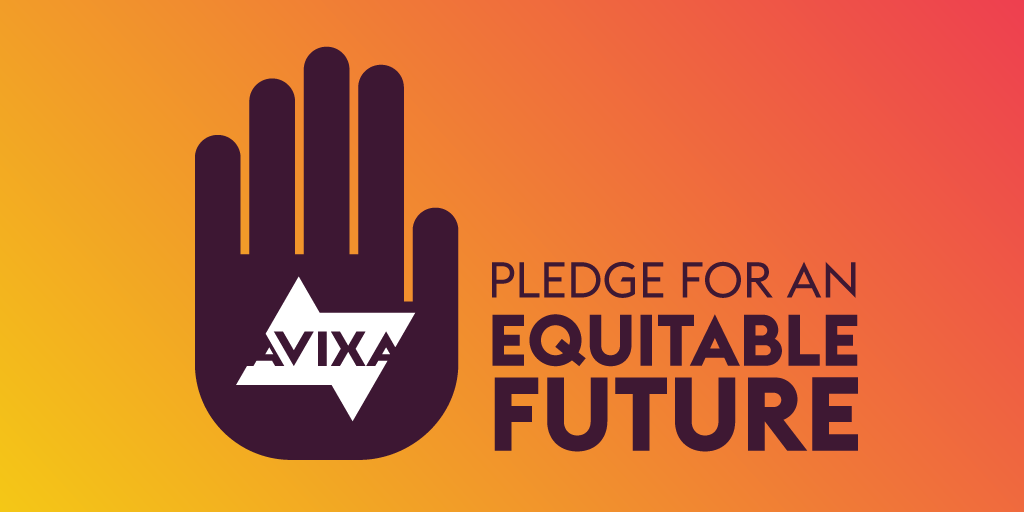 Next Steps in AVIXA's Efforts to Increase DEI
Lloyd knows not all AVIXA members or people who work in AV will embrace the DEI initiative or the AV Pledge for an Equitable Future.
"It's a very personal moment," she says. "We all have reasons this is very important to us. There are some that are going to be not as vocal about it and that's OK."
Hanane Abdalla, audience engagement manager, worked on the pledge with other task force members. She describes the desire to increase AVIXA's focus on DEI as "like a volunteer army.
"There wasn't a blueprint out there but our leadership just decided, 'We want to start the conversation.' It was so emotionally charging. I could take a lot of that pain I was feeling at the time and pour it into purpose," she says.
"It turned into so much more than a conversation. It turned into strategy and a ton of research," says Abdalla.
Related: Highlighting the Business Benefits of Diversity, Equity and Inclusion
AVIXA has also compiled a list of resources to "help AV professionals on this journey, including an inclusive language style guide which can help avoid biases perpetuated by words and phrases that can reinforce stereotypes and create false power dynamics; as well as a 30-minute unconscious bias training video created in partnership with NonProfit HR," according to the association announcement.
Marketing projects manager April Peay worked on the AVIXA inclusive language guide that's a companion piece to the pledge.
She says many in AV and in other industries are guilty of unconscious bias in the words they use or the way they describe things, but "it's not really about changing the words. It's about creating a more inclusive environment where everyone feels welcome."
AVIXA digital media producer Narin Nara says the pledge is about getting AVIXA members to "commit to the cause.
"We want people to understand there's different backgrounds behind the humans," he says. He says the association's partnerships with the Boston-based Loop Lab and Washington, D.C.-based EnventU have served as examples of programs that expose AV careers to young people of diverse backgrounds.
"This a time to highlight and celebrate people with different backgrounds and skill sets," he says. "With the celebration comes awareness."
The AVIXA Diversity Council is also launching an anonymous DEI survey, asking for demographics information such as gender identity, race/ethnicity and sexual orientation and delving into the availability of resources and programs provided by AV employers.
"We're an international organization and should be representing all the faces of AV," she says. "A lot of people have come to a point of self-reflection and thinking about things they've taken for granted."
Click here to take the AVIXA Diversity, Equity and Inclusion survey.
If you enjoyed this article and want to receive more valuable industry content like this, click here to sign up for our digital newsletters!